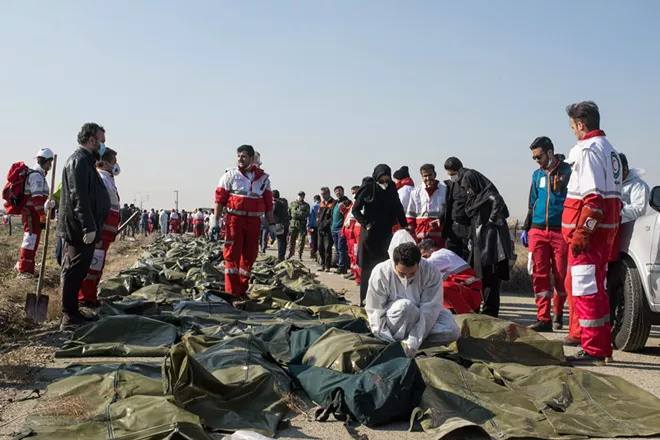 By Anton Troianovski, Andrew E. Kramer, Daniel Victor, James Glanz and Natalie Kitroeff
The New York Times Company


A
Ukrainian airliner carrying at least 176 people
crashed shortly after takeoff from Tehran on Wednesday, killing everyone on board. It was unclear what caused the disaster, but the aircraft, a Boeing 737-800, went down amid an escalating, violent conflict between the United States and Iran.
Early statements from both Ukraine and Iran about what happened to the flight bound for Kyiv, the Ukrainian capital, were contradictory. Just hours earlier, Iran had fired missiles at two bases in Iraq that house U.S. troops, and Iranian forces were on alert for a U.S. counter-strike.
Though the evidence remained sketchy, aviation experts said that what was known indicated that the plane could have been attacked. Investigators should have that possibility "at the top of their agenda," said Peter Goelz, a former managing director of the National Transportation Safety Board in the United States.
The Iranian Students' News Agency, a state-run media organization, shared a video it said showed the predawn crash, with an aircraft, apparently in flames, descending in the distance before a bright burst filled the sky upon impact.
Ukraine International Flight 752 left Imam Khomeini International Airport in Tehran at 6:12 a.m. Wednesday and abruptly ceased the automatic transmission of flight data about two to three minutes later, though it remained in the air for a few minutes longer.
Experts say that is an extremely rare sequence of events, even in a catastrophic accident — and all the more unexpected in a relatively new plane, built in 2016, of a model with a very good safety record.
The plane had reached an altitude of almost 8,000 feet and a speed of more than 300 mph, according to Flightradar 24, which tracks aircraft by their radio signals.
"Planes just don't blow up in mid air," said Richard Aboulafia, vice president for analysis at Teal Group, an aviation consulting firm. "It doesn't work like that."
Qassem Biniaz, an official at the Iranian Ministry of Roads and Urban Development, told the Islamic Republic News Agency, the government's official news agency, that an engine caught fire and the pilot was unable to regain control.