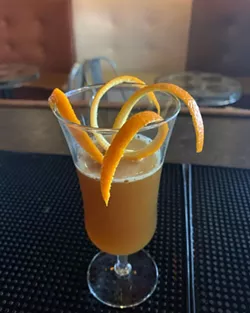 W
hile many local restaurants
are making the best of the coronavirus-caused shutdown by offering carry-out food and even booze to-go, other businesses don't have feasible workarounds to keep their doors open.
Bon Bon
, the tiny craft cocktail bar — recently
voted best craft cocktail bar
in the
Inlander's
2020 Best Of Readers Poll — attached to the historic
Garland Theater
, however, has gotten creative with some virtual services to keep its staff and regulars busy until both the bar and theater can reopen.
Monday nights, for example, the bar is bringing its weekly trivia night online via Facebook. Participants can join from the safe social distance of their own homes, and all teams that play are entered into a drawing for a gift card to the theater, says Jasmine Barnes, trivia host and general manager of the bar and theater. Tonight's livestream starts at 7 pm.
Bon Bon's staff is also offering their cocktail making expertise for customers stuck at home. Simply message
the bar's Facebook page
with a list of what spirits and mixers you have in your liquor cabinet, and one of its bartenders will reply with instructions on how to make up to five drinks using what you have on hand. In exchange for their know-how, Barnes and the Bon Bon team are accepting tips via the payment service Venmo.
Unfortunately, since the Garland doesn't currently sell gift cards or its annual admission passes online, Barnes says the theater and its staff of 15 people are "essentially not operating at all."
Since the theater and its building are locally owned, Barnes is optimistic that business can return to normal when social-distancing measures are lifted. She's a little concerned, however, about what films will be available to screen by then.
"Because theaters have closed, the movies we were going to be getting have gone straight to digital, so everyone has been able to watch them at home," she says.
Currently, both the theater and bar are closed until further notice.