W
e've already run down
some Halloween-y culture events
here
, but we were merely scratching the surface. There's a lot more stuff happening in the Inland Northwest, so here are some spooky movies and some scary good live music to check out before All Hallow's Eve creeps up on you.
FILM
Night of the Living Dead

The definitive zombie film and a watershed in modern horror cinema, George Romero's low-budget classic is returning to the big screen for its 50th anniversary.
$13. Oct. 24-25 at 7 & 10 pm, Regal Cinemas at Northtown and Riverstone in Coeur d'Alene. Buy tickets here.
Frankenstein
A filmed presentation of the National Theater's acclaimed 2011 play, directed by Danny Boyle and starring TV's Sherlock Holmes' Benedict Cumberbatch and Jonny Lee Miller. It will be shown in two versions: Oct. 22 has Cumberbatch playing the monster and Miller as the titular doctor, while Oct. 29 has the roles reversed.
$15.75. 7 pm. Regal Cinemas at Northtown. Buy tickets here.
Hocus Pocus
This campy Disney comedy about a trio of 17th-century witches transported to modern day Salem has developed a cult following since its 1993 release, and it's hitting theaters again in the lead-up to Halloween.
$5.25. Oct. 26-31 at AMC River Park Square. See showtimes here.
Northwest Horror Fest

If you like your spooky stuff to be Spokane-centric, be sure to check out this lineup of locally produced horror shorts. Films are appropriate for ages 13 and up.
$15. Garland Theater. Oct. 26 at 7 pm. Buy tickets here.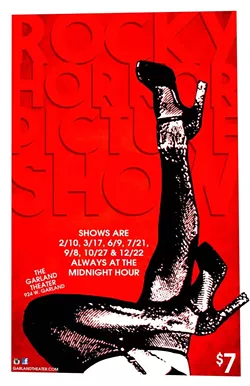 The Rocky Horror Picture Show
Put on your fishnets and feather boas and prepare for the ultimate cult movie. The 1975 horror musical still draws huge crowds, who talk back to the screen and throw toilet paper and toast. You've got a few chances to see it — at midnight on Oct. 27 at the Garland Theater, and at the Kenworthy Performing Arts Center on Oct. 26 & 27; screenings there are at 9 pm and midnight both nights.
Halloween
The 40th anniversary of John Carpenter's slasher classic is upon us, and just as a new sequel hits theaters, see the iconic original again at the Kenworthy Performing Arts Center.
$3. Oct. 25 at 8 pm.
Shaun of the Dead
Also at the Kenworthy is Edgar Wright's hilarious send-up of zombie movie tropes, perfect viewing for anyone who doesn't want to be
too
scared. The screening is free, but drop $5 for a so-called "zombie makeover." The proceeds will go toward a new stage lift for the theater; get more info
here
.
Oct. 24 at 7 pm.
Beetlejuice
Part of the Garland Theater's Tubular Tuesday series, Tim Burton's 1988 comedy stars Michael Keaton as a mischievous demon ushering a newly deceased couple through the afterlife. It'll be retro in more ways than one: Admission is only $2.50.
Oct. 30 at 7:15 pm.
The Nightmare Before Christmas

Another Burton-centric seasonal favorite, this beloved stop-motion musical adventure remains the subject of debate: Is it a Halloween movie first, or a Christmas movie? Either way, it's visually dazzling.
$8. Oct. 26-31 at Regal Northtown and Valley. See showtimes here.
MUSIC
All Fall Down Reunion
Back in the mid-'80s and early '90s, All Fall Down was Spokane's go-to cover band, and they're reuniting for a live set that'll span the hits of their tenure. (Be on the lookout for our coverage of the event in next week's issue.) Prepare to dress up in your favorite '80s garb.
Oct. 27 at 8 pm. Northern Quest. $29. Buy your tickets here.
Baby Bar Cover Show
It's become an annual tradition: Local bands gather at Neato Burrito the Saturday before Halloween and perform as some of their favorite iconic acts. This year promises Nat Park and the Tunnels of Love as Van Halen, Atari Ferrari as Fleetwood Mac, Soul Man Black as David Bowie and more. It's all ages from 6-9 pm, and 21+ after.
Oct. 27 at 6 pm. $5. See the full lineup here.
'90s Punk at the Pin!
The Pin!, downtown's live punk and metal music destination, is throwing its own Halloween cover show. Catch performances by such local bands as FAUS (performing as Sum 41), Wilhelm & Friends (as Rage Against the Machine) and Colder Bones (as Weezer). Cover is $5, but you can get in free if you show up in costume.
Oct. 27 at 7 pm. All ages. Full lineup here.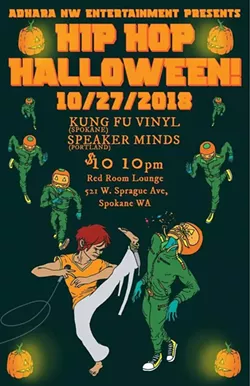 Hip-Hop Halloween
Saturday night at Red Room Lounge boasts a double bill featuring Spokane's Kung Fu Vinyl and Portland's Speaker Minds. Both bands blend elements of hip-hop, reggae, soul and roots rock.
Oct. 27 at 8 pm. $10. 21+ only.

Halloween at Omega
The downtown Omega Events Center has two Halloween events on its calendar. On Oct. 27, catch a roster of hip-hop artists including GinjaBred, Ferrini 41, Digs and more. See details
here
. On Halloween night, hear beats from the likes of Rome, Shauk and DJ McFly. There's also a costume contest with an advertised $200 reward; details
here
. Both events are 18+ only and admission varies.
Observatory Halloween Party

Local rockers Indian Goat, Itchy Kitty, Skunktopus and Dustfuzzz take the stage at the Observatory on Saturday night. Expect it to be crowded, sweaty and loud.
Oct. 27 at 8 pm. Free. 21+ only.

Iron Goat Costume Party
The brewing company hosts its annual costume party on Friday night, selling their award-winning suds in a spooky atmosphere. The band El Primo is providing the music.
Oct. 26 at 7 pm. All ages.
Haunted Hillyard Library
The Hillyard Library Sports Bar gets into the Halloween spirit with a costume contest and a performance by the Bobby Patterson Band.
Oct. 26 at 7 pm. $4.
KYRS Halloween Bash
Spokane's community radio station hosts a Halloween bash, with dance music and a costume contest.
Oct. 27 at 7:30 pm. The Big Dipper. $5. All ages.
EDM at the Roxie

Rave fans, take note: The Roxie has a huge dance floor, a game room and will be featuring DJ sets from Exsto and the deanE.
Oct. 27 at 9 pm. $5-$10. 18+ only.
ZOLA Spooktacular

Dance along to fun cover tunes as the Cronkites hit the ZOLA stage, and vie for prizes by participating in the costume contest.
Oct. 27 at 9 pm. 21+ only.
The Lariat Halloween Party
The Mead country bar hosts a costume contest and a performance by singer Christy Lee, with her ace backing band the Broken Rosary Whiskey Thieves.
Oct. 27 at 8 pm.