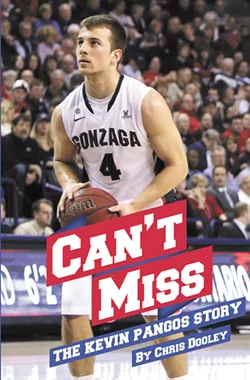 Kevin Pangos will be long cherished by Gonzaga fans, mostly due to the fact that it felt like he was on the team forever. By starting nearly every game of his four-year career and serving as the team's go-to leader for most of that time, Pangos became synonymous with Gonzaga basketball. His absence has certainly been felt this year as the Zags struggle to find solid guard play.
Now, Pangos' basketball career is the subject of a book, which might seem a bit odd, given that the 23-year-old has capped his Gonzaga career and is now playing in Spain. This isn't a revealing look or exposé of any sort, but Can't Miss: The Kevin Pangos Story, a self-published effort by Chris Dooley, a Canadian basketball coach who worked alongside Kevin's dad, Bill Pangos, will give the serious Zag fan some excellent backstory on Pangos.
Perhaps the book's most fascinating angle is the way in which Dooley describes Pangos' basketball life before coming to Gonzaga. It was occasionally mentioned in broadcasts, but Dooley drives home the point that Pangos was a legitimate star athlete in Canada before arriving in Spokane. He played alongside current NBA stars as part of the Canadian national team as the youngest player ever to wear the country's colors.
Although he calls Ontario home, Dooley was a regular fixture in Spokane during Pangos' final two seasons with Gonzaga, and his time on the ground is apparent in the book, which offers a look inside the often closed-off program. There are interviews with coaches and fellow players, and an insightful look at the personal goals Pangos set for himself for each year of his career.
Dooley says that the book wasn't just about portraying a unique and talented basketball player, but also someone who he'd come to think of as a remarkable individual.
"The respect and admiration that Kevin garnered in Spokane over his career is the same respect and admiration that Kevin has from so many people throughout his life and process in basketball thus far," says Dooley. "This book is about Kevin, yes, but it is also about all the people who impacted Kevin in his journey from Newmarket [Ontario] to Spokane. Zags will get much insight into their adopted son."
Can't Miss is available at Auntie's Bookstore, the Zag Shop and cantmisskid.com