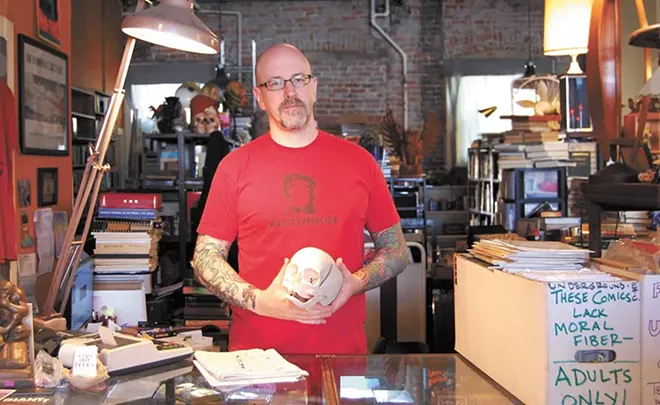 A
t this point in our locked-down lives
, diversions to stoke our passions and intellects are particularly welcome, and rarely delivered in finer form than a good book. I hit up several area bookstores for recommendations and several were more than happy to share some with us.
Next up is a list with a little something for everyone from Giant Nerd Books owner Nathan Huston, and it's a list that certainly reflects the gloriously diverse array of reads available at the shop at 709 N. Monroe St. During the coronavirus lockdown, you can order books by sending an email through the "contact" link at
giantnerdbooks.com
, via the shop's Instagram account (
@giantnerdbooks
), or just call the shop (868-0420) and you might get lucky and Huston will pick up the phone.
Here are Huston's recommendations, along with his thoughts on the works:
MIDNIGHT RIOT, by Ben Aaronovitch
First volume in the
Rivers of London
series, which successfully answers the question "what if Harry Potter grew up to join CSI?" Quick and sharp with surprisingly likable, relatable characters. The whole series is a keeper.
WINDUP GIRL, by Paolo Bacigalupi
Winner of both Hugo and Nebula awards upon its release in 2009 (as well as being selected as one of
TIME
magazine's best books for that year), an intense and riveting bit of dystopian ecological collapse to keep you awake these long quarantine nights.
HOW TO MAKE YOUR OWN TAROT CARD DECKS, by Bryan Westra
All the cool kids are picking up new hobbies these days, right?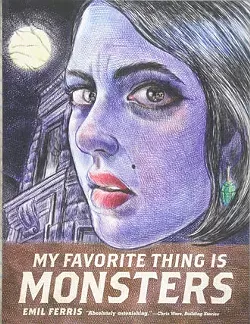 MY FAVORITE THING IS MONSTERS, by Emil Ferris
Not only the best original graphic novel I've read in a decade or more, but one of the best novels as well. A highly fictionalized autobiography, Ferris depicts herself in late 1960s Chicago as a pre-teen girl werewolf; when an upstairs neighbor dies under circumstances she finds mysterious, she becomes a pre-teen girl werewolf detective.
PHANTOMS: THE RISE OF DEATHROCK FROM THE LA PUNK SCENE, by Mikey Bean
Massive, exhaustively researched volume of countercultural history, so engrossing you'll even smell the clove cigarettes and Aquanet super-hold right there in the room with you.
GROWING GOURMET AND MEDICINAL MUSHROOMS, by Paul Stamets
Fungi have been on the planet longer than either plants or animals and, if we ask nice, they might just help out enough to make sure we stick around a while longer. Mushroom growing is an emergent cottage (basement? Cellar?) industry, and this could be its bible. Could also be filed under "New Quarantine Hobbies."
SURELY YOU'RE JOKING, MR. FEYNMAN!, by Richard Feynman
First autobiographical volume from one of my personal role models. "Richard Feynman for president, because one dead genius is worth 10,000 politicians" — paraphrasing a slogan a friend came up with in the early '90s (his was about Buckminster Fuller, but the principle is the same). Before I opened a shop and had to start making rent money, I'd buy every copy of this book that I could and give them to friends about to graduate from college, especially in education. Read it and see why.
DEMIAN, by Hermann Hesse
Siddhartha
may be his best-known work, but
Demian
is the one I'd recommend to seekers seeking paths that are a little out of the ordinary.
ANIMAL SKULLS: A GUIDE TO NORTH AMERICAN SPECIES, by Mark Elbroch
Excellent natural history and "vulture culture" reference volume. Possibly indispensable for identifying our finds, as we're all traipsing about the countryside on our social-distancing adventures.
THE CANON COCKTAIL BOOK, by Jamie Boudreau
Just because we're drinking at home these days is no excuse for letting our standards slip. Seattle's Canon bar remains a leading light in beverage innovation, and these pages capture a lot of their liquid magic.
SPOOKY SPOKANE, by Chet Caskey and Candess Campbell
325 pages examining the otherworldly underbelly of the Lilac City. Make a list of places to check out once the world opens up again!
THE SECRET OF VENTRILOQUISM, by Jon Padgett
Formerly the webmaster for Thomas Ligotti's official site, this is Padgett's first short story collection. All interwoven around a book that couldn't possibly be real — or could it? — and worth every bit of horror hype I can throw at it.