Thunder Boy Jr.
By Sherman Alexie
Sherman Alexie's first children's book — the tale of a young Native American boy who's named after his father, Big Thunder, but wants an identity of his own — does not disappoint. Alexie's gift for witty, muscular prose makes a successful jump to the picture-book format, and the art by Yuyi Morales is full of gorgeous colors and ebullient, larger-than-life lines. The fact that the book is both a tender father-son story and an elaborate fart joke is just gravy on an already winning picture-book package. (SB)
The Fireside Grown-Up Guide to the Hangover
by J.A. Hazeley and J.P. Morris
The best import to come out of the UK in some time, The Fireside Grown-Up Guide to the Hangover mimics the distinctive mid-century look of the Ladybird guides for children. With the inarguable claim that "the world is just as confusing to a forty-year-old as it is to a four-year-old," the Grown-Up Guide endeavors to help readers who are old enough to know better with such sage advice as "there is no cure for the hangover, but it can be treated with a strong cup of coffee and a couple of fried breakfasts." Other helpful Grown-Up Guides include "Mindfulness," "The Husband" and "The Mom." (SB)
Bad Little Children's Books
By Arthur C. Gackley
In a similar vein, Bad Little Children's Books could pass for a Little Golden book right down to the vintage-y cover art and gold-foiled spine. However, you're not going to want to leave this laying around where a small child can get to it; I cannot stress enough how not safe for work, children or easily offended people this book is. Open it and see: From the vehicular joys of "Things That Maim" to the common-sense wisdom of "Don't Lick The Stripper Pole," to the business truth of "Flowers Are Very Pretty (But We'd Make More Money Growing Pot)" there's a wonderfully horrible tweaked book cover in here for everyone. (SB)
The Art of Atari
By Tim Lapetino
Back in my day, we didn't need any fancy VR goggles or motion-capture wands to play video games. We had two joysticks and a console with a little futuristic logo on it — "Atari." With home versions of some of the titles you normally had to shell out quarter after quarter to play at your local pizza joint, it opened a new frontier we're still exploring. With epic games in their catalog like Asteroids, Centipede and Missile Command, America was hooked.
Like most kids, graphic designer Tim Lapetino was taken in by the games, for sure, but it was the artwork he loved most. Somehow, he tracked down a treasure trove of the original artwork used for marketing and on product packaging, and he has reproduced it in a coffee-table book that's sure to hook your friends — when they're not playing your PS4, that is. It's cool, retro stuff, sprinkled with profiles and interviews with some of the key figures in the history of the brand, which dates back to 1972. (TSM)
The Undoing Project
By Michael Lewis
Is it me, or is Michael Lewis playing a little game with Hollywood? He writes cerebral books that there's no way would ever make good movies, and then — boom! — Hollywood does it anyway. Both The Blind Side and Moneyball took some imagination to translate to the big screen, but both made great films. With The Big Short, it seemed he won — no way they'd adapt that one about hedge funds. But Hollywood did it anyway. This year he has another try, about two obscure Israelis who helped enable the kind of big data algorithms that fueled the stat nerds in Moneyball and The Big Short.
Forty years ago, Daniel Kahneman and Amos Tversky — a pair of psychologists with vastly different backgrounds — collaborated on a series of economic studies that challenged the assumption that humans know best. If it sounds a tad too high-concept, know this: Michael Lewis hasn't written a bad book yet. And rumor has it that Brad Pitt and Matt Damon already smell an Oscar and are fighting over who gets to play Amos, because that's just a really cool name. (TSM)
Hillbilly Elegy
By J.D. Vance
A lot of people have been trying to understand the dynamic in the Rust Belt and the South, in which citizens there seem to vote against their own interests in national elections. This kind of study is fraught with being the kind of flyover journalism that fails to get at the real story while completely succeeding at being condescending. Perhaps that's why Hillbilly Elegy caused such a stir in recent months. It's that story, but told in the first person by a man who grew up in that world.
J.D. Vance grew up in Middletown, Ohio, and thanks to a protective grandmother, found a path to becoming a lawyer and writer — four years in the Marines, Ohio State University, then Yale Law School. "Poverty is the family tradition," he writes; the book's subtitle calls it "a Culture in Crisis." Vance both judges and explains his hometown, and in the process he challenges readers to reconsider their own preconceptions. (TSM)
Biscuit Head: New Southern Biscuits, Breakfasts and Brunch
By Jason and Carolyn Roy
Asheville, North Carolina's Biscuit Head has become the go-to place for big flaky biscuits and delicious Southern staples. In their first cookbook, founders Jason and Carolyn Roy offer up some of the eatery's most popular recipes, including S'mores Bacon, Fried Green Tomatoes, Sriracha Slaw, Fried Catfish and of course, the Classic Cat Head Biscuit — which gets its name from being roughly the size of an average cat's head. Top that bad boy with some Marcona Almond Butter or Tomato Sofrito, and you'll have a breakfast you won't soon forget. (SB)
Hero of the Empire
By Candice Millard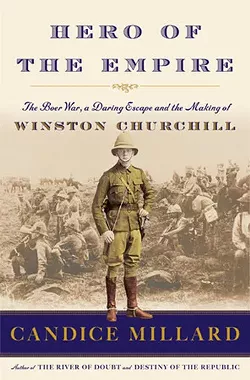 Most people don't know much about Winston Churchill's backstory. How did he rise to power? Sure, he was an aristocrat, the son of Lord Randolph Churchill of the Marlborough line (and a rich American socialite mother, Jennie), but that was never quite grand enough for him. So he went campaigning in the service of Queen Victoria in India and the Sudan. He was also a war correspondent in Cuba, getting up close to the action.
Candice Millard, who wrote about Teddy Roosevelt's harrowing 1912 trip to the Amazon Basin in The River of Doubt, focuses here on Churchill's efforts to earn the accolades that would make him Hero of the Empire. In the Second Boer War in South Africa, Churchill was a bit of a dandy, traveling to the front lines with a valet and a movable wine cellar. Still, he managed to get captured and then escape, spending nine days on the run, only to finally win those big, heroic headlines upon his homecoming. A star was born, and then came two world wars and a reputation for courage and resolve so cemented in our culture that there's a word for it — "Churchillian." (TSM)
The Illustrated Compendium of Amazing Animal Facts
By Maja Säfström
Did you know that owls have three sets of eyelids? Or that a panda's stomach is actually designed to digest meat? Swedish illustrator and architect Maja Säfström shares her favorite representatives of the animal kingdom in spare, black-and-white drawings that capture the fantastic weirdness of nature while reveling in a sense of childlike wonder. This small, blue-cloth-bound book is the perfect thing for stuffing stockings or leaving out for holiday guests to peruse. (SB)
Hidden Figures
By Margot Lee Shetterly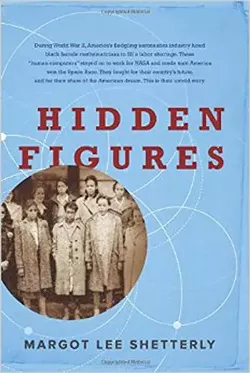 Space is cool again, what with President Obama talking about a trip to Mars and futurists like Elon Musk making actual plans. On that trajectory, we have Hidden Figures, which tells the story of how the agency that would become NASA did all the math required to chart a course to the future. Starting during World War II, it was not guys with pencil protectors and black glasses, but women. And actually, as this book details, many were African American women — and this was in Hampton Roads, Virginia, in the time of Jim Crow.
Like the Keira Knightley character who helps crack the Enigma machine in The Imitation Game, it turns your notion of who should be good at math on its head. Even though the book is still new, it's already been filmed as a movie, coming to theaters in January. Its author, Margot Lee Shetterley, has devoted her career to highlighting the role of women — especially African American women — in the development of NASA, founding The Human Computer Project to share these stories to inspire young people going into STEM careers. (TSM)
Welcome to the Universe
By Neil deGrasse Tyson, Michael A. Strauss and J. Richard Gott
And if space has you pondering its brightest supernovae and blackest holes, you could turn to Neil deGrasse Tyson, our generation's Carl Sagan. This book is co-written with two of his astrophysicist colleagues from Princeton who teach an introductory course with Tyson. The book itself is based on those lectures, with each author tackling their areas of specialty. That class became so popular that it finally moved into the largest lecture hall on the Princeton campus.
Reminiscent of Bill Bryson's A Short History of Nearly Everything, which somehow brought the technical minutiae of so vast a subject to a popular audience, Welcome to the Universe has that same power. It does, however, challenge the reader a bit more — a basic understanding of Einstein's Theory of Relativity does help. And while he shares the stage with perhaps more traditional co-authors, Tyson is the star, calling Johannes Kepler "a badass," ranting about Pluto (is it, or is it not, a planet?) and calculating that there are, perhaps, 100 or so alien civilizations sharing our galaxy. (TSM)
Atlas Obscura: An Explorer's Guide to the World's Hidden Wonders
By Joshua Foer, Dylan Thuras and Ella Morton
When Joshua Foer and Dylan Thuras started the Atlas Obscura in 2009, it was to create a catalog of the world's most fascinating, far-flung places. In the past seven years it has become an online compendium of thousands of entries, the best of which are profiled in Atlas Obscura: An Explorer's Guide to the World's Hidden Wonders. Take a vicarious tour of this cabinet of curiosities, which includes such off-the-beaten path destinations as abandoned sea forts, an amusement park 350 feet below the surface in an old salt mine, and a garden dedicated to poisonous and/or narcotic plants. (SB)
The Secret History of Twin Peaks: A Novel
By Mark Frost
With Twin Peaks returning to TV in 2017 (thanks Showtime!), there's no better time to delve into the town's labyrinthine history. Show co-creator Mark Frost blurs the line between fact and fiction to present this "dossier," which includes "recently discovered" excerpts from Lewis and Clark's journals, reports of unexplained phenomena, diary entries by the town's residents, news clippings and more. (SB)