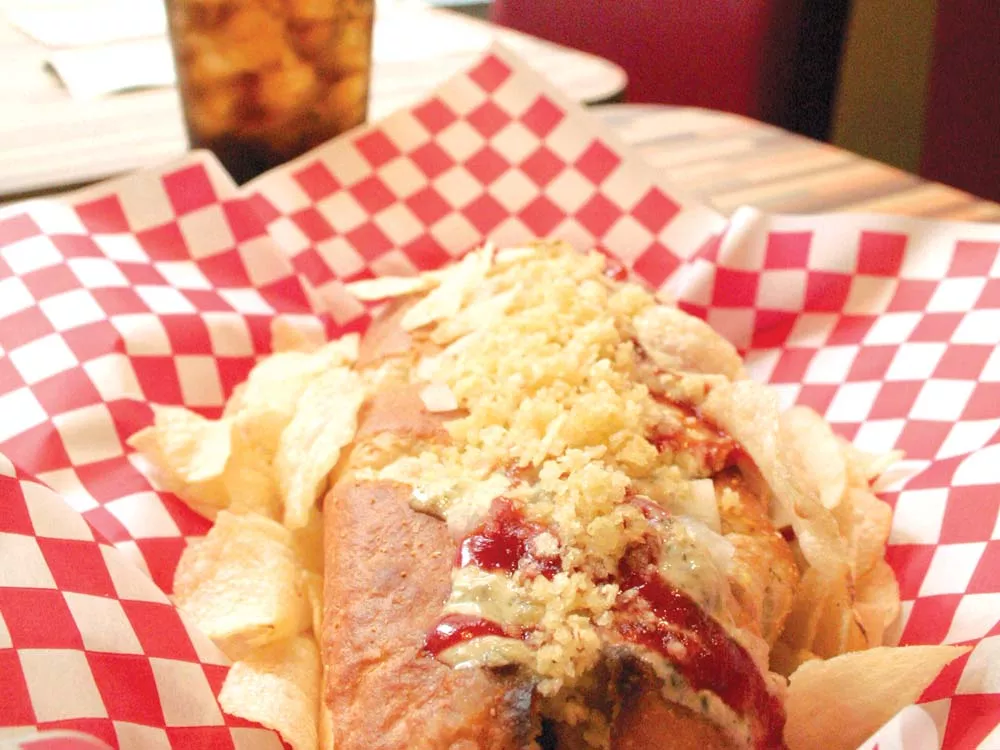 January 19, two days after a suspicious package was found along the Martin Luther King Jr. Day Parade route, and just as national media were picking up the story of a suspected racially motivated act of attempted terror, KREM-2 News' Facebook page blew up with comments from viewers, underscoring a deep division among locals.
Some people were some outraged. Others were supportive. "Over the top offensive!" wrote one. "LMAO it's great!" wrote another. Some viewers quoted Bible scripture about sinners and their "pernicious ways."
One woman attempted to draw a psychosexual through-line: "Guys love it..chicks are disgusted.. whats new?" But the KREM controversy wasn't over the MLK bomb. It was over the logo of a new hot dog vendor in downtown, which looks a little like a woman engaged in an act of fellatio.
In all, twice as many people on KREM's Facebook page got riled up by hot dogs than by an act of domestic terrorism. It's something WILD DAWGS co-owner Serena Belsby calls "a sad commentary."
Sad, maybe, but fortuitous. Inhabiting a tiny space next to Santorini's in the Parkade, Wild Dawgs opened last Tuesday to as much chatter, praise and rancor as the opening of an average Walmart. When we got there, 30 minutes after opening, they'd already sold about a dozen dogs. Selling that many, at $6.50-$7.50 a pop, to a thrifty mid-week lunch crowd is no small feat.
Curated by Belsby's partner, Esteban Vallejo, there's an eclectic, international flare to the menu. The Bad Mama ($7) takes a chicken dog and adds basil, pesto, grilled onions and a chimichurri sauce, while the Hot Mama ($7) is a chorizo dog with tomato, cilantro, tomatillo sauce and a hot sauce made with Sriracha.
Closer to home, the Mad For Manhattan ($6.50) comes with pineapple sauce, along with mozzarella, ham, onions and ketchup. The I Love Spokane ($6.50) steals Seattle's signature condiment, cream cheese, then adds bacon.
All of the dogs come dusted with finely crumbled potato chips, a standard dog topping from Vallejo's native Columbia.
In addition to getting the word out as well as any guerilla marketing campaign in recent memory, the controversial logo has kick-started the fledgling dog shop's merchandising channels in ways the owners didn't plan for.
"Some people don't like [the logo]," Belsby says, "Some people are ordering t-shirts."
Wild Dawgs • 102 N. Howard St. • Tues-Weds 11 am-8 pm, Thurs 11 am- 1 am, Fri 11 am – 3 am, Sat 5 pm-3 am • 795-8228

---
Hot Mess
On the gritty corner of East Trent and Freya Way, amidst gun shops, steel recycling plants and forklift rentals, a quaint, newly varnished log cabin sits in an empty parking lot.
But this little cabin can hold its own in this rough neighborhood. Instead of a rocker on the porch, it's got a hulking black don't-mess-with-Texas-style barbeque pit smoker. A sign pointing drivers off the road reads, "Stop here and eat, or we'll both starve."
Welcome to SMOKIES LOG CABIN BARBEQUE, a saucy, slow-cookin', meat-slinging drive-through joint that's been grilling here since January 2010.
You may have seen it before. For the last six years, owner Janet Bonser has been trucking her mobile log cabin trailer to cater weddings and backyard barbecues. She's still in the catering biz — she'll do on- or off-site service. But when a drive-through coffee shop closed here on East Trent, she parked her trailer behind it, reopened its windows and set up shop.
Just over a year later, she's up at 5:30 on weekday mornings to get the applewood smoker going, slow-roasting beef, pulled pork and poultry.
It's a meat lover's dream (I didn't see meat in the coleslaw, but it was probably there) and a long process. But anyone who knows barbeque knows the secret's not just in the sauce but in the dry rub, the cut, the time and the temperature.
Smokies' best examples of this are the uber-tender brisket sandwich ($7.50) or award-winning chicken. After some prodding, Bonser mentions she entered her first contest last year — the "Smokin' the Couer d'Alenes Inland Northwest BBQ Championship" — and earned first place for her poultry.
Everything on the menu is under $10, and daily specials offer deals like the pulled-pork sandwich for $4.95.
"I personally don't like fast-food places," Bonser says. "My mom used to say, 'A good meal takes a lot of time,' and I really believe that. Here, the food is cooked all day, ready to go. So it's fast food, but not junk food."
A word to the hungry driver: Texas will mess with you. Get napkins. Lots of napkins.
Smokies Log Cabin Barbecue • 3415 E. Trent Ave. • Mon-Fri, 10:30 am-6pm • 209-6119