Every day, on average, nearly 200 tanker cars carry close to 6 million gallons of crude oil through Spokane. Each one of those cars can hold as much as three tanker trucks' worth of some of the most explosive crude in the country. Spokane serves as a bottleneck into the state for trains traveling from the east across the northern U.S., largely from the Bakken oil fields in North Dakota.
"Those [tracks] go straight through our infrastructure: our water, our Spokane River ... the hospitals downtown, all of our business center," says Spokane Fire Chief Brian Schaeffer.
So far, nothing bad has happened. But at least three times in the past three years, city and county officials have played nightmarish games of "What if?"
What if an oil train derails in downtown Spokane? What if a tanker filled with crude oil drops onto the buildings that shoulder the tracks, sending oil sloshing downhill toward First Avenue, bringing fire toward the Davenport Hotel and apartment buildings? What happens if oil spills into the Rathdrum Prairie Aquifer — the sole drinking water source for half a million people in Eastern Washington and North Idaho?
"We talked about, if it catches on fire, there's nothing we can do to stop the fire," says Randy Marler, vice president of the Local 29 firefighters union. "We're not even going to fight the fire."
Instead they'd focus on containing the fire and evacuating as many people as they could.
"No amount of preparation, no level of staffing, no amount of equipment, apparatus or personnel," firefighter Dave Kovac told the Spokane City Council last year, "would keep this from being anything less than catastrophic to our community."
Just a single oil tanker car on fire could force businesses, schools and hospitals within a half-mile to be evacuated.
Spokane City Councilwoman Lori Kinnear attended one of the "What if?" simulations that considered the possibility of an oil train carrying Bakken crude derailing over Latah Creek or downtown.
"How many people work down here? It's about 25,000 during the day. How do you evacuate?" Kinnear asks. "What do we do with those people? When the buildings are destroyed, how do we rebuild, how long does it take? If our drinking water is fouled, what do we do for drinking water?"
Where do you bring the injured, if both downtown hospitals are close enough to the fire that they need to be evacuated?
"I realized, at that point, we have to do some prevention," Kinnear says. "We can't just react to situations."
Local activists and politicians have scrambled to prevent the worst-case scenarios — like the deadly train derailment and explosions in Quebec in 2013 — from happening here: They've launched ballot initiatives, petitioned the state and federal governments, and fought for higher safety standards. They've opposed construction of new oil terminals that would bring even more oil trains through Spokane. Some have even been handcuffed standing in front of the tracks to block the trains entirely.
But for now, with the law largely stacked against them, their chances of success look bleak.

SWITCHBACK
Image by image, at a Spokane City Council meeting last July, Council President Ben Stuckart lays out the stakes.
In the council chambers, he shows a slide of piled-up tankers and billowing clouds of black smoke in Aliceville, Alabama. Then he shows a building-sized fireball rising into the air in Casselton, North Dakota. A tanker sticks out of the James River in Lynchburg, Virginia, still on fire. Firehose streams are dwarfed by the smoke and flames billowing from charred tank cars scattered in Lac-Mégantic, Quebec. The fire demolished the downtown and made its way into the sewer system, funneling flames through the small town's pipe network.
"Every single insurance company the city had has gone bankrupt," Stuckart says, "and they cannot still pay their bills. And 47 people died."
Finally, Stuckart shows Mosier, Oregon. Only hours after passing through Spokane, 16 tanker cars derailed, spilling 47,000 gallons of oil that soaked into the ground, ignited and melted part of the town's sewer system.
"All the fire department could do is sit and wait for it to go out, for 10 hours," Stuckart says. Had the winds been worse, the fire chief said later, the entire town could have been destroyed.
For years, Stuckart, Mayor David Condon and other local officials raised concerns about the safety of coal and oil trains with railroad companies and regulators. But a ballot initiative proposed last July was the first direct attempt to fight the problem locally.
The initiative wouldn't have flat-out banned oil or coal trains. Instead, it would have fined train companies $261 for each uncovered coal car or higher-pressure oil car that passed through Spokane.
Early last year, City Councilman Breean Beggs says, environmental activists concerned about climate change approached him, urging him to do something to address oil and coal trains. But Beggs says the initiative he finally developed wasn't an attempt to fight global warming. It was intended to prevent disaster.
All oil producers had to do to avoid fines was build the infrastructure to treat oil before transporting it on the train. Remove the lighter gases that may make the oil more explosive. Reduce the pressure in the tank cars to below 8 pounds per square inch or raise the flash point of the oil above 73 degrees Fahrenheit, and they'd be legal, under the proposal.
A coal train derailment, of course, doesn't pose anywhere near the environmental or explosive risk as an oil train. But Beggs justifies the demand that coal trains be covered with another concern — one the railroads themselves have raised: coal dust can cause derailments. If enough coal dust builds up on the track bed, water can't drain properly, which can push the rails out of alignment and cause wrecks.
While some city councilmembers hedged their support with concerns about the initiative's legality, Stuckart focused on the moral necessity of addressing the danger that faced his city.
"I believe personally that there's something we have to do," Stuckart said. "And that means that we try every single argument that we possibly can."
With conservative councilman Mike Fagan absent, every other councilmember agreed to put the initiative to the voters in November.
"Going to the ballot!" Stuckart proclaimed last July, pounding his gavel.
But ultimately it never went to the ballot, and Stuckart was one of the reasons why.
Three weeks after Stuckart's impassioned speech about taking a stand, he moved to pull the initiative. The sudden reversal highlighted just how stacked federal law is against cities trying to challenge railroads.
Even before Stuckart changed his mind, the council had been warned about the legal problems. The council's legal advisor, Brian McClatchey, had laid out the reasons why the initiative seemed doomed: the U.S. Constitution, the Federal Railroad Safety Act and the Interstate Commerce Commission Termination Act all handed the federal government broad power to regulate railroads. With rare exceptions, states and cities weren't allowed to heap on additional regulations — and McClatchey concluded that Beggs' initiative wasn't one of those exceptions.
McClatchey wrote that there was only a "very small chance that this proposed ordinance would survive a legal challenge" and that the council was "potentially putting the people of Spokane on the hook for a costly and lengthy court battle."
In the weeks following Stuckart's initial vote, the council president reread McClatchey's analysis. He met with the city's legal department. He contacted national environmental groups. He spoke with members of the Gonzaga Law Clinic, trying to find any justifying precedent.
Stuckart came to the conclusion that he'd been wrong.
"I don't believe it has a chance of survival, whether it passes or not," Stuckart announced from the council dais. "It's not legally defensible."
That exposed him to ridicule from the right and outrage from the left. ("Democracy in this country is a farce," one angry activist scoffed at Stuckart.)
But ultimately, other than Kinnear and Beggs, the council voted to take the initiative off the ballot.
"Trying to locally affect a national issue is very difficult," Stuckart says today. Now running for Congress, Stuckart suggests that he'd be better able to fight for this issue at a national level.

THE OTHER TRACK
Beggs hasn't been willing to give up. He'd gone toe to toe with oil companies before. Nearly two decades ago, he'd been a lawyer in Bellingham, representing the family of a kid who'd died when the Olympic oil pipeline exploded under a city park in June 1999. Eventually, the explosion, which killed two other youths, led to major new pipeline safety regulations.
"We were told, by congressional people in 2000, you'll never win this battle," Beggs says, "and then we did, because we changed the hearts and minds in the oil industry."
So, in Spokane, he's forged ahead, revising the initiative's language slightly to fine the owners of the oil and coal train cars, instead of the railroads directly.
Then he handed off the baton to Todd Eklof, a Unitarian Universalist minister and one of the activists who'd urged Beggs to fight the trains in the first place. Instead of relying on city leaders, Eklof has sought to gather voter signatures and get the initiative on the ballot without the council's help.
"When I hear the first responders, and they're frightened about what's going to happen, that frightens me," Eklof says. "We could have billions of dollars of insurance, and it still would not allow us to clean oil from our aquifer."
Already, Eklof's team has gathered more than the 2,585 signatures required (by June 12) to put the initiative on the ballot. "We hope to double it," he says.
But then Eklof has to whip up enough support to pass it. Today, even Stuckart, for all of his years lobbying for stricter oil train standards, says he hasn't decided if he'll vote for the new initiative.
Meanwhile, Spokane County Sheriff Ozzie Knezovich has emerged as a fervent opponent of Beggs' initiative.
Four generations of Knezovich's family mined coal. "I'm watching their way of life being destroyed by nonsense," he said at a pro-Trump rally in Spokane Valley in March. When he sees coal — a non-explosive substance — lumped in with oil, he suspects that the motivations of the initiative's backers aren't entirely pure.
"It's not truly about public safety," Knezovich says. "This is a political argument about climate change and fossil fuels."
He argues that the initiative would lead to chaos if it managed to get past the court.
"What prevents the next city from saying, 'I don't want your apples. I don't want your GMOs,'" Knezovich says. "What prevents Wyoming from going to Montana and Utah and Arizona and Mexico and saying, 'We don't want to see anything come out of Washington?'"
Eklof dismisses Knezovich's argument, noting that apples don't qualify as a safety hazard.
But Knezovich, directly contradicting the testimony of Spokane firefighters, argues that Spokane has the capacity to respond to an oil train derailment. He argues that, considering the sheer quantity of oil being transmitted, it's relatively safe.
"You take rail out of the picture, and they start putting that oil on semi-trucks?" Knezovich says. "There's going to be a lot more possibility of accidents."
There are also deadlier tanker cars than those in oil trains rumbling across the tracks, he argues. While chlorine tank cars are a lot less common than those carrying oil, a single chlorine train car accident in Graniteville, South Carolina, in 2005 killed nine people and injured hundreds.
"Where does it end?" Knezovich asks. "If you like drinking water, you need chlorine."
Burlington Northern Santa Fe spokeswoman Courtney Wallace, at a press conference with Knezovich, points to the extensive safety improvements that BNSF has made. Today, coal trains are sprayed with a substance to tamp down coal dust, reducing the amount that blows off in transit. (It is unclear if the coal dust that still does escape is enough to increase the risk of an accident in the Spokane region.) The tracks are constantly inspected, with the naked eye, aerial drones and specialized rail cars, for flaws that could lead to derailment.
Yet even with all these inspections, derailments can still occur. In March, a mudslide knocked a Union Pacific grain train off the tracks in Idaho's Boundary County. And just this Monday, 25 BNSF train cars full of corn derailed off a track south of Sandpoint.
Wallace notes that — as a "common carrier" — railroads can't just refuse to carry coal or oil. (Antitrust regulations, she says, prevent her from revealing how much more the railroad can legally charge for transporting hazardous substances.)
But in recent years, the railroad has pressed tanker car owners to switch to safer models that have shields on the ends, better protection for valves and thicker shells. BNSF doesn't allow the older cars to carry crude oil at all, Wallace says.
Oil train disasters have still occurred with the safer cars, but Wallace says that BNSF has worked with Spokane and other cities to help them prepare for the worst.
The Washington State Legislature passed the Oil Transportation Safety Act in 2015, establishing rules that require advance notice of oil shipments by rail and evidence that railroads could immediately respond to a spill. Response plans, which must be updated regularly, are also required under the act.
Today, Spokane is more prepared.
"Looking at the geography of the city, especially in the case of a disaster involving the tracks, it does have the potential to split the city in two," says Schaeffer, the fire chief. So the department has placed hazmat resources and staff on either side of the tracks and freeway.
Spokane also will upgrade its alert system, allowing emergency planners to draw a polygon on a map and send text messages, pinging off cell towers, to everyone in that area, says Ed Lewis, deputy director of Greater Spokane Emergency Management.
Marler, with the firefighters' union, gives the railroad credit for some of its efforts, but says they still haven't solved the real problem.
"The railroad has been very helpful trying to get guys through training," Marler says. "They've been proactive in giving us some resources and tools and training. [But] the reality is that it still isn't going to be enough, unless we can decrease the volatility of that product."
North Dakota already requires tank car owners to make sure that oil is below 13.7 pounds per square inch before it can move through the state. The oil is heat-treated to remove some lighter gases.
But getting that Bakken oil pressure down below the 8 psi required by Beggs' initiative? Kari Cutting, vice-president of the North Dakota Petroleum Council, estimates it would take hundreds of millions — if not billions — of dollars to build the infrastructure necessary to extract the natural gas from the oil and reduce the pressure.
Cutting argues that we shouldn't even be talking about the vapor pressure question until research is completed at Sandia National Laboratories to determine how much vapor pressure contributes to the flammability of crude oil.
"I'm just not sure that even having a discussion of reducing vapor pressure is accomplishing much," she says.
Eventually, new regulations may be inevitable. Since last fall, the federal Pipeline and Hazardous Materials Safety Administration has considered whether shippers should be required to make sure oil cars have a pressure below 9 psi.

ESSENTIALLY LOCAL
In the meantime, Spokane's anti-oil-train initiative sets the stage for an inevitable legal battle, the city of Spokane pitted against the railroads and oil companies.
"We think these initiatives are unconstitutional and we will protect our rights," BNSF's Wallace says.
The city of Spokane's Hearing Examiner has concluded that Beggs' initiative is so clearly in violation of federal law that it is beyond repair.
But Beggs believes there's a small legal space that Spokane may be able to slip through. Federal law allows states and municipalities to introduce additional rail safety regulations to address "essentially local" safety hazards, as long as they're not already covered by federal law or overly burdensome to interstate commerce.
Beggs argues that the safety hazard in Spokane is unique — the oil trains are passing through downtown on elevated tracks, above an aquifer that's the sole source of Spokane's drinking water.
"If the train derails, it falls 30 feet onto the pavement. It's more likely to blow up," Beggs says. "In Mosier, it burst even tipping over. If it's elevated, all that force is dangerous. Way more likely to explode."
He argues that the cost of the proposed regulation, only 4 cents per gallon of oil, isn't overly burdensome. But a deeper look at the 2003 Ninth Circuit court case that Beggs bases his analysis on shows just how precarious the legal argument is. While the court allowed the California Public Utilities Commission to fine railroads for failing to follow their own safety standards, it rejected the arguments that steep curves, sharp turns or the potential environmental damage to local rivers counted as "essentially local" hazards. The courts nixed most of the regulations proposed by the CPUC, including training requirements and braking systems, warning that "the effect of such a patchwork regulatory scheme would be immense."
Beggs says he thinks that many of his constituents would be willing for the city to take on the legal risk if it meant decreasing the more explosive risk.
"I'm not a crusader on this issue," Beggs says. "I'm just, like, 'Give the voters a choice.' They get to decide. Do you want us to take every effort you can to avoid [an oil train disaster?] Then vote yes."

PIPE OR RAIL?
The Inlander asked representatives from both Union Pacific and BNSF if there was anything the city of Spokane could do, legally, to reduce the number of oil trains. The answer was the same: Essentially nothing.
"Stop driving cars," Wallace suggested. "You can stop flying."
In fact, even a huge decrease in oil consumption in the Inland Northwest would be unlikely to impact Bakken oil train traffic, says Robert McNally, author of Crude Volatility: The History and the Future of Boom-Bust Oil Prices. The United States would probably eliminate oil exports from Nigeria and Libya from its diet before cutting out domestic Bakken oil.
Instead, one of the biggest ways that Bakken oil train traffic might be reduced is due to another project that environmentalists — and the Spokane City Council — fervently opposed: the Dakota Access Pipeline.
While the pipeline's course through tribal land made it a flash point for protests, it's ultimately cheaper and safer to funnel oil through pipeline than by train. As pipeline infrastructure has built up near the Bakken oil fields, the amount of Bakken crude transported by oil train has already fallen dramatically.
And with the Dakota Access Pipeline able to take half of the approximately 1 million barrels a day the Bakken oil fields generate, experts expect much of the oil-by-rail traffic from the Bakken to disappear.
Yet Spokane may be an exception. Oil terminals and refineries in the Pacific Northwest generally lack pipeline access to Bakken crude — and the Rocky Mountains would make pipeline construction untenable.
"If any crude by rail survives, it would be to the West Coast," one market source recently told Genscape, a data company that tracks the energy market. "It's close, BNSF has a direct line and they should be interested in reducing (freight) rates."
So for oil opponents in the region, the latest battleground has become the proposed Tesoro Savage Vancouver Energy crude oil terminal. Since 2013, activists and municipalities have been fighting against the plan for the facility. It would be the largest oil-by-rail unloading terminal in the U.S., and it would mean four more oil trains, every single day, coming through Spokane.
The city of Spokane has thrust itself into the terminal debate. It sent a comment to the state warning of "a potentially catastrophic incident" that would be "crippling to the public's sole source of drinking water." It also hired hazardous materials consultant Michael Hildebrand to detail the "extreme challenges" that would occur as emergency services scrambled to address an oil train derailment.
Ultimately, it will be up to Jay Inslee, a governor who's prided himself on his efforts to combat climate change, to decide whether to approve the terminal. For now, the deadline is June 30, less than two months away.
If all legal methods are exhausted, of course, activists have another option: illegal methods.

RAGING GRANNIES AGAINST THE MACHINE
It's a sunny August day, and Nancy Nelson, in her old-fashioned indigo dress patterned with pink and white flowers, stands on the railroad tracks east of downtown. She's wearing her dusty-green apron, with pictures of two of her grandchildren on it, as she's arrested.
She says she wants her grandchildren to grow up in a healthy world. They have asthma, and she wants to them to grow up to breathe easy.
Two other "Raging Grannies" — members of the international organization of elderly female radicals — stand with her and get arrested. They'd get the score from the railroad later: Blocking the tracks for an hour, they delayed the passage of 11 oil or coal trains.
It's not the first time Nelson's done something like this: 32 years ago, she stood on railroad tracks to block an armored white train that she believed was carrying nuclear warheads.
"I felt like I had to put my body in front of that train that carried enough nuclear explosives to blow the entire world up two-and-a-half times," Nelson says.
She feels the same way today. A month after the Raging Grannies protest, the tracks are blocked again, this time by three members of the Veterans for Peace organization. They are arrested too.
"I don't think it's too strong a word to use: 'Mass suicide,'" George Taylor, a 77-year-old local Lutheran pastor, says about the threat of climate change.
Nelson, Taylor and other members of the local Direct Action Spokane group gather in a coffee shop a short block from the railroad tracks in Spokane. Most of them have broken the law. Eric Christianson, their criminal defense attorney, reminds them that merely by discussing the events, they could be implicating themselves.
"I could stop you guys with everything you say," Christianson says. "But you're here for the press. Say what you want to say."
The same convergence of railway lines that fed the growth of Spokane a century ago makes the city an ideal target for these sorts of protests. State Sen. Doug Ericksen (R-Ferndale) has referred to track-blocking protests as "economic terrorism" and proposed making them felonies. (Today, Ericksen is working for President Trump's Environmental Protection Agency.)
"What we realized was that Spokane is a bottleneck for the traffic of carbon," says Gunnar Holmquist, a local doctor and member of Direct Action Spokane.
Block the oil or coal trains here, and you cut off much of the Pacific Northwest.
Direct Action Spokane members expect to vote for Beggs' initiative, but they don't expect it to survive a legal challenge. They also see it as largely missing the point. You can treat the oil and cover the coal, but it's still dangerous to the climate, they say.
"What we're worried about this is the safe transportation of this evil load, that's going to come back and bite us all through our air and our water," says Rusty Nelson, Nancy's husband. "Let's stop now. We've got enough coal over there to make us choke anyway."
Direct Action Spokane proposed its own, far more radical initiative — it would have barred local law enforcement from arresting protesters who block the track at all — but pulled it to avoid confusion with Beggs' initiative. For now, they focus on breaking the law in an attempt to change it.
On May 19, the six arrested activists will face a hearing. Their hope is that they'll be able to use the "necessity defense" and argue that, yes, they broke the law, but only because they did so to prevent a greater harm from happening.
Looking at the legal landscape, they find reasons for optimism. Last year, a U.S. District Court judge in Oregon ruled that a group of children and young adults had standing to sue to protect the climate.
"That's a crack in the legal system that can be expanded; it's whole new territory for the law," Holmquist says.
But even if they don't prevail legally, the protesters hope they will change minds. It won't just be a few old people standing on the tracks. Others will join them, across the country. Many will be arrested, sure, but maybe some juries will refuse to convict them.
"Every step of the game where we make this quantum leap of the progress of civilization, it doesn't come from the legislators," Holmquist says. "They're the last people to get in line. It comes from the street, [where] people break the law." ♦
---
ABOUT THE AUTHORS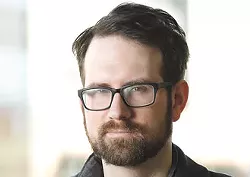 DANIEL WALTERS currently covers Spokane City Hall, business and development for the Inlander. Since 2008, Walters has explored the brokenness of the foster care system, shed light on shady debt-collection lawsuits, exposed a fraudulent local Blu-ray manufacturer, and used public records to highlight dishonesty by city officials. Reach him at danielw@inlander.com or 509-325-0634, ext. 263.
SAMANTHA WOHLFEIL covers social services and the environment for the Inlander. She came to Spokane from Bellingham, where she worked as a political reporter for the Bellingham Herald. Reach her at samanthaw@inlander.com or 509-325-0634, ext. 234.