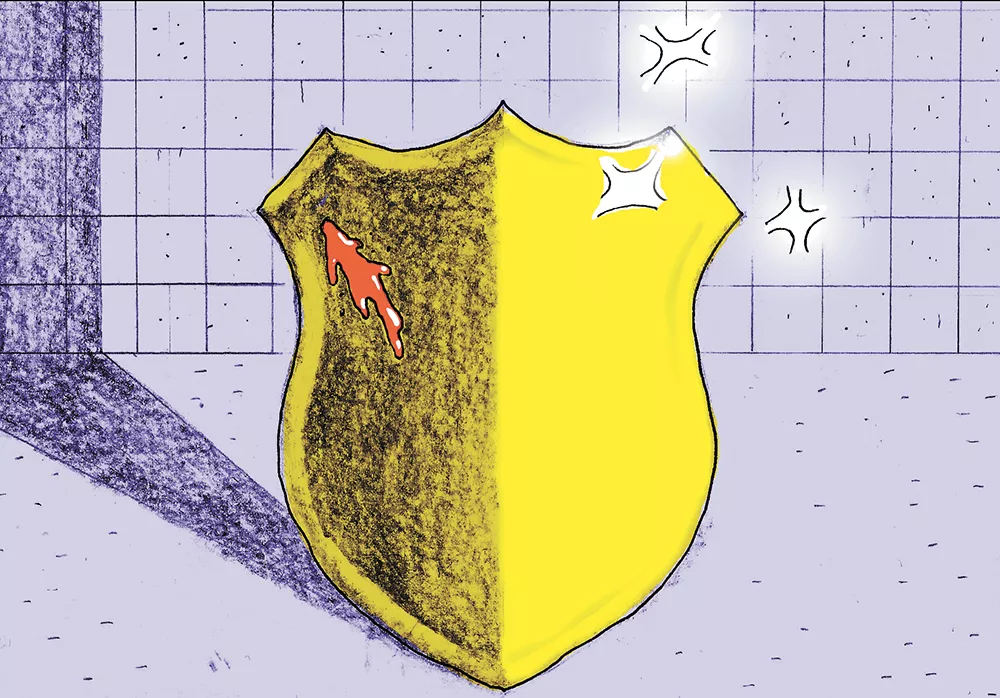 Painful wounds reopened when former Spokane police officer Karl Thompson walked out of federal prison with a smile last week, not long before the 10-year anniversary of Otto Zehm's homicide on March 20, 2006. Convicted of using excessive force against the developmentally disabled Zehm, local media interviewed the players and recounted the cover-ups, but one memory remained unshakeable: The 50 Spokane police officers who stood in support and saluted Thompson in the courtroom as he was sentenced.
In the decade since, the healing has been a painful process, exacerbated by the past three months of serious damage to rapidly eroding public trust. The mix of ingredients that brought us here:
- Former Chief Frank Straub was forced to resign amid sexual harassment allegations.
- Spokane Police Guild President Sgt. John Gately was charged with first-degree rendering criminal assistance and obstructing law enforcement for tipping off Sgt. Gordon Ennis that he was being investigated for sexual assault on a fellow officer after she fell asleep at a party in October. Sgt. Ennis plead not guilty to rape; Officer Doug Strosahl, the host, was accused of evidence tampering.
- Captain Brad Arleth was suspended with pay for moving office furniture; meanwhile, Officer Chris Conrath has sex with a domestic violence victim he was investigating.
- Jim McDevitt, whom Mayor David Condon appointed until the new chief is hired, explained racial profiling in an editorial for the Spokesman-Review, saying African American males commit more violent crimes. "This mental shortcut becomes almost irresistible," he wrote. "It is a somewhat rational form of profiling." When questioned about this stance in a community police advisory meeting, he walked out in a huff.
- After nearly 70 percent of Spokane voters passed Proposition 1, which called for a truly independent ombudsman, the Spokane Police Guild continues to battle oversight and the position remains open.
Unless they publicly apologized, it's unknown how many of the officers who saluted Thompson are on duty today. Assistant Chief Craig Meidl, a contender to lead the department, was one of them. He was deeply sympathetic, declaring Thompson's innocence in a staff email that blamed the community and the media.
And so the culture continues — the same culture that destroyed former Mayor Mary Verner's career and is now crippling Mayor Condon. While Condon broke the mayoral re-election curse, he also violated the public's trust by keeping the Straub scandal quiet until ballots were counted. That has caught up to Condon and his administration, as they play footsie with the truth and fend off an ethics complaint regarding their response to Straub's sexual harassment allegations.
For all of Straub's sins, his final department memo referenced command staff and revealed the barriers in changing the culture, where he cited "conflict between the old guard and emerging creative leaders who embrace community policing." The message seemed lost after Straub countersued the city for $4 million for violating his due process.
This isn't police bashing. I believe that the men and women who do the complex work of policing our streets in Spokane join the force to keep their city safe. Still, even more must be done to align the police with the public. We need leadership that ensures no one should be questioned or searched because of their religion, race, national origin, LGBTQ status, housing status or age. We need to address sexual misconduct, and the blue wall of silence that exists within the department.
Vilifying either the person behind the badge or the person standing before the badge is not going to help us. Officers risk their lives, but let's acknowledge together that there's suffering on both sides. Police culture in Spokane has lost its way. To find it, police must listen when the community speaks. And until confidence is restored, the Zehm tragedy lives on.♦
Paul Dillon, a Center for Justice board member, manages public affairs for Planned Parenthood of Greater Washington and North Idaho.
Editor's note: this article has been updated to correct the characterization of Capt. Brad Arleth's suspension. Arleth was suspended with pay.