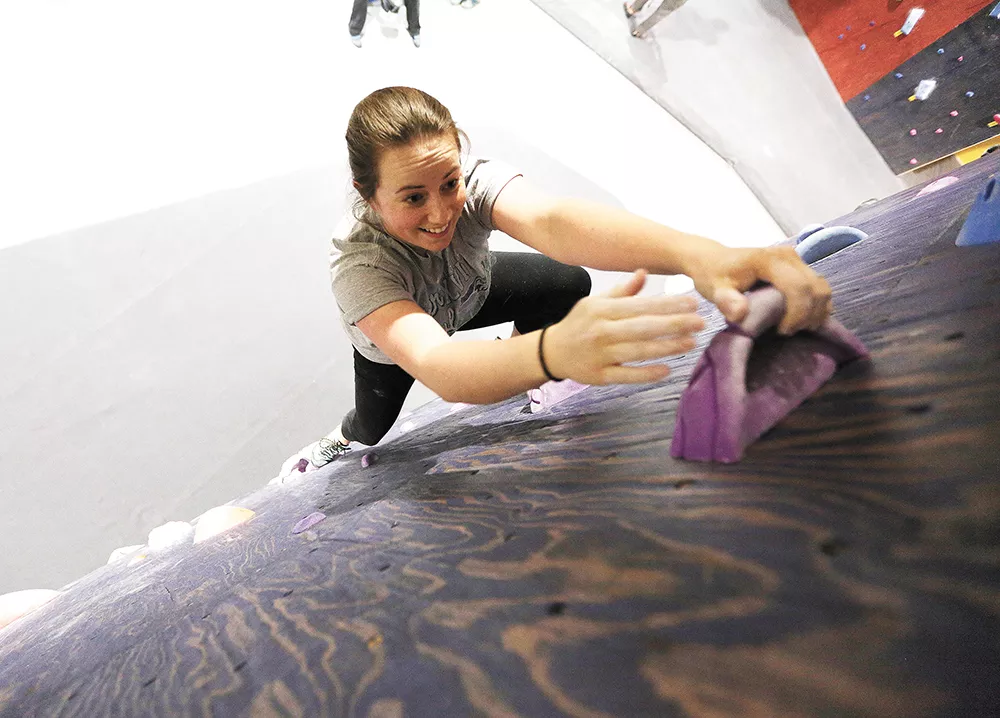 Adam Healy's problems are color-coded, and each week it's something new.
Healy co-owns a climbing gym that recently opened in north Spokane. In the world of climbing, "problems" are the specific routes that climbers use to move up a wall. Healy's facility, Bloc Yard Bouldering Gym, has about 180 problems that are rearranged on a weekly basis. That means the entire gym will turn over with fresh routes every six weeks.
"The holds are constantly rotating and constantly on different planes," Healy says, "so people get to experience that hold in a different way every time."
Bloc Yard, located at 233 E. Lyons Ave., is only the second climbing facility to open in Spokane in decades. Healy's facility differs slightly from Wild Walls, which has long been the to-go gym locally, as his is a bouldering-only gym. Bouldering is a specific type of climbing that doesn't make use of ropes to scale shorter walls. For some, that's a bonus, Healy says, because bouldering climbers don't need a partner.
The new gym, which opened last week, has about 4,500 square feet of wall space and is about 16 feet high at its tallest point.
"From what I've seen from building [gyms across the country], these are some of the best angles I've seen put in a space like this," says Brett Jessen, a manager at Bloc Yard, who has traveled the country building climbing gyms. "It's got beginner terrain to professional."
In the weeks before Bloc Yard's soft opening (rates are discounted until the gym's grand opening on April 15), Healy and Jessen discuss their excitement about the new facility over the buzz and clank of construction.
The two began renovating the nearly 10,000-square-foot former gymnastics studio last November.
"Since the build started, I think I had, like, maybe five days off," Healy says. "It was about a month of just pure cleanup. We started throwing steel in at about mid-December."
Climbing as a sport has grown steadily in the U.S. since at least 2009. Last year, 27 new climbing gyms opened across the country; though that number is down slightly from previous years, facilities are still popping up all over at a good clip. According to Climbing Business Journal, more than 40 gyms are set to open this year, and the industry has grown in the U.S. at about a 9 percent rate since 2012. Competitive climbing also has been added to the 2020 Summer Olympics in Tokyo.
That fact is not lost on Healy and Jessen. Sections of the Bloc Yard will feature beginner-level problems and an area for kids, and part of the gym will be dedicated to competition-level climbers.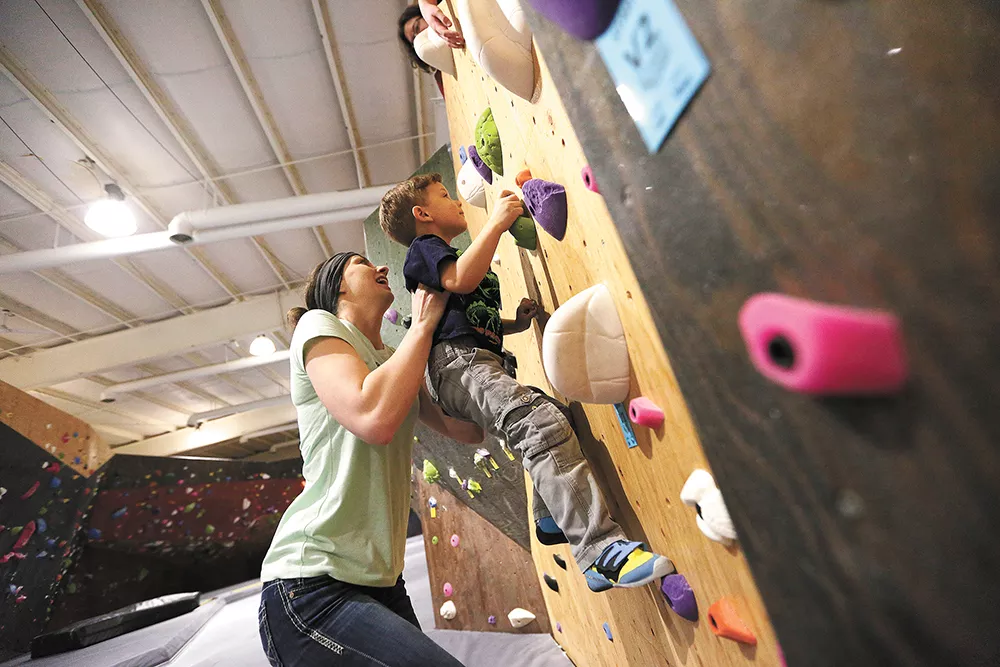 "The planes are large enough that we can put these volumes on and change the three-dimensional aspect of the walls, and still have independent lines going through," says Healy, who has helped design climbing gyms in Portland. "The height of the walls allows us to set really showy, dynamic problems — real crowd-pleaser stuff."
Bloc Yard also has a "cave," where climbers hang nearly upside down. That's perfect for developing power and endurance, says Healy.
For these two, Bloc Yard is a homecoming. Jessen and Healy met back in the late '90s when Healy was a freshman at Gonzaga. A buddy took him to Wild Walls, where Jessen worked, and he's been climbing ever since.
"Then I started climbing outside at Minnehaha, Tum Tum and Deep Creek," Healy says of the popular rock-climbing areas near Spokane. "I just got hooked, and tried to spend all my free time doing it."
The two left town and have been helping build climbing gyms all over the country for the past several years. Jessen left his mark in New York and Chicago, and most recently on a 40,000-square-foot facility in Salt Lake City.
Healy has helped out on the Circuit Bouldering Gyms in Portland, and has started his own company that designs "holds."
Coincidentally, the two landed back in Spokane last year and agreed to help brothers Jason and Shaun Olcott build and open Bloc Yard.
"This city is big enough, and bouldering is one of the fastest growing sports in the country right now," Jessen says, indicating that the sport's popularity demands a second facility.
"We really don't look at it as competition," Healy says of Wild Walls. "We're trying to build a community." ♦