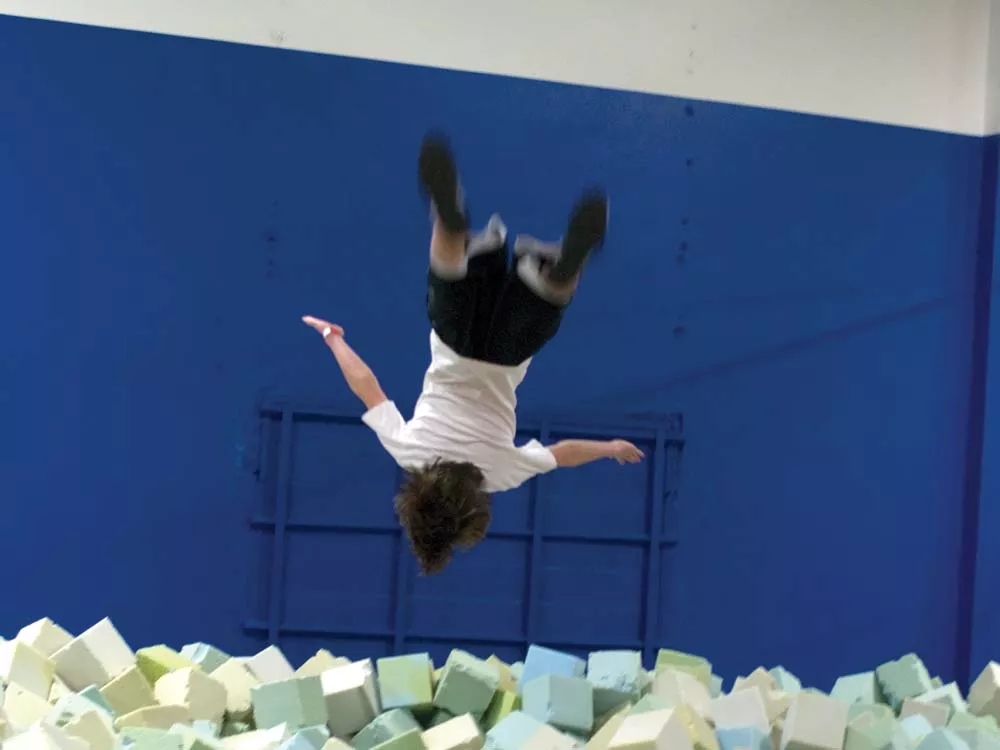 I'm afraid we're going to get kicked out. The profanity spewing from my lips, in combination with the sweat dripping from the birthday boy's beard, seems a bit gruesome for this family establishment. Especially when you compare my motley crew of friends to the ballerina-like girls with ponytail braids, black leggings and pointed toes.
These girls jump daintily. They flutter their hands and for the most part, land on their feet. My friends, on the other hand, are man-child kamikazes who shouldn't be allowed on trampolines.
But we're here anyway and, strangely, no one's stopping us.
Anything seems to go at Sky High Sports ("The Trampoline Place"), which opened in December in a warehouse near Gonzaga. The fun palace is home to two trampoline dodgeball courts, a kids court, a foam pit and a large open court. Trampolines cover the entire floor — and the walls.
The place is a carnival fun house for both kids and adults. Everything seems great and exciting until, of course, you faint from overexertion or fall and hurt yourself.
"When we first opened, we were so busy. People were running around being crazy and getting hurt," says employee Kaitlyn Jellison, 20. Her cheeks are flushed as she bounces in checkered Vans. "Now it's getting a little better. We've only had four serious injuries. Mostly broken bones and a lot of sprained ankles."
Our 29-year-old birthday boy sprains his ankle, too. It's easy to do. The floor trampolines are laid in a grid separated by yellow pads. Jellison tells me these pads cover the poles that support the trampolines and the red pads around the edges protect the springs.
Heed my advice: Stay away from those pads.
The friendly, bright colors may make them look cushy, but they're not. Landing on one will abruptly break your fall, catapult you into your neighbor, or jerk you knees into your abdomen.
Did I mention it's still fun? And some of the jumpers are amazing.
"It's insane what people can do," Jellison says.
"Some people do double flips, triple flips, front flips, back flips, gainers. Just insane things." So it comes as no surprise that athletes – especially divers and gymnasts — take advantage of the soft floors and billowy foam pit.
I belly flop into the foam pit — a hole filled with giant squares of stinky foam. It feels like quicksand and I'm fighting to get out when a gang of teenagers double front-flips into the foam, landing head-first next to me. Show-offs.
Despite the size of this warehouse, things get busy and a little cramped on the weekends. Jellison tells me their maximum capacity is 150 people per hour, and it's usually a good variety of jumpers. Adults. Teenagers. Seniors. Toddlers (the kids' court is for children 8 and younger) and children with special needs. Munchkin Mondays and Wild Wednesdays are crazy, too.
That's precisely why we came on a Tuesday.
There's only a handful of kids here — ballerinas and teenage boys who are much more limber and talented than the rest of us here.
Jellison graciously reminds me that the storage room has a cooler full of ice. Which is good. We're going to need it.

Sky High Sports • 1322 E. Front Ave. • Open Sun and Mon, 11 am-10 pm; Tue-Thur, 2-10 pm; Fri and Sat, 11 am-midnight • Waivers required for children • spo.jumpskyhigh.com • 321-5867