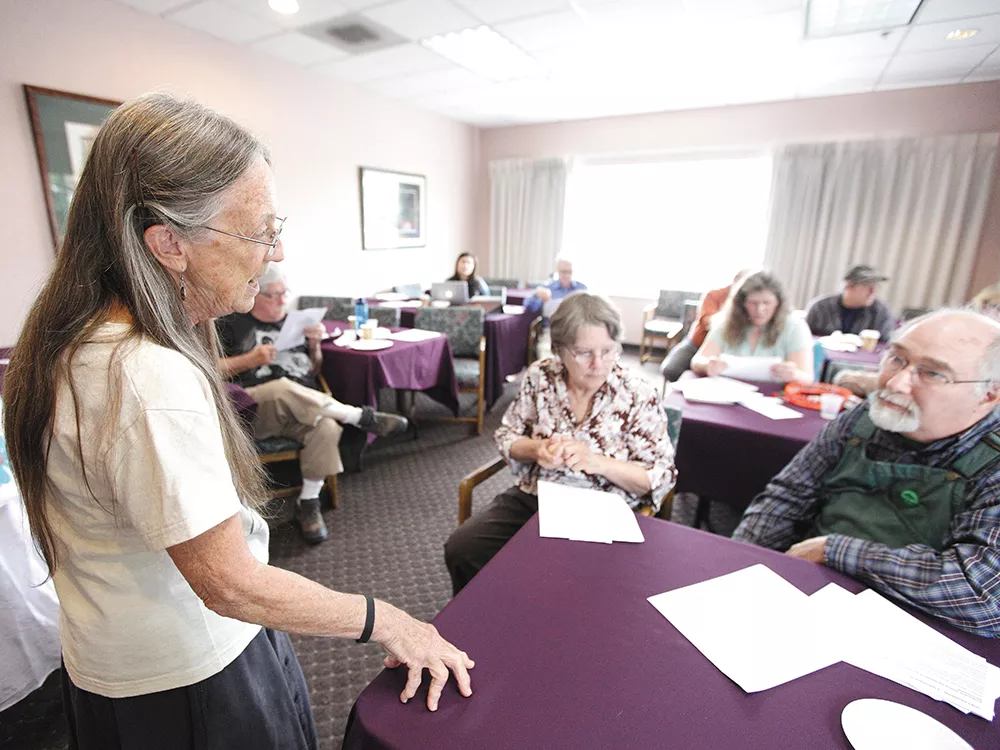 Jody Grage checks the clock on the wall. Nelson Cone scans the room. It's almost 10 am, and there are six other people in the conference center at the downtown Spokane Travelodge. All are men — five are white-haired or balding with mustaches. Most are wearing some shade of green. A couple of Green Party banners hang limply on the paste-colored walls. A man in the back snaps photos.
"We're always disappointed in the number of people who show up," Cone remarks.
It's Day One of last weekend's Green Party gathering in Spokane. Internal squabbling led to the Green Party of Spokane's dissolution in 2007. Now, Washington state Green Party leaders have come from the west side — Grage from Seattle, Cone from Clallam County — to convince disaffected progressives east of the Cascades to rejuvenate their local party.
"Power is in the people," Cone says as the meeting starts. "You will face what you face everywhere else. They'll start in the beginning trying to discount you and ridicule you and say you're an ineffective bunch of tree huggers, but we're much more than that. And those that have been with the Green Party know that."
The time is ripe, they say, for a third-party alternative in electoral politics. President Obama is a hawk, poised for war against Syria. The government is spying on its citizens. The country is shifting rightward, and there's a vacuum on the left. As Grage says, "things are going to hell in a handbasket."
"People are only going to take so much," Cone says. "If it gets bad enough, it's going to become violent."
"I've got a book this thick on plant medicine," says Grage, putting down her knitting to flex her thumb and index finger. "We're sort of in this for the long haul."
In spite of the initial low turnout, by 1 pm the room is full. Almost half of the attendees have never participated in Green Party politics, including Joan Anderson and her husband John Pieczykowski. They're dissatisfied with the direction of the Democratic Party. Anderson says the system is broken. Pieczykowski threw his November ballot in the garbage. They'd never been involved in politics until now.
"There was hope when Obama came in, and nothing really has changed. There are no differences, really," says Anderson. "He's continuing what Bush did. He's deporting more people. He didn't close Guantanamo."
"[We're becoming] a high-security, fascist state," Pieczykowski interjects. "If you look up the definition, fascism is when corporations have control."
The Greens in the room aren't oblivious to their electoral odds. Greens hold about 130 elected positions across the country, but none in the Congress or high-level statewide offices. Last year, Green Party presidential candidate Jill Stein carried less than half of 1 percent of the vote. Grage says the party's biggest problems are cyclical: a small grassroots base means a dearth of electoral candidates.
"We have a lot of things going for us," Cone says. "It's getting the word out that's difficult."
By the end of the weekend, Grage and Cone have recruited the Eastern Washington Green Party's founding members. It'll be a few months before the local party completes and files the appropriate paperwork, but at least they've gotten this far. On Saturday, Morton Alexander, a longtime Spokane Green Party supporter, said it'd be a "challenge" to get five people — the bare minimum — on board.
A self-described "default Democrat" from Otis Orchards echoed Alexander's concerns, raising his hand to speak.
"I like the Green Party. I like their stands on things, but they have no power to really influence things. I'm struggling with the reality of our political system," he says. "I suppose it's a catch-22: It's hard to be effective when you're that small, and it's hard to put a lot of energy and effort into something you don't see."
The man in the back, snapping photos, pipes up: "It does take a leap of faith."