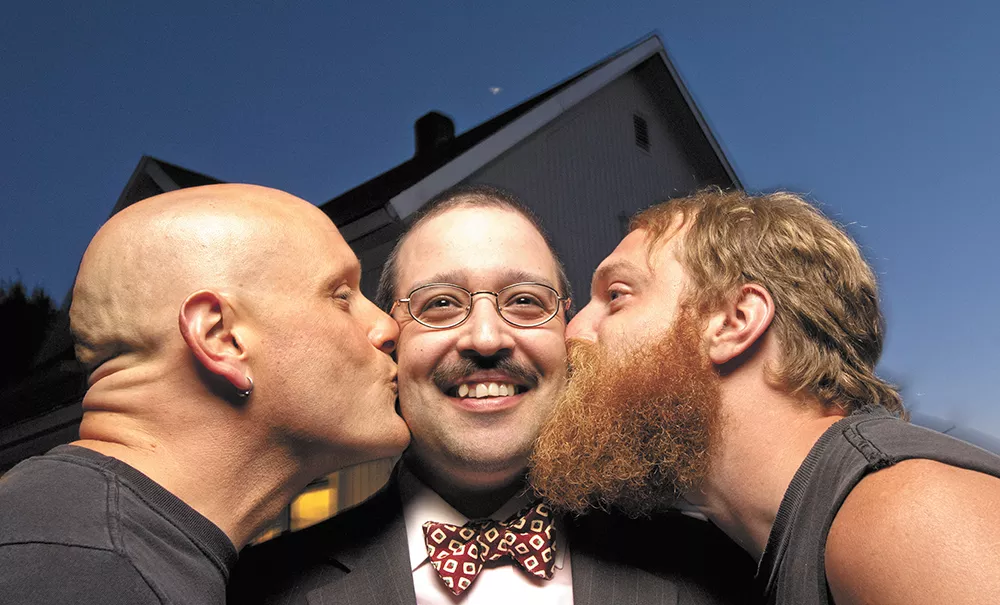 The show at the Volume festival was getting wild. The drum kit already had been knocked over twice — which can easily happen at Mootsy's, the downtown Spokane venue where audience often merges with performers into one sopping hot mess of noise. Portland three-piece Gaytheist liked the spirit, but didn't know how they would continue playing if their instruments kept getting slammed into. Then a miraculous thing happened. Everyone in the front row linked arms, forming a wall of protection between the band and the concertgoers, people coming together to absorb the pounding layers of sound.
This happens at a Gaytheist show. It's a methodical, steady roar. The punk metal trio plays their instruments with the fury of hell, fingers running up and down guitar and bass necks like water, the drumming absolutely incendiary. Some songs speed by so quickly, they're barely a minute long.
"We don't think we have to play a riff over and over," explains lead singer and lyricist Jason Rivera from his Vancouver, Wash., home earlier this week. "Why not just play something once? It's more fun that way."
Together officially since January 2011 when they played their first Vancouver house show, Rivera says this is about the longest he's been with one group. For two decades, Rivera, 42, has been in a bunch of bands, but with Gaytheist he's really having fun and people are starting to pay attention.
Along with Volume, this year alone the band has played Treefort Music Festival, Capitol Hill Block Party, Portland Queer Music Festival and Crucial Fest in Salt Lake City, and this week is headed to Missoula's Total Fest.
"It's our fourth time applying to play there, and it's our first time we're in," Rivera says. "It's really cool. The goal with playing so many festivals is just to be heard by as many people as possible."
Rivera is a gay man who also happens to be atheist, hence the name Gaytheist. The band's moniker often draws a lot of attention, and while Rivera admits there has been some negative feedback about it from journalists and music promoters, they've nevertheless managed to have their record played on Portland radio stations.
"I just thought the name was hilarious," he says.
Rivera has just made a cup of tea right before the interview. He's genial, laughs easily and is slow to employ curse words. He's not at all what you'd expect from a lead singer of a heavy rock band, especially in his apparel choices. He dresses well; it's not some costume he dons only for the stage. He wears bow ties and suspenders, suit jackets and wire-rimmed glasses all the time. "I'm not a T-shirt and jeans kind of guy," says Rivera, who as a graphic designer by day, designs all of the band's T-shirt and album artwork.
Weaned as a kid on his older brother's metal records, heavy music has always been his sound of choice. His bandmates, bassist Tim Hoff (who played guitar in Lopez and has known Rivera since high school) and drummer Nick Parks, feel that way too.
In the beginning, they had songs where one word or phrase like "dance" or "I'm on top" was sung on a perpetual loop. As the records have progressed, Rivera says they've put more effort into them — especially 2013's Hold Me...But Not So Tight.
"I'm really bad. I could write the same couple songs over and over," Rivera admits.
But his bandmates keep him on task. And as they go back into the studio this fall to make their fifth album, they stick with the same process — Rivera will come in with a melody, and Hoff and Parks take it in a different direction.
"They always tell me, 'OK, we like it. Now can we just speed it up and make it louder?'" Rivera says. ♦
Gaytheist with the Bugs, Peace Creep (all Total Fest bands) • Thu, Aug. 14, at 8 pm • $6 • All-ages • The Big Dipper • 171 S. Washington • bigdipperevents.com • 624-4319
---
TOTAL FEST IN SPOKANE
Total Fest rages through the weekend in Missoula, but even if you can't make the three-hour drive down I-90, there are a couple of underground rock, metal and punk bands playing Spokane before and after they perform at the all-ages, multi-venue Montana music festival (in addition to the Gaytheist show).
Lord Dying, Prizehog: Sat, Aug. 16, at 8 pm; Big Dipper, $10
He Whose Ox is Gored, Lord Dying: Sun, Aug. 17, at 8 pm; Mootsy's, $5