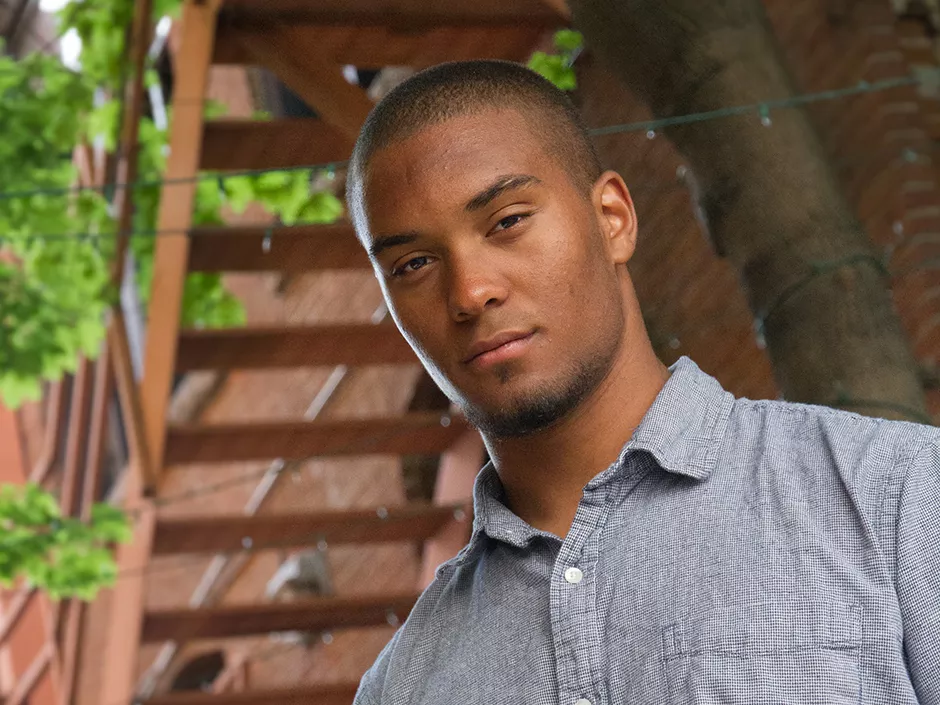 The hallway is a zoo — a cage echoing with the cackling and howling and chattering of hundreds of teenagers changing classes. There are girls in tiny shorts and flapping sandals, boys in backward hats and shorts with more pockets than anyone could ever actually fill. Everyone is carrying a giant backpack. Everyone who isn't talking is clicking away on a cellphone.
And among them — above them, really — is an 18-year-old kid with sleepy eyes and a dusting of chin hair. He's impossible to miss. He's a hulking senior — the type girls inevitably stare at, and guys want to be like. And though he towers over most of the other kids at his school by at least a foot, Langston Ward navigates the halls of Mead High on a Wednesday morning just like the rest of them: walking lockstep in the hallway traffic, rushing to get to the library five minutes before class. "I have to print a paper," he says as he plunks down at a computer station and adds the finishing touches to a document. He hits a button to print.
"Awesome," he says. The bell sounds and he's off to class.
The paper is on a book of "literary merit." He chose Watchmen, a graphic novel. "I think it's of literary merit." He flashes a million-dollar smile.
Langston Ward smiles that smile a lot. He rushes back through the hallways, and cuts into his AP literature classroom, where his teacher Julie Ringold looks up from her desk.
"Langston... " she says.
"I finished... " he says sheepishly, handing her the paper, still warm from the printer. And there's the smile again.
When class starts, Ringold announces that Ward has his paper to present — an announcement that's met with a smattering of giggles and claps as he makes his way to the front of the classroom. He smiles at the class, then he starts talking about why graphic novels aren't just superhero comics. And his classmates listen.
Lately, when Ward speaks to people — he says he has a little bit of stage fright — he's found that people like to listen to him. At the end of April, the Mead High senior won the Poetry Out Loud National Recitation Contest — a competition created in 2006 by the National Endowment for the Arts and the Poetry Foundation, and this year featured some 300,000 competitors from every corner of the nation — with his recitation of three poems. That first-place title earned him a check for $20,000, and Mead High received a $500 stipend for poetry books because of his win.
Ward's three poems touched on different movements in the poetic world. In the semifinal round, he recited Li-Young Lee's "The Gift" — a modern piece that recounts the simple act of a father removing a splinter from his son's palm — and Walt Whitman's gut-wrenching Civil War-era poem "A March in the Ranks Hard-Prest, and the Road Unknown." And in the final round, Ward nodded to the beat poets with his performance of Kenneth Rexroth's "The Bad Old Days."
As someone who just won one of poetry's biggest championships, Ward admits he's no poetry nut. He only started reciting poetry when it was implemented into the English curriculum at Mead. And though he won the state competition last year and advanced to nationals, he didn't plan to compete this year.
"I told my teacher the day before the school competition that I didn't want to do it. I was just... I didn't really want to go through all the processes of getting to nationals again, even though it was fun," he says. "I was just being lazy. I just changed my mind at like 10 o'clock the night before."
Maybe he wasn't just being lazy. Maybe he was tired. Poetry Out Loud is hardly Ward's entire life. He's a star football player at Mead and he's set to play for Harvard come fall. He plays cello. He's a second-degree black belt in tae kwon do. He was a page to Sen. Lisa Brown in 2011. He's on the debate team. He throws discus on the track team. He plays in a rock band with friends. He's got a girlfriend he's taking to prom on Saturday. And he's never had more than one B at a time on his report card.
But a part of Ward had to know that there's something special that happens when he reads a Whitman passage. The dramatic pauses. The way his voice swells with pain and anger and resignation. He must feel the way a room stills when he speaks.
Ringold says sometimes it's hard for her to get the boys in her freshman English classes excited about poetry. But when they see Ward — this running-back-obliterating, discus-slinging, bass guitar-playing senior — perform, it changes how they look at poetry. "'Well, if Langston does it...'" she sees them thinking. And suddenly they're interested.
He's the kind of kid other kids want to be like. And though, it seems, he does everything short of pulling infants out of burning houses, Langston Ward is still just a kid.
And like a kid, he's got detention today — the second one he's ever had. The first was a few weeks back: he left campus without permission so he could buy flowers to ask his girlfriend to prom. But this time, he got detention because he overslept and was late to school.
When he talks about it, that smile comes back again.
Yeah, he's a kid. But even Ward knows it's silly to give a kid like him detention.