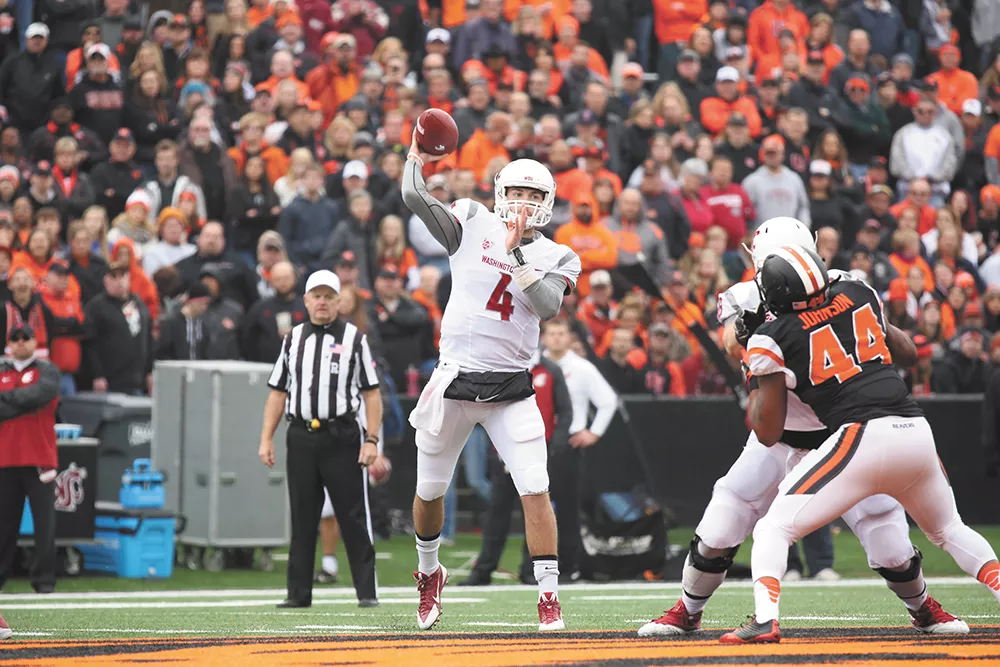 Washington State quarterback Luke Falk was such a white-hot recruit going into his junior year of high school that he received a scholarship offer from mighty Florida State.
"I kind of thought the offers would roll in after that," Falk recalls wistfully.
Two years later, Falk's suitors had been reduced to Idaho, Wyoming and Cornell. Well, technically, Wyoming and Cornell — and Ivy League schools like Cornell only offer academic scholarships.
"Got my offer pulled from Idaho with a new staff," Falk mutters. "That's kind of embarrassing a little bit."
The only ones who should be embarrassed are Idaho's coaches — and not just a little bit. The Vandals, winners of precisely one game each of the past two seasons, pulled a scholarship offer from a quarterback who has passed for 1,072 yards and eight touchdowns in his first two college starts.
Falk redshirted last season, his first year at WSU, and did not go on scholarship until this fall, but he doesn't seem surprised by his early success.
"Not really," Falk said after he set WSU passing records for a first start with 471 yards and five touchdowns in a victory at Oregon State on Nov. 8. "You expect that from yourself.
"When it actually happens, it's really nice to see that, how the hard work paid off. I just think it's a credit to the system. The guys around me, they played a great game."
Yeah, nothing to it. The week before, Falk replaced injured WSU star Connor Halliday midway through the first quarter of a loss to USC and threw for 346 yards and two touchdowns despite having previously thrown just two passes all season (the second one resulting in an 84-yard touchdown).
Last week, in his second start, Falk passed 74 times (completing 45) for a whopping 601 yards and three touchdowns at Arizona State. The yardage ranks second and the attempts rank third in Pac-12 Conference history. Only Halliday has done better since the conference began playing football in 1916 as the Pacific Coast Conference.
The Sun Devils, however, ripped the Superman cape off Falk's broad shoulders by intercepting him four times and recovering a fumble he lost. All five turnovers led to touchdowns in a 52-31 loss.
"Maybe I was pressing a little bit," Falk admits. "I need to do a better job of just focusing on the next play, like Coach [Mike] Leach always says, and no matter what the score is, just doing my job."
Long before suffering his broken leg, Halliday raved about Falk's work ethic and potential.
"When I saw him on the ground," Falk says, "I just started praying for him, hoping he was all right, just because he's had a tremendous career. He's been an awesome friend to me, a great mentor."
"Hopefully," Halliday says, "his career takes off and he breaks all my records."
Falk grew up in Logan, Utah, but his family moved to Los Angeles his junior year of high school to expose him to better competition and more recruiters. The Falks and the big city did not hit it off, so they moved back to Logan after Falk briefly played for prep powerhouse Oaks Christian. Recruiters disappeared after Falk was ineligible to play the remainder of the season due to his in-season transfer, but he excelled as a senior in an offense similar to the pass-happy attack Leach employs at WSU.
"If you just do what the coaches are telling [you]," Falk explains in a matter-of-fact tone, "they're going to put you in a successful position." ♦
Apple Cup: Washington State (3-8 overall, 2-6 Pac-12) vs. Washington (7-5, 3-5) • Sat, Nov. 29, at 7:30 pm • WSU's Martin Stadium • Televised by FOX Sports 1