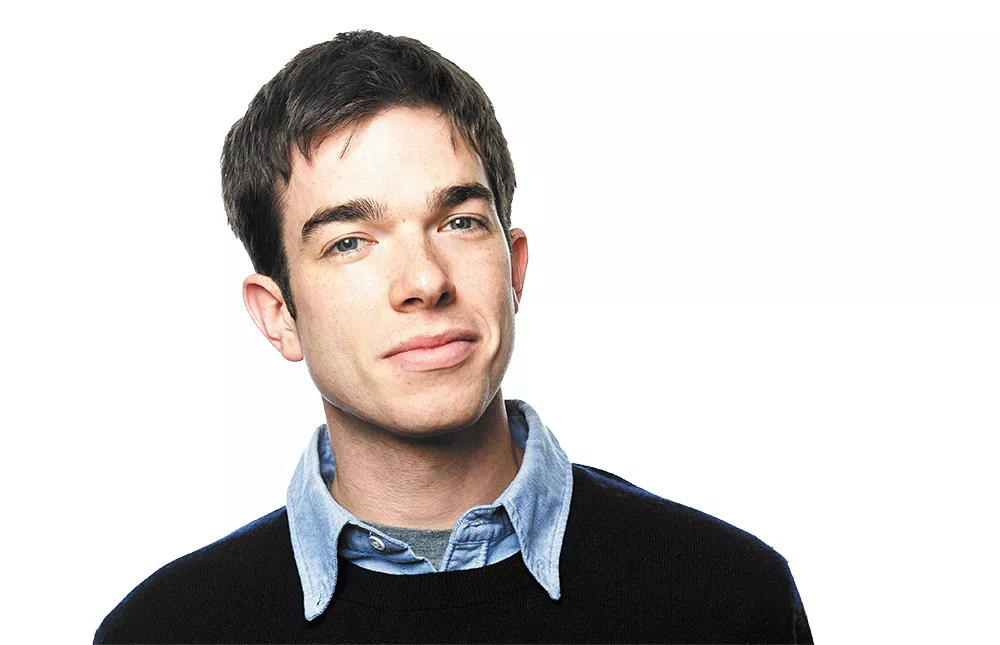 Blending boyish silliness with just the slightest edginess, John Mulaney's comedic style can crack up comedy snobs and fans of CBS sitcoms alike.
On his Netflix comedy special New in Town, his topics bounce across the map with blissful abandon: his physical appearance (being bullied as a kid for mistakenly being seen as Asian American), knowing outdated commentary on Home Alone 2: Lost in New York and the titular city's grid system, not wanting the girl he's dating to meet his parents ("Oh honey, tonight is going great. But you know what would make it perfect? Charles and Ellen Mulaney."), Ice-T's brilliance on Law and Order: SVU, a failed attempt to get a Xanax prescription and meta jokes about the setups to his stories ("I was once on the telephone with Blockbuster Video, which is a very old-fashioned sentence."). He can zig and zag without ever feeling disjointed.
At his comedic core he's a storyteller. The jokes he writes aren't reliant on huge closing punch lines, but rather a continuous flow of laughs each step along the way. He can take an anecdote about playing Tom Jones' "What's New Pussycat?" too many times on the jukebox as an 11-year-old and turn it into a gut-busting, six-minute comedic epic. Outside of stand-up, these writing skills were showcased as a writer on Saturday Night Live for six seasons. His pièce de résistance at that gig came when he and Bill Hader co-created Weekend Update's favorite New York City nightlife expert, Stefon. Mulaney famously would insert new, outlandish lines in the script right before Hader's performances of the character in order to get him to break down laughing mid-bit.
But Mulaney then left SNL and tried, like so many other comics before him, to create his own sitcom dynasty. Like most of those others, his show crashed and burned. Perhaps it was his comedic universality and likeability made this year's failure of the aptly-titled Mulaney that much more unbearably painful for longtime fans.
Taking most of its cues from Seinfeld, the show was all but doomed from the get-go. For some reason, Mulaney was a multi-cam show taped in front of a live studio audience, an outdated format abjectly despised by the audiences that follow Mulaney. The format alone dug a hole that was probably too deep for the show to escape from, and scripts that basically cast the lead as a nicer, blander Seinfeld were universally panned. Fans of Mulaney's stand-up loathed Mulaney (I endured every episode, and my many Mulaney fan friends rightfully treat me like I'm insane because of it.) The fact that Fox kept it around for 13 episodes from October 2014 to February of this year, instead of putting it out of its misery early, seemed like a cruel joke.
But Mulaney isn't taking the time to wallow; plenty has gone right for him in 2015. In March, he ended a successful run of Kroll Show, where he played one of the sketch program's most popular characters, old Upper West Side divorcé George "Too Much Tuna" St. Geegland. In May, he taped his latest stand-up special in Chicago, John Mulaney: The Comeback Kid (which will be released via Netflix on Nov. 13). In July, he got married.
Yeah, he had his show canceled too, but he had a show named after him on network television. That's crazy. Besides, it all led him back to the spotlight where his comedic talents shine: the stand-up stage. ♦
John Mulaney • Thu, Oct. 1, at 8 pm • $34-$49 • Martin Woldson Theater at the Fox • 1001 W. Sprague • foxtheaterspokane.com • 624-1200