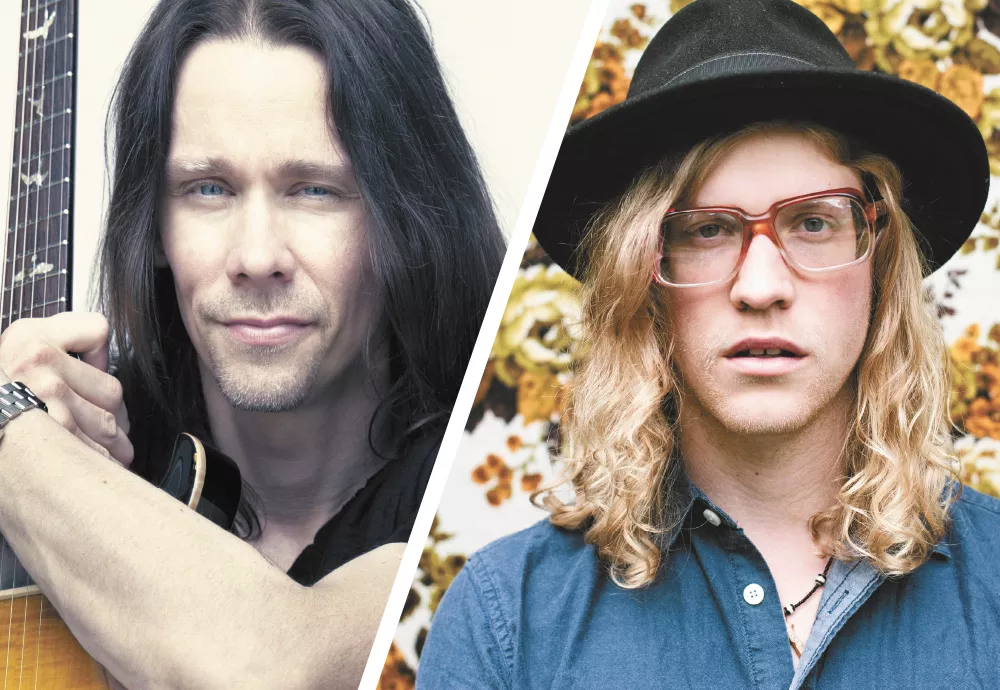 This week, musicians Myles Kennedy and Allen Stone come back to the place where it all started. The entirely different artists play back-to-back shows at the Knitting Factory; Kennedy's hard rockin' Alter Bridge takes the stage tonight while Stone and his soulful R&B multi-piece band hit Friday.
Kennedy, 44, who came through the Gorge with Slash in August, lives in Spokane, if only for six to eight weeks out of the year. This is where he formed the rock band the Mayfield Four in the mid-'90s, a band that was signed by Epic Records. When that group disbanded, Alter Bridge, a group made up of the three Creed members who aren't Scott Stapp, called up saying they needed a singer. Since then, he's fallen in with Slash, with whom he recorded last month's World on Fire.
Chewelah native Stone also knows what it means to be a road warrior, touring around the globe for the better part of the past four years, playing various late-night TV shows and working on his soon-to-come album Radius, which he recorded in Sweden and Chewelah and marks his first release with Capitol Records. Stone, 27, moved to Seattle in 2007, but one year before that he had a Spokane address, living with his aunt and uncle. He says playing here feels like a homecoming.
Kennedy on Spokane
INLANDER: What is the one Spokane restaurant/bar you have to hit up?
MYLES KENNEDY: Aloha Island Grill, I love that place! There's something about the way they make their chicken. I'll be on the road just craving it.
What were your favorite local bands growing up here?
We all remember Black Happy and they really did a lot, and that was very surprising. I remember hearing them practice one day at 123 Arts, back when they were called Sacrament in the late '80s. They had this tight harmony. They really lit the way; showed that you could be from here.
What made you want to stay in Spokane?
My wife and I tried to live in Orlando back in 2004 for Alter Bridge. Nothing against it, we discovered that Spokane is kind of like the story of the three bears — it's just right. It just has a certain charm and people are really nice.
Where was the first show you played in Spokane?
The Eagles Ice-A-Rena in 1986 and it was with Bittersweet, my high school band, and that was my first real gig. Initially, when I first started playing music, I was playing in the cover-band scene. I was playing at Gatsby's, like, six nights a week, playing four-hour sets. But as part of the original music scene, I wasn't a part of that until the '90s. That was a really exciting time because we were looking at what was happening in Seattle, but I knew that was their sound, so I was trying to find what I was supposed to be doing as an artist.
Stone on Spokane
INLANDER: What is the one Spokane restaurant/bar you have to hit up?
ALLEN STONE: Zola, what a great atmosphere. My buddy Dan Spalding owns that place and he has a wonderful eye for design and architecture, kind of sparking the Spokane art scene.
Growing up in the area, what were your favorite local bands?
At a very young age I was into punk-rock music. It was an exciting punk and metal scene then; unfortunately it didn't go much outside Spokane. I remember Vendetta Red when I was in elementary school, though. But where I grew up I wasn't able to go to many shows.
Talk about the first gig you played in Spokane.
When I moved to Spokane straight out of high school back in 2005, I wanted to get some gigs, get my music out there, I was a typical narcissist. I met a friend who was working at Sonic Burrito; I played a couple shows there. I was fine; they couldn't pay anything. I remember my friends were so gracious to come listen to my stupid-ass music.
How often do you come back and visit?
When you're on the road all the time, vacation is really home, and something to re-center yourself. I try to come to Chewelah whenever I'm not on tour. ♦
Alter Bridge with California Breed and the Cringe • Thu, Oct. 23, at 8 pm • $27 • All-ages • Allen Stone with Bad Rabbits and the BGP • Fri, Oct. 24, at 8 pm • $20 • All-ages • Knitting Factory • 919 W. Sprague • sp.knittingfactory.com • 244-3279