Much has been made about Gonzaga returning this year to the site of the last time they were a No. 1 seed in the NCAA Tournament. Most Zags fans probably do their best to forget that 2013 trip to Salt Lake City.
That season, Gonzaga was close to becoming the first-ever No. 1 seed to lose to a No. 16 seed, scuffling to a six-point win over Southern before losing their second game to Wichita State. In retrospect, that wasn't a bad loss — Wichita State went on to the Final Four — but it was monumentally disappointing for a Zags squad that had reached No. 1 in the polls for the first time that season and won 32 games overall.
This time, the path to the Sweet Sixteen and the West Regional in San Jose, California, doesn't look quite as daunting. The Zags need to win two games to move on, starting with their 11 am tip-off against South Dakota State on Thursday, followed two days later with a showdown against the Northwestern-Vanderbilt winner.
Here's a quick look at the teams Gonzaga has to go through to get out of Utah alive:
SOUTH DAKOTA STATE Thursday, 11 am, TBS
The 16th-seeded Jackrabbits are the champions of the Summit League, and that came as a surprise; the team is only 18-16 overall and went 8-8 in conference play before getting hot in the Summit League tournament. SDSU is essentially a one-man gang, and that man is sophomore forward Mike Daum. He averaged 25.3 points and 8.2 rebounds per game this season, and when they needed him most in the game to reach March Madness, he dropped 37 points and 12 boards on Omaha, his ninth double-double this season. Only one other Jackrabbit averages double figures in scoring, and the team doesn't scare anyone from three-point territory. Basically, if the Zags can limit Daum, they shouldn't get much of a scare from South Dakota State.
NORTHWESTERN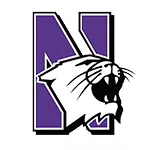 The eighth-seeded Wildcats out of the Big Ten might just be happy to be here. They've already enjoyed a legendary season, becoming the first Northwestern squad to ever make the NCAA Tournament, and the final power-conference team to do so in history. So yeah, they're pretty happy. They're no fluke; the Wildcats have beaten tourney teams Wisconsin (in Madison), Maryland and Michigan and had close losses to Butler and Purdue. They're an average-shooting squad that relies primarily on three players — guards Bryant McIntosh and Scottie Lindsey and forward Vic Law — for scoring. The Wildcats' overall size could be a challenge for Gonzaga if they meet up on Saturday, but with only one player taller than 6-foot-8, and a little-used freshman at that, they have no answer for Gonzaga's inside game led by Przemek Karnowski.
VANDERBILT
The ninth-seeded Commodores are fortunate to be in the tournament; basically, they can thank a trio of Southeastern Conference wins against four-seed Florida, the third in the conference tourney, and another victory against five-seed Iowa State for their trip to Salt Lake City. They lost 15 games this season, and rely on the three-pointer for their success — they've attempted nearly 900, and make them at a 37.7 percent clip. As a comparison, Gonzaga connects on threes at a 38.2 percent rate, but only shot 631 on the season. The Zags will have to punish the smaller Commodores inside while shutting down Vandy's outside shooters if they face off on Saturday. ♦