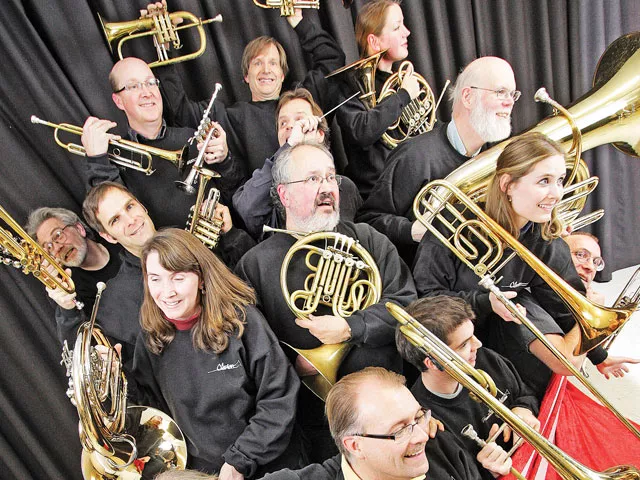 Clarion Brass… I think I've heard of them. Aren't they a brass band?
Brass choir, actually. "Band" implies "hidebound," and Clarion's music is whacked-out. Hum a Christmas carol the old-fashioned way around them and they'll kick your brass.
Have they been around long? Are they any good?
They've been giving Christmas concerts here for 18 years.
Brass ensembles from all over North America have performed artistic director William Berry's compositions. All the Clarion players have Spokane Symphony Orchestra experience, and all but three of them are currently with the SSO. Spokane gives them a small, devoted following that should be a big, devoted following.
Christmas carol covers… sounds like a classical garage band.
Clarion plays Berry's arrangements exclusively. Eight of this year's 12 selections are being heard for the first time right here — and of the others, Clarion has performed "God Rest Ye Merry, Gentlemen" before exactly once. They're not just a brass cover band.
What's the best introduction to the Clarion vibe?
Watch how they misbehave on the "madcap video" at figarotunes.com, with trombonists schussing down ski slopes.
Tuba player Leonard Byrne's buggy eyes and percussionist Paul Raymond's knobby knees will remain stuck in your memory, uncomfortably.
So who do they sound like?
Berry's answer: Pink Martini. "I mean, we don't sing like they do, but they're one of the few original groups that writes its own material," he says. "People ask, 'Can you swing? Can you do Latin stuff?' We're all over the stylistic map. 'Can you do rock?' ... well, pop-rock, with the Carpenters piece ["Merry Christmas, Darling," which is on Tuesday night's program]. We had a beat-boxer join us a couple of years ago."
What's new for this year?
A "Jingle Bells" sing-along. But let Berry tell it: "It won't be like Grandma's sing-alongs," he says. "We're not gonna pander — it'll be a bit of a test. Our loyal fans will get it, but some are gonna go [affects a codger's voice], 'This isn't like in church, Martha....'" Because when you think about it, Berry says, "the lyrics in 'Jingle Bells' advocate risky behavior — high-speed driving and picking up women." Noting that one version has a tempo marking of "white-knuckle gallop," Berry likens the Clarion version "to when Calvin and Hobbes go for a sled ride and end up covered in snow and pulling their socks out of the trees. We even quote 'Flight of the Bumblebee' in it."
Other highlights?
A medieval French carol performed big band-style in "King Swing," complete with jazz solos and a jazz fugue. "What Child Is This?" done in a Renaissance style, but with Andy Plamondon improvising on trumpet. "While by My Sheep (The Echo Carol)" done in the style of Giovanni Gabrieli, with the Clarion players split into three groups and doing call-and-response. "God Rest Ye Merry" with Raymond on congas — and, says Berry, "with some African overtones, maybe. It's bi-tonal, which means we play in a couple of different keys at once — which is less disturbing than you might think." "Silent Night" as "a dreamscape that will really be out there in a New Age-y way," Berry says, adding that "'Sleep in heavenly peace' will sound pretty dreamy" — with Berry's version passing the melody around the group from trumpets to tuba, from horns to trombones. Everybody has an in-depth part, Berry says: "It's more like a string quartet, expanded — like writing in 13 layers."
Do they do any straight-ahead, traditional stuff?
You'll recognize "Tea for Tuba," featuring Byrne, from a certain Tchaikovsky ballet.
There's no money in this. Why does Berry keep composing for Clarion?
"Because it's like hanging out with racecar drivers who can all go fast," he says. "High school kids wouldn't be able to play this stuff. But at rehearsal, I sit back and listen and think, 'Oh, my gosh, I can write anything for these guys.'"
And he does.

Clarion Brass on Tuesday, Dec. 22, at 7:30 pm at the Fox, 1001 W. Sprague. Tickets: $12- $20. Visit figarotunes.com or call 624-1200.