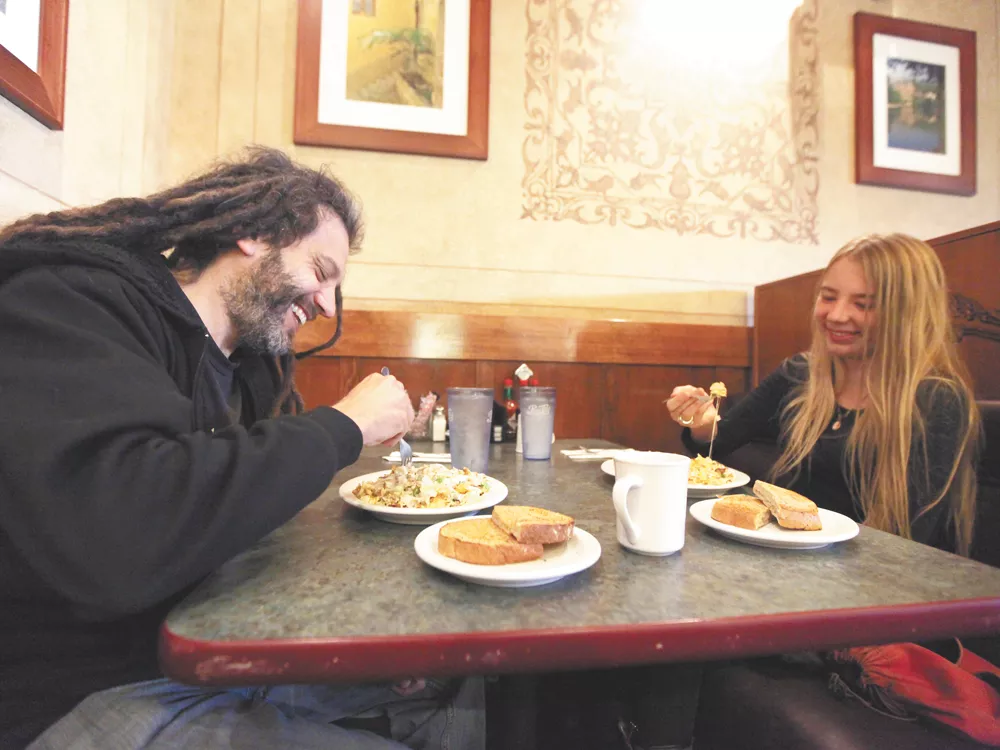 When Randall Schleufer and his 19-year-old daughter, Sierra, walked into the recently re-opened Ferguson's one Sunday in late September, they were doing something they haven't done in nearly two years of weekly father-daughter breakfasting.
They were returning to a place for a second time.
It had been so long since the two had been at the historic diner near their Garland-area home that the joint had been ravaged by fire and entirely rebuilt. They returned to find a familiar horseshoe-shaped layout. The menu was the same, as far as they could tell, but the place had that new-tile gleam. The movie posters and production photos of Johnny Depp doing his twinkie dance at the bar here haven't yet been discolored by the southern sun.
At first the idea was just to go to the neighborhood diner to grab breakfast and catch up on the events of the previous week. "Our schedules are so busy," Randall says, "we live in the same house, but we never see each other."
That first week, Randall had an eggs Benedict. Sierra doesn't remember what she had, but it definitely didn't contain sausage. A taste for links is a new thing for her — something of a survival adaptation. "You can't hate sausage when you're eating breakfast [out] every Sunday," she says.
By the end of the meal, they had decided to make it a weekly thing. Before the second week, they'd hatched a more ambitious plan. Eat Sunday breakfast at a different joint every week.
They developed a restaurant selection criteria:
No fast food.
Must be within 15 minutes from downtown Spokane.
Open Sundays, before 10 am.
If a restaurant has multiple locations, we can only choose one.
Those criteria come with certain clarifications and caveats. Local joints that skew toward quick food — Abelardo's Mexican in the valley, for example — made the list, as did one of the area's many Rocket cafes. Starbucks, though, did not.
"We really want to hit 100 [places]," Randall says, "but I don't want to resort to McDonald's."
They have stayed mostly local, although they made exceptions for Sheri's and Denny's and Perkins.
Perkins is one of a handful of places that has closed its doors since they went. The Hula Hut at Division and Hastings in North Spokane is another. That's a shame, they say. Hawaiian breakfast — with its Spam and eggs on rice — was one of the more adventurous meals they've had.
They credit Abelardo's with introducing them to huevos rancheros and Italia Trattoria with fish for breakfast — they recommend the salmon hash — and zeppole, little fried donut holes.
Along the way, they've developed a distaste for certain types of establishments — Randall: "I almost feel like buffet places are cheating." — but not all such places. "Hospital buffets are cool, though," Sierra replies and Randall agrees. They especially like the offerings in the cafeteria at Sacred Heart.
"Sometimes we just crash the buffets at hotels," Randall says. "Pheasant Hill was a good one," Sierra says of the Comfort-Inn affiliated establishment off the Pines exit in the Valley. "It was so cheap," Randall says, "Something like $8 for both of us."
They've returned to Ferguson's, a little bit, to reflect and a little bit to plan their next move. The pair have exhausted the local scene completely. They'll either have to increase their perimeter or wait for a new joint to open.
During the meal, talk turns more concretely to the future.
Sierra is looking to move to Seattle to attend the University of Washington. Randal, 42, a games programmer and animator, asks if she's decided what she wants to study.
S: Neurobiology.
R: You're still on that?
S: "Yesss, I'm still on that."
R: "I mean, it's not a bad thing. Neurobiology is serious."
S: "Well, you don't start out on Neurobiology. You do just Biology first."
Randall allows the deflection for a few moments, then returns to the question: "But really, why neuroscience?"
"You can't ask me the big questions after that many hashbrowns," Sierra replies, but then she settles upon a nice, clean, SAT-level analogy: Neurobiology is a way of understanding our minds that feels like a scientific step forward from psychology, she says, "I see it as being akin to how chemistry was born from alchemy." She actually says, "akin."
This answer impresses Randall, and the two return to talking about food.