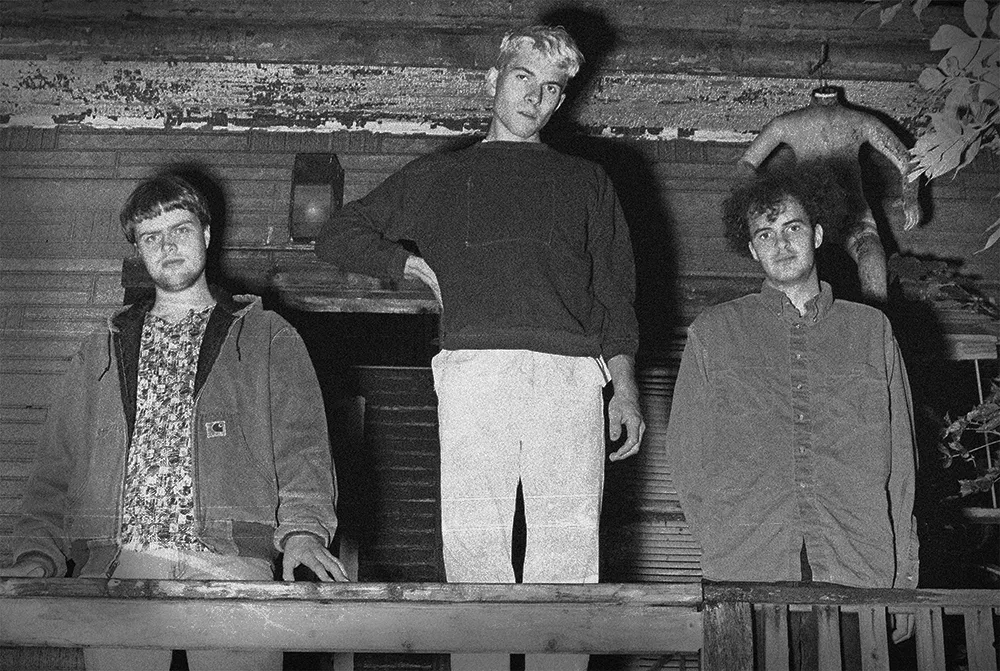 "It's raining in Olympia, which is pretty exciting for everybody," says Travis Coster, shortly after answering the phone to chat with the Inlander about his punk band Naomi Punk.
"We haven't had any rain basically all summer and everyone's been really sad about it," he continues. "It's just been hot and now it's raining, and it's like 60 degrees and everyone's freaking out. It's like money falling from the sky. People are outside with their hands in the air."
Coster laughs, before adding: "The freaks are unleashed."
Indeed, Olympia, Washington, is not like most towns. Home to Evergreen State College, the state's capitol and the riot grrrl movement, Olympia is its own verdant and vibrant little world, which is why, at least in part, it's also home to one of the country's most fiercely independent music scenes.
Olympia's an excellent match, then, for Coster and Naomi Punk, a three-piece band with a skewed take on rock 'n' roll that attracted a global following and a deal with a respected indie record label over the past few years.
It would be overstatement, of course, to say that Coster, fellow guitarist Neil Gregerson and drummer Nicolas Luempert operate in their own little bubble. Like any band that experiences modest-or-greater success in the 21st century, Naomi Punk is subject to the confounding whims of Internet buzz, the demands of an often ignorant press and the completely reasonable expectations of Captured Tracks, the taste-making label that put out the band's first two albums.
But even if he plays a part in it, Coster has no interest in the machine that clothes indie-rock emperors these days. He's not necessarily that machine's adversary; it's just 100 percent antithetical to his own approach to art.
"I hate that shit, playing into that weird game," Coster says. "Everything is sold and packaged in such a specific way with that, like, indie rock juggernaut music bullshit. The music business is such a jivey vibe-killer for me."
Nonetheless, said business has been good to Naomi Punk. The band started out as a Coster solo project and released a self-titled debut in 2009 before a small initial pressing of 2012's The Feeling caught the ear of Captured Tracks, which reissued the album on a much wider scale. Its engaging sound — a reverberant collision of warped surf-rock, prickly guitars and disheveled basement pop — established Naomi Punk as a leader in a new wave of noisy DIY disciples, alongside bands like Milk Music, Destruction Unit and Purling Hiss.
Last August, the band released its third album, Television Man, and hit the road for almost a year, just wrapping up major touring for the record in June. That was fun, Coster says, but it's this time — this time right now, in between the touring and releasing a new record — that seems to be the sweet spot for Naomi Punk.
"We've been (writing) a new album, and I feel like we're making new music that's more challenging, but also better than Television Man. It just feels really new and fresh right now, and it's really exciting," Coster says. "We've been jamming to just jam a jam, and there's something inherently sacred and magical about that."
The aforementioned industry cycle — release an album, promote it, tour behind it, write new songs and start all over again — is "not to the advantage of the creator at all," Coster says, especially now that the planet's relatively few record-pressing plants are backlogged as they try to keep up with the ongoing vinyl revival. The time it takes for new songs to travel from the writing space to the general public has slowed to a crawl, he says, thanks to label schedules, production delays and other hurdles.
"By the time you're playing it, it's two years old," Coster says. "It slows down the collective creativity of your music scene if you're waiting for these cycles."
So Naomi Punk pushes on. The band has a "crazy idea" for its follow-up to Television Man, though Coster won't elaborate much beyond that. He does, however, hint at a plan to subvert the standard album-release process, putting more control in the hands of his band, rather than putting his band in the hands of others.
"I just wanna keep music weird. And basically a lot of people, I guess, like our music and think that we're really cool, like critical reviewers or whatever," he says. "But we're not making a lot of money on this band. There's really nothing to lose (if we) make an (ambitious) record. I want it to be a crazy world. Like, 'Welcome to my world. This is the shit I'm thinking about.'" ♦
Naomi Punk with Broken Water • Fri, Aug. 21, at 8 pm • $8/$10 day of • All-ages • The Bartlett • 228 W. Sprague • thebartlettspokane.com • 747-2174