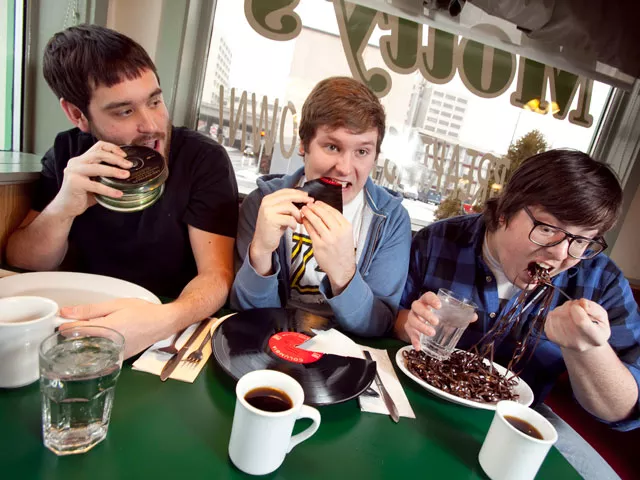 "All I say all day is: 'Thank you for calling Safeco. How can I help you? And people say, 'Yeah, hi, I just got in a car accident.' So I think about car accidents all day."
Bryce Kingsley is an insurance claims specialist. It's not exciting work, but he says the monotony of it, somehow, is his main songwriting inspiration for his band, Le Train Train Quotidien — a Liberty Lake-bred indie outfit.
The idea for the band (whose name is an expression meaning "The Daily Grind" that Bryce picked off a vocabulary list from his French class) hatched when Bryce was studying abroad in Belgium. Alone, bored and without many English-speaking friends, music was how he passed the time. "I bought bread, cheese and bottle of whiskey. And I sat there playing my guitar most times and drinking whiskey," he says. "A lot of the songs come from times I've had in my life that are rather depressing. I'm probably one of the happiest people in the world, but it's easier to write from a time of hardship. You remember it so much more."
Onstage, at a mic, Kingsley, 22, is poetic. As the vocalist for the band, he's a plain-hearted romantic, a cheerless broken heart. He's bitterly betrayed. His stories — doleful, despondent — are the real stories of a heavy heart, ones he tells over a simple, rainy day soundtrack of restrained guitar and drums. With his band, he makes to-the-point lullabies about life and love — simple songs about the daily grind (though it's hard to tell if they are praising it or rebelling against le train train quotidien).
About a year ago, Bryce expanded the project beyond himself: recruiting his twin brother, Kyle, and longtime friend Anthony Burgess — all who played music together before in the Central Valley High School band — to Le Train Train.
Since then, they've played fewer than 10 shows — usually to small crowds. Their recent performance at the Friends of the Empyrean show was to a crowd of one: the sound guy. They don't mind, they say.
"We're just trying to make something that we enjoy listening to," Bryce says. The band wants to record more. They've found that the closet in the Kingsley's downstairs bedroom — a baby blue square room that Kyle slept in as a kid — has perfect acoustics for their sound. They have high-end guitars and amps and a full pedal board.
And maybe they'll get around to making something more of the band. But, for now, they're distracted by Xbox, spouses, jobs.
The daily grind.

Le Train Train Quotidien with Mon Cheri and Lower Lights Burning at Sunset Junction on Saturday, Jan. 16, at 9 pm. Tickets: $5. Call 991-2470.