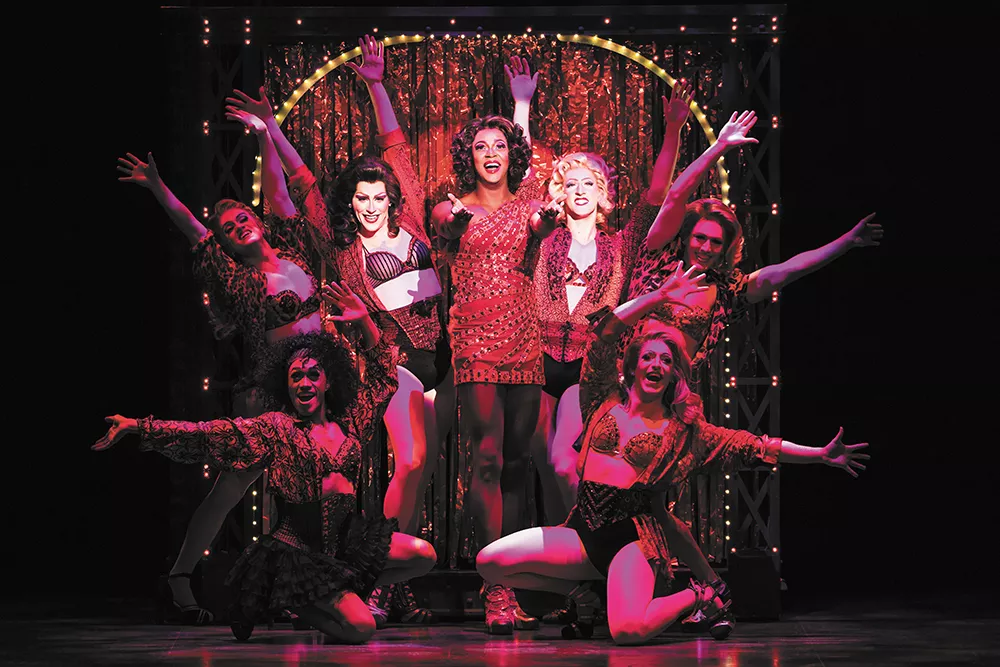 Whe Best of Broadway series has a reputation for bringing the kind of spectacular, big-name musical theater once exclusive to New York's Great White Way right to the stage of Spokane's INB Performing Arts Center. But it takes time for those massive touring productions to make their way across the country, which means that local audiences rarely get to experience the thrill of a Broadway production until its lights have gone dark on the East Coast.
Not this season. Three of the five shows in the 2016-17 Best of Broadway lineup are enjoying concurrent runs on Broadway, and one (Pippin) has only just left.
"In my 29-year career of doing this, I have to think it's the first time that three shows have been running simultaneously on Broadway," says Jack Lucas, president of WestCoast Entertainment. "We've had a few years when one or two may have been running on Broadway simultaneously, but never this many. It's wonderful for Spokane."
Beautiful: The Carole King Musical (Nov. 8-13, 2016) is an award-winning jukebox bio-musical that depicts the early career of the singer-songwriter who would climb the pop charts with hits like "It's Too Late," "I Feel the Earth Move" and "Jazzman." Starting with her humble origins in Brooklyn, Beautiful deals with King's prolific songwriting partnership with Gerry Goffin, their tumultuous marriage, and her flourishing independence in its wake. Along the way it touches on King's friendship with another husband-and-wife songwriting duo, Cynthia Weil and Barry Mann, with all the earworms you'd expect.
Based on the 2005 film starring Chiwetel Ejiofor and rooted in real-life events, Kinky Boots (Feb. 28-March 4, 2017) tells the story of how a struggling shoe manufacturer was saved by a drag queen who understood the market for a stylish, well-crafted boot. The musical is set in England and Italy, but its themes of prejudice, loyalty and measuring up to the expectations of family and friends are universal. Its music is by '80s pop icon Cyndi Lauper; its book was written by Harvey Fierstein of Hairspray and La Cage aux Folles fame.
Unlike Beautiful and Kinky Boots, Andrew Lloyd Webber's Phantom of the Opera (June 28-July 9, 2017) has been enjoying a long life both on and off Broadway ever since it debuted in 1986. Veteran producer Cameron Mackintosh has pulled out all the stops for a bigger, better, bolder production of the classic musical, with new scenic design, new costuming, new choreography and new staging, while retaining the celebrated score and special effects. Its equally grand cast and orchestra make this eerie tale of an angelic soprano and a ghostly, grotesque composer one of the largest touring productions you might hope to see.
"Over the years we've pulled off some pretty monumental feats," Lucas says, and he considers this to be one of them. "This year is a good example of what I would call a very solid Best of Broadway season. For me, every season is important and every show we do is of high quality, but there are certain years where everything clicks. It takes a lot of coordination, a lot of relationships."