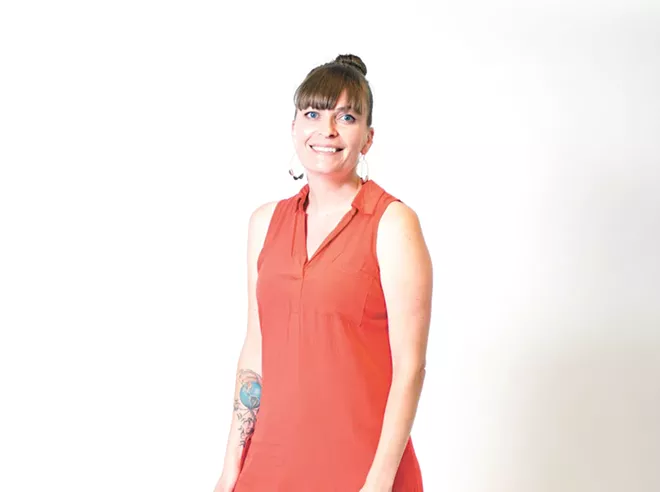 Brook Beeler first started with the Department of Ecology back in 2005 as an environmental educator, then moved up to a role directing communications for the Eastern Regional Office in 2012. On Feb. 1 this year, she took over as director of the regional office, which is one of four in the state. Originally from Valleyford and a Whitworth graduate, Beeler says she's glad to have a job that makes a difference in the place she grew up in and is looking forward to continuing to educate the community on environmental protection.
INLANDER: For people who aren't familiar with Ecology, can you describe what the Eastern Regional Office does?
BEELER: We have a big job in the entire state of Washington. I think we have more than 100 laws and rules we administer to protect clean air, clean water, clean soil, and it's a pretty tall order.
Here locally, I think some of our priorities are to really be community partners when it comes to the Hangman Creek watershed. As a community, local businesses and municipalities have been investing $500 million into improvements in the Spokane River watershed to make oxygen more available to fish and to find and eliminate sources of toxic chemicals like PCBs. We also know that Hangman Creek, which is a major tributary to that watershed, suffers from too high of temperatures, not enough oxygen and has a major sediment issue, especially in the springtime. So we want to protect the investment we've made in the urban areas and start working more with community partners in the rural areas.
What might that look like?
The complexity for Hangman is huge: 80 percent of that land is dryland agriculture. We know that farms want to keep their soil on the fields just as much as we want them to keep soil on the fields. So we have to find partners like the local conservation district and the Coeur d'Alene Tribe and willing landowners to make changes on the ground to make those improvements.
What new rules or cleanups will Ecology be dealing with this year?
Well, we had a huge legislative session. Folks are talking statewide about it being one of the largest environmental pushes in the state Legislature in recent years. So at the statewide level we're gonna be working really hard on some climate issues to manage greenhouse gases. There was some legislation passed to manage refrigeration chemicals and limit hydrofluorocarbons. There was also a huge toxics bill passed where Ecology was given the responsibility to look at suites of toxics that affect our daily lives, find where vulnerable populations might be exposed to those, and identify alternatives to those for business.
What else do you think people should know about Ecology's work?
One of the big things that I don't think people realize about the Department of Ecology is nearly 70 percent of our budget is pass-through, so we are a huge financial partner. In small rural communities we are a resource. They've got aging infrastructure and tall orders to meet environmental requirements, and we have the ability to pass funding through and provide technical assistance so they can meet their standards, but still maintain the rural community quality of life that they want. ♦