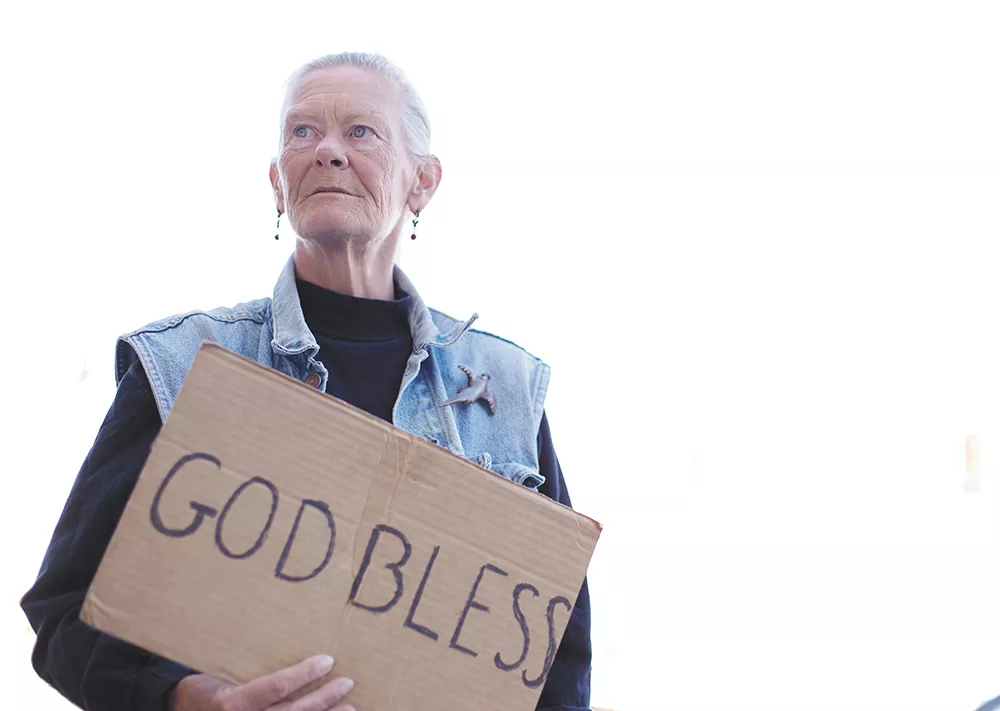 T o the left of the stop sign at Freeway Avenue, just before the on-ramp onto I-90 West, Jeffery Mitchell Reid throws a peace sign and sips a Bud Ice tallboy between cars. One side of his rumpled sheet of cardboard reads, "HARD TIMES ANYTHING HELPS! PEACE LOVE" in black marker. The other side is a bit more brazen: "WEED MOTA BEER." (Mota is Spanish slang for marijuana.)
At this highly trafficked arterial, the rule is 30 minutes on, 30 minutes off. But today, no one's waiting for his or her turn at the bench by the lot across the street, so Reid has been out here with his sign for an hour now. Yesterday, he made $87. He's $15 up now, until a woman in a sedan waves a dollar bill out her window.
"Thank you. God bless you," he says, shoving the money in his pocket. "16," he counts.
He introduces himself as Lieutenant Reid, 101st Airborne Division, Special Forces. He's 57 years old with leathery skin and a white beard. He claims he was drafted when he was 17 — "only 17" — and did two tours in Vietnam or "six years in the middle of Hell," as he puts it. For almost half his life, he's been on the streets, sleeping under a pine tree, and displaying his cardboard sign to drivers. If you help "this old dog" out with a buck or two, he'll thank you. If you can't, well, that's OK, too.
"I ain't telling no lies. I ain't begging," he says in a low, gravelly murmur. "I'm just telling it like it is. I been on these streets 24 years. I'm trying to survive. You don't want to give it to me? OK. I'll smile and wave goodbye."
Last month, the city of Spokane and the Downtown Spokane Partnership launched "Give Real Change," a campaign to discourage passersby from giving to panhandlers and instead redirect their money to charities. Aggressive panhandling was banned in the downtown area two years ago. Still, many of the men and women living on the streets here head to Spokane's busiest intersections, lugging their backpacks and sleeping bags behind them, wearing their brightest smiles or most sullen faces. They take out their sheets of folded cardboard, and they "fly the sign," which is legal as long as they are not reaching into the street or knocking on windows.
"Most people in Spokane have no idea what the charities are doing, how they're in the trenches daily helping. Most people are unaware in Spokane that homeless people can get a free meal every day of the week," says Pastor Rob Bryceson, chair of the Spokane Homeless Coalition and a supporter of the Give Real Change campaign. "If you're really interested in the nutritional needs of the homeless, give to Shalom; give to House of Charity; give to City Gate.
"The vast majority of guys I know panhandling are getting drunk off what they raised."
Some, like Reid, do, and unabashedly so. Others, like Steve Adams, don't. Adams crouches on the sidewalk at Walnut and Fifth, in a sweatshirt and bifocals, holding a sheet of white paper and staring off into the distance. His sign is blank, but people know what he wants. He says he hits the streets every two or three days, whenever he's hungry.
"I only get what I need and then I'm out of here," he says. Just enough for a burger and fries at McDonald's or Jack in the Box. He pulls $4 from the pocket of his jeans. "I'm gonna try for one more dollar."
I t's not easy asking for money, says Francis, a young and broody 28-year-old homeless man, on Fourth and Walnut. Underneath the hood of his sweatshirt, his face is beat up black and blue. He says he got jumped about two weeks ago, a hazard of living on the streets.
"It's actually really embarrassing. It's not like we like to do this," he says. "Sometimes you need some money. When you're outside in the cold, what are you gonna do?"
So you have to be patient. You have to wait for your 30 minutes. You have to be thick-skinned, too. You have to brace for middle fingers, sour looks and rude remarks. Bullshit. I'll bet. Get a job! F--k you! People burn their tires driving past.
Near Dick's, at Third and Division, Doug Seibold lounges in the grass, drinking his umpteenth can of Rolling Rock, his sign — "ANYTHING IS NICE!" — leaning against his backpack.
"This is the worst thing that ever happened to me," he says. "Alcohol."
He flies the sign whenever he needs another beer or another bump. For every 117 cars, he'll get a single "lick," or stop; he shoots for $10 each day. Once, a man pulled up and flagged Siebold over to his window, only to spit in his face.
The fancy cars — "the Jags, the Mercedes, the BMWs, the Hummers, they'll never give you nothing," he says. The most generous are usually women in rickety, old clunkers.
"I learned that there's a whole lot of love when they're at their worst. That's when they give the most," Siebold says. "They give from the heart."
A t Lincoln and Third, "Pepper," as she's called on the streets, smiles and waves. Her sign has a simple message: "GOD BLESS." She's 61 years old and petite, with a long, white ponytail, pale blue eyes and a pheasant pin on her denim vest.
Pepper isn't homeless. She lives in the Carlyle Care Center on Post and she's been flying the sign here for the past three years. After her rent is paid, she says she only has $62 left over each month from Social Security. She uses the extra bit of cash she makes to pay the rest of her bills and buy small luxuries, like shampoo.
"It [also] gives me something to do," she says. "I get a lot of people that wave to me. It just makes my day. And that's what's it's all about, the blessings that you get."
A couple of years ago, across the street by the Taco Bell, Pepper was behind on her rent. She was flying a sign that said "IN NEED OF A MIRACLE" when a man pulled up to the curb. She showed him her bill and the next day, he opened his wallet and handed her a check for $720, exactly what she needed to pay for her apartment.
Folks' generosity — that's what surprises Pepper the the most.
Back by the on-ramp, a bearded man in a Honda CR-V rolls down his window and reaches out to Reid with a dollar bill.
"It's not much," the man says.
Reid unfolds the money. He's up $17, plus some change and an unopened bottle of Gatorade.
"Anything helps!" he shouts as the driver rolls past. "I'm in the dirt," he mutters. "I'm in the dirt." ♦