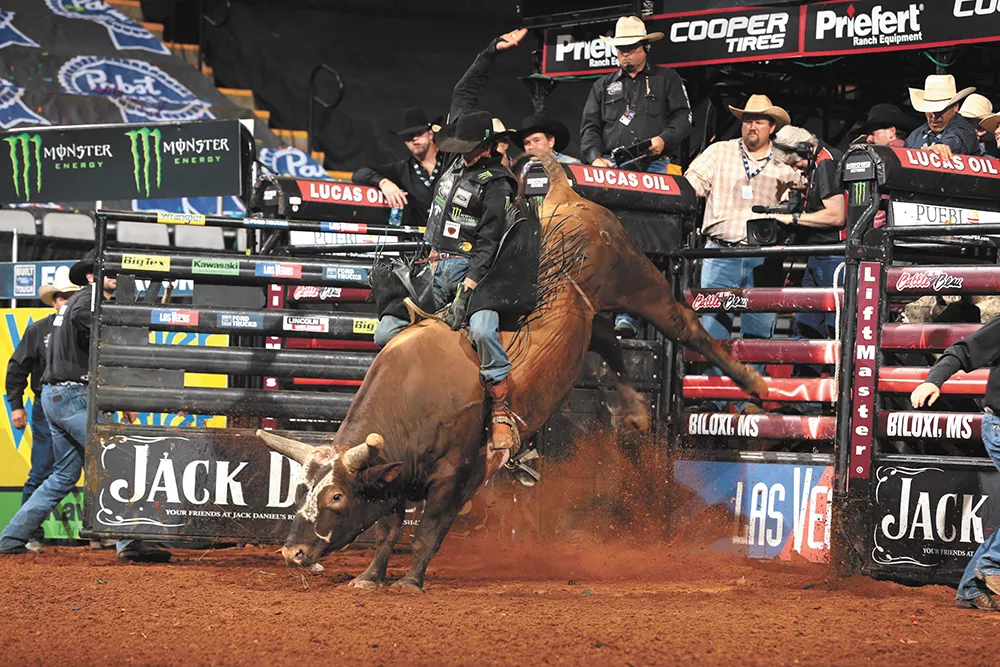 Bushwacker's last round on the Professional Bull Riders circuit might not look extraordinary to the layperson. A chute opens. A bull bucks and twists into the air. A cowboy hits the ground, running for his life. All of it over in less than three seconds.
For fans of the sport, though, that ride cemented his status as one of the legends in bucking-bull lore. He's one of the few bulls to be more popular than the riders, and his popularity appears to be ever-growing. More than 30,000 Facebook followers regale each other with stories of seeing Bushwacker, of his incredible record of bucking off 84 of the 87 men who tried to stay on for eight seconds. They coo over how handsome he is and recall ESPN the Magazine naming him the "baddest body in sports." The Michael Jordan of bulls, Newsweek called him.
A closer examination of Bushwacker plying his craft reveals what the bull's fans have always known, and what we neophytes have missed in his six years on the circuit: Bushwacker is, quite literally, a beast. A 1,700-pound monster with a deadly calm demeanor until the chute opens. Then he becomes a tornado with hooves that reach upward of 10 feet high when he jumps, whose heavily muscled torso never twists the same way twice, whose reaction to 17,000 screaming fans and pumping rock music is to put on a show.
But the show is over now. Bushwacker retired in October after that last run in Las Vegas, moving to his owner Julio Moreno's ranch, where throwing his horns at tires and a mound of dirt in his pen has taken the place of poking at defeated riders. Chilling in the shade all day has taken the place of 14-hour rides between competitions in his personalized truck.
For fans, though, the legend lives on. Some travel to see Bushwacker in person, and Moreno says he loves the attention: "He's a big showboat. We'll have tourists come by, and he'll pep up. He likes the camera."
He might miss the glare of the spotlight. The fans certainly miss him in it, which inspired Bushwacker's people to take him on a tour of personal appearances, including this weekend in Spokane. While Bushwacker won't be bucking, he'll be in the Spokane Arena. And for a mere $75, people can enjoy a meet-and-greet with the snorting behemoth.
That might seem steep, but it's a drop in the bucket compared to what people are spending for some of Bushwacker's genetic code in hopes of creating future champion bulls. Just as Bushwacker was the son of a world champion, Reindeer Dippin', Moreno has bred him with 15 cows of his own in hopes of capturing a little of Bushwacker's magic. Others are paying $5,000 for a straw of Bushwacker's semen.
Not the worst way to spend retirement. ♦
The General Store Presents Wrangler PBR Bushwacker Invitational • Fri, Jan. 16 and Sat, Jan. 17 at 8 pm • $10/$20/$30/$40; VIP with Bushwacker meet-and-greet $75 • Spokane Arena • 720 W. Mallon • spokanearena.com • 279-7000