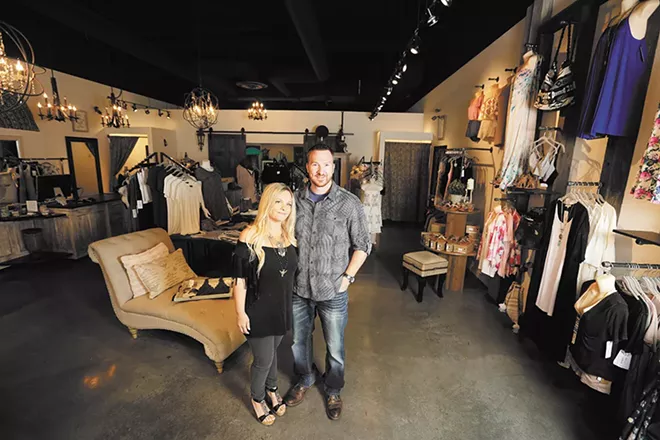 Plenty of boutiques come and go each year in the Inland Northwest, but there are always a handful with some staying power. Coeur d'Alene-based NanaMacs boutique has proven to be one of them, and that might be due to the fact that co-owners Suzy and Jeremy Shute didn't take the traditional route when they opened their store.
While most boutique entrepreneurs begin with a brick-and-mortar store and add a website later, the Shutes flipped that approach and started with an online store in early 2013. They harnessed the power of social media to gain a national and international following, and soon orders were coming in from throughout the United States and around the world, often as far away as Australia and the UK.
"We just took a small piece of savings, less than $5,000, and started the online store just to see what it would be like," Jeremy said. "For the next year and a half, we just reinvested every dime we made back into the business to scale it to size."
A few months after they opened the online store, Suzy was able to quit her job at a Spokane metal refinishing company and work on NanaMacs full-time. About a year later, Shute quit his job working 12-hour graveyard shifts and joined in to manage and operate the business.
At first, they ran the business out of the basement of their home. Operations later moved to the back of their Riverstone shop when it opened in 2014, but they quickly outgrew the space. Now they have a 3,200-square-foot warehouse where all of their online operations take place.
Today, their online presence continues to boom, and they've opened a store in Coeur d'Alene's Village at Riverstone complex, filled with a selection of affordable, trendy clothing and accessories for women and children in a mix of modern and vintage styles.
The Shutes design and make some of the inventory themselves, but most of it is selected from shows and fashion conventions, where they've established relationships with a network of wholesalers and suppliers. They often carry one-of-a-kind pieces, with some items selling out in a matter of hours.
While the Riverstone shop is popular, about 75 percent of NanaMacs' sales remain online, and between 5 and 10 percent of sales are international. Canada is their largest international customer, with many Canadians making the trek to Coeur d'Alene once they learn about the store.
The online sales aren't just from long-distance customers — Jeremy says that many local shoppers purchase items online, since NanaMacs ships all U.S. orders for free. To make online shopping even easier, customers can buy merchandise on Instagram by commenting on the store's posts.
As for the future of NanaMacs, several entrepreneurs from around the U.S. have already asked Hinkley and Shute about franchising opportunities.
"We do plan to expand, but it has to be the right place and the right time," Shute says. "At this point we have not taken any possibilities off the table."