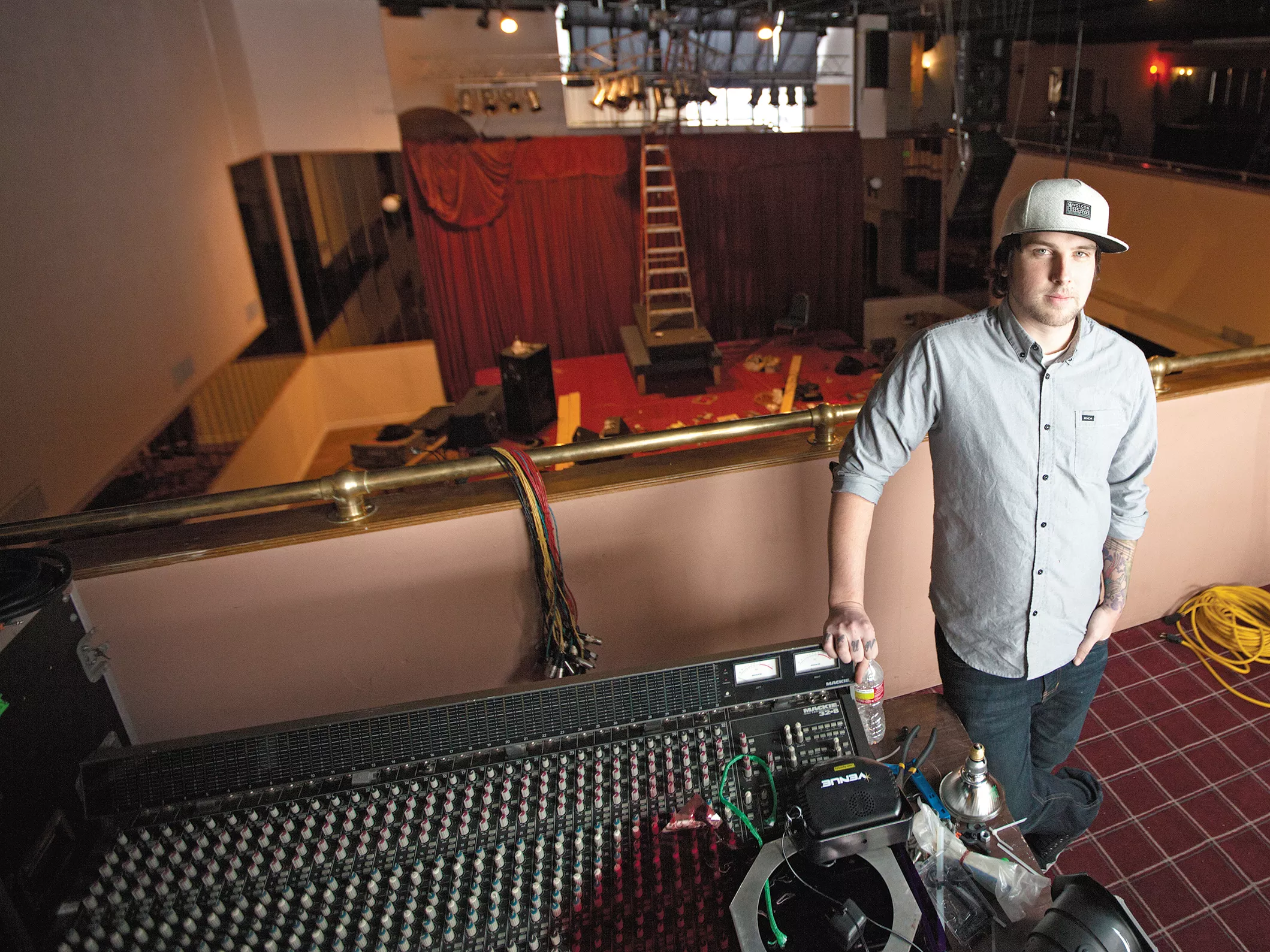 Quinn Tanzer is stumbling around in the dark.
"I don't know where the lights are, I'm still trying to figure that out," he calls out from the shadows backstage.
Tanzer — the 25-year-old booker who recently left the downtown A Club after two years of bringing bands like Helmet, the Toadies and All-American Rejects to Spokane — is still getting acquainted with his new digs: a white stucco building sandwiched between the DMV and the Eagles Ice-A-Rena that looks like it was airlifted through time from Stalinist-era Russia.
This spot used to be called Spokane EpiCenter — in fact, it still is, according to the sign outside (but that sign also says something about this being a "House of Ribs," too).
Under Tanzer's leadership, this strange little building will be called The Center. It will be Spokane's second largest club venue: a 500-capacity, fully-sprinklered, all-ages friendly room. Last weekend the venue hosted its first all-ages show, and this Sunday it will feature the Portland Cello Project.
Today, though, Tanzer is hoping people can see his vision. But right now, there are lights on the floor and a crew of men stand around looking confused about how to get the speakers hung above the stage.
"We're reaching the point of getting stressed out," Tanzer says.
Speakers will be hung and lights will get turned on eventually. But the thing that is really stressing Tanzer out is public relations.
First, he has the issue of getting people to The Center. Unlike the A Club, which was right in the middle of downtown nightlife, The Center isn't really in the center of much of anything. It's located off Francis, far on Spokane's North Side. But Tanzer thinks that shouldn't matter.
At the A Club, "I was getting complaints about being downtown. Parking was always an issue," he says. And now, he's hearing that "people don't want to drive up north … because it's up north." There's tons of free parking here — in the lot, down the street. Tanzer says he's even gotten permission to have cars park in the DMV lot.
Secondly, Tanzer feels like he has stereotypes to break about what kinds of music can come to the North Side. "This area has a reputation for that hip-hop scene, like thuggy stuff," he says. "I need to be smart with who I bring here."
But the thing that's weighing on him the most is the full schedule of shows that he had booked at the A Club before the venue suddenly closed its doors at the end of 2012. He says none of the bands booked for upcoming months were notified of the closure by management.
"I'm trying to save every single show from the A Club. When we fail and it closes, I feel responsible to take care of [the bands]," he says. "They were coming to Spokane because I brought them."
He says that some shows that were scheduled at the A Club — like Graveyard and Nashville Pussy — have declined his offers to come to The Center. Right now, Tanzer says he's working on saving the highly-anticipated February show featuring Why? — a popular indie/hip-hop act.
Tanzer says if he can save those shows and get people to come up to The Center, he's sure that this place could really work.
"I give it six months," he says, looking out from the balcony over the construction zone of equipment surrounding the stage below, "and this place will be awesome." 
The Center • 6425 N. Lidgerwood St. • thecenterofspokane.com • booking@thecenterspokane.com • 724-7879