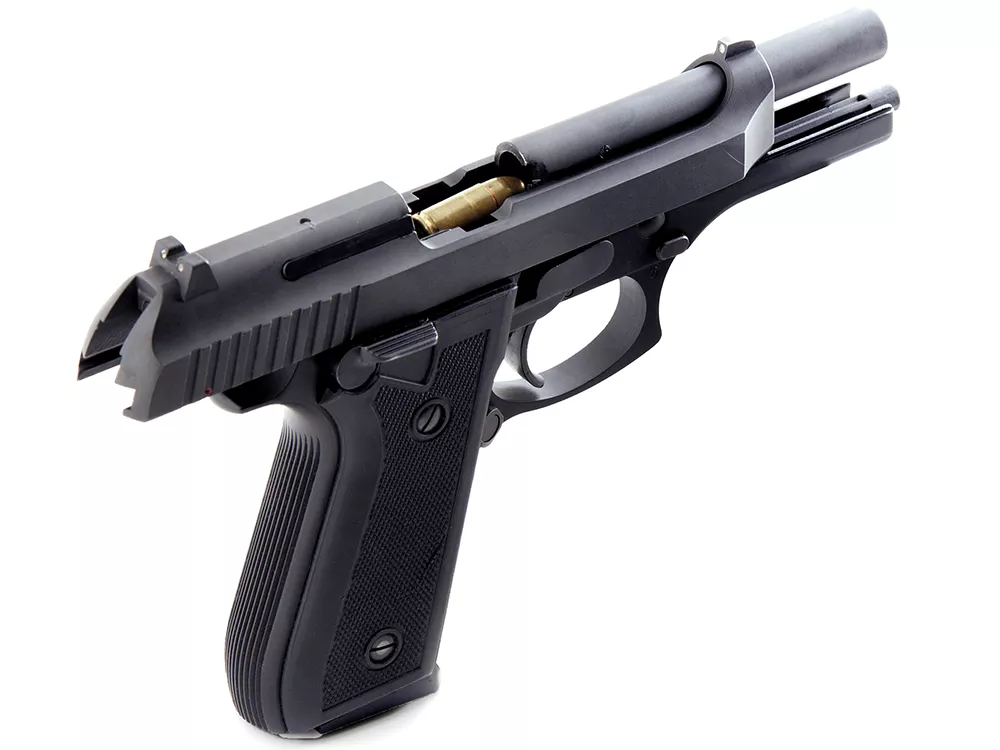 The production assistant from ABC's 20/20 team thought he'd found a story in Coeur d'Alene. Supposedly, school district teachers there had begun carrying concealed handguns to protect against school shooters.
It was only when he called the district that he learned he'd been duped. The story was completely made up — his source turned out to be a satirical online newspaper similar to The Onion. But the truth wasn't so far off. After the massacre at Sandy Hook Elementary last December, two different camps demanded solutions. Gun control advocates said it was finally time for new legislation to rein in the availability and power of assault weapons. The NRA called for schools to add more armed personnel, reasoning that only a "good guy with a gun" could stop a "bad guy with a gun."
As gun control attempts fizzled nationwide, many schools have pursued the NRA's option. The Coeur d'Alene school district added additional police officers in the schools and spent $3,390 to install six gun safes in school offices, giving officers powerful rifles that can shoot accurately down long hallways. Spokane Public Schools plans to arm its security officers for the first time. And in Sandpoint, a school board member's proposal to use armed volunteers — or even gun-toting teachers — has triggered contentious school board meetings and a recall campaign.
Ever since the Sandy Hook tragedy, Lake Pend Oreille school board chair Steve Youngdahl keeps coming back to one big question: In the event of a mass shooting, how long would it take the cops to reach the sprawling district's rural schools? He says it could take up to 20 minutes for them to arrive at Clark Fork Junior/Senior High School. Every victim killed at Columbine was shot within the first 16 minutes of the siege.
That same concern arose at Spokane Public Schools. In 2003, it took about five minutes for the police to arrive after Lewis and Clark junior Sean Fitzpatrick fired a bullet into a cabinet. And that was a school in the middle of downtown. In a security audit commissioned after Sandy Hook, the district noted that an armed school security staff in the high schools "will clearly be more capable of responding to a threat at their site [than the police] as they are already there and could respond immediately."
Youngdahl, however, says the Lake Pend Oreille district doesn't have the money to pay school resource officers to patrol every school. Instead he floated a different proposal: Allow properly trained teachers to carry firearms. He says Idaho's Garden Valley, Midvale, Camas County and Boundary County districts have all looked at doing the same thing.
But no matter who carries them, some people don't want guns in schools. In Spokane, the plan to arm school security officers raised objections from the Peace and Justice Action League of Spokane, whose members argue arming security staff would cause an "increase in militarization of our society."
In Sandpoint, Youngdahl's proposal drew skepticism from teachers, the district superintendent and a crowd of vehement critics in the community. "I think putting guns into schools actually puts our children into considerably more risk," parent Tom Bokowy says. He was so peeved with the proposal, and the arguments underpinning it, he launched a recall effort against Youngdahl.
Bokowy started a group called Families for Safe Schools, which has passed out handouts at school board meetings stressing the rarity of school shootings and detailing a litany of accidents involving guns at school. A Michigan security officer made headlines after he forgot his gun in a school bathroom. After a Texas district approved teachers carrying concealed weapons on campus, one teacher accidentally shot himself in the leg during gun training.
Bokowy argues the slow emergency services response time concern cuts both ways. "If there's an accidental shooting at Clark Fork, then it's going to take [up to] 40 minutes to get them and take them back to the hospital," he says.
Youngdahl has fought back, quoting a Washington Times op-ed arguing that Victoria Soto, a teacher shot at Sandy Hook after helping hide her children in a closet, might still be alive if she'd been armed. He dismisses the gun accident issues as stemming from a lack of proper training.
Experts tend to be skeptical of arming teachers. Kenneth Trump, president of National School Safety and Security Services, says that even with training, most teachers would be ill-equipped to shoot an attacker. Mo Canady, executive director of the National Association of School Resource Officers, supports placing armed professional police officers in schools, but says that responding law enforcement may have trouble distinguishing armed teachers from a school shooter. Some insurance companies balk at the notion of insuring armed security personnel. Spokane Public Schools' insurer, the Washington Schools Risk Management Pool, won't cover armed security officers, citing the rarity of districts using private armed security and the inherent risk of adding firearms to the academic environment.
"Most school districts are no-gun zones," says Deborah Callahan, interim executive director for the WSRMP. "If you're introducing a gun into an area, there could be a fumble, someone else could pick it up." As a result, Spokane Public Schools will have pay about $20,000 a year for an insurance policy from a separate provider.
The focus shifted last week in Sandpoint, as the school board chose to examine a slightly different proposal: Instead of arming teachers, use retired law-enforcement volunteers to patrol schools. Youngdahl hoped the unit would be run out of the Sheriff's Office and is estimated to cost around $10,000 to $15,000 a year. But Superintendent Shawn Woodward says the Sheriff's Office hasn't been interested and would prefer a more traditional resource officer model.
The recall campaign against Youngdahl has continued. He says no matter what precautions the district takes, Bokowy's group will oppose anything to do with guns. "They are just vehemently anti-gun and are willing to use intimidation tactics to stop the discussion," Youngdahl says.
Bokowy suggests that paying to add more guns takes money away from the first and most effective line of defense: counselors who help students struggling with mental health. A 2002 Secret Service study of school shootings focused not on the effectiveness of armed responders, but on identifying students at risk, stopping shootings long before they happen. "There's no risk of anybody dying if you add two counselors to the high school," Bokowy says. ♦