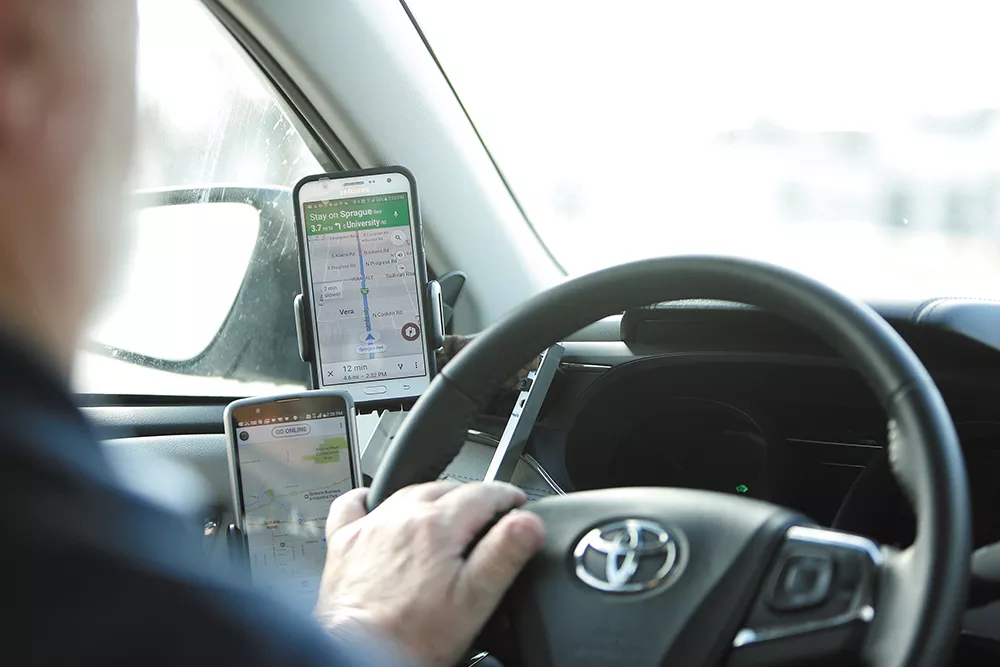 The gig economy rests upon a simple yet powerful concept: connection.
An art teacher logs on to Rover.com and connects with someone who pays her to take care of his dog while he's out of town. A retired couple connects with a budget-conscious traveler and rents her their son's old room for a night on Airbnb. A fashion maven spots a beautiful vintage dress at a thrift shop and knows he can turn a tidy profit by connecting with a buyer on eBay. A stay-at-home mom flips on her Uber app while the kids are at school, and connects with a steady stream of passengers who need to hitch a ride.
The gig economy has eliminated most of the obstacles preventing that connection — licensure boards, capital costs, union regulations and bureaucratic busywork — clearing the way for the marketplace in its purest form: You need something, and I have the time or resources to help you.
It's one reason why, between 2005 and 2015, statistics show that the number of alternative work arrangements in the United States — which includes jobs from app-based services as well as contract and temp work — soared by more than 50 percent. It's even more dramatic for young people overseas, where over 41 percent of Europeans from the age 15 to 24 in 2015 were stuck in temporary jobs.
But when you strip away all the barriers in an industry, you also strip away many of the protections that make it possible for professionals to make a decent living. The gig economy hands workers the flexibility to work whenever they want — crucial for those who need to piece together multiple jobs to make enough money to pay the bills. But at the same time, many of these employers consider their workers "independent contractors" instead of "employees," and don't offer sick leave, health insurance, matched retirement contributions, or even a guaranteed minimum-wage salary.
This is the paradox of the gig economy: When everybody can make a little bit of money doing the same thing, very few are able to make a living doing it.
THE OPEN ROAD
For Bonnie Masoner, a 47-year-old saleswoman of prepaid cremation services, ride-sharing was a backup. Her cremation sales job is job entirely commission-based, her pay susceptible to the whims of the market.
"When my sales are down, I need to pick up the slack by driving Uber and Lyft," Masoner says. After an unprofitable day at work, she'd hit the streets, spending a few hours making money taking drunks home from bars.
When Dan Gorey, 28, started driving for Uber, he was in a miserable, low-paid call center job. Even when he got a better job, the appeal of brief interactions with a stranger has kept him coming back.
"It doesn't matter if it's a 5-minute ride or a 30-minute ride to the airport," Gorey says. "There's a connection made between driver and rider."
And Len Wallace? The 76-year-old was once a multimillionaire owner of a 1,800-acre elk ranch in Montana. Then came the series of lawsuits and bad investments and bankruptcy filings. His $2.5 million riverfront mansion in Post Falls — named the Queen of the River — was facing foreclosure when it burned down in 2012. Today, he says he shares a "rathole apartment" with a buddy in Airway Heights.
"I'm 76," Wallace says. "I could manage any goddamn business in this city. But people think you're going to drop dead the next day."
So for money, he drives Uber and Lyft. These jobs give him flexibility. He says he uses his brief off hours to tinker away, trying to make a more efficient bicycle, or working as his own attorney to appeal one of his lawsuits.
But here's the thing — every longtime Uber or Lyft driver we spoke with in Spokane says that the gig isn't what it once was. In just a few years, basic principles of economics have come to bear on ride sharing in Spokane. There's a low barrier to entry. Almost anyone with a newer car who can pass a background check can drive Uber. And so the market has been flooded with ride-share drivers.
That's great for passengers. They can find rides quickly whenever they need to. That's great for Uber and Lyft, too. They can slash fares, attracting more users to their apps, further undercutting the taxi industry.
But for the drivers? It sucks.
Masoner says when she started driving about a year ago, as soon as she dropped off one passenger, there would be another waiting almost immediately. But these days, with so many drivers out there, business has slowed.
"Right now I find, to be worth my time, I only come out for special events," Masoner says. "Valentine's Day. Sporting events, Zag games."
She reads the event listings in the
Inlander to try to figure out exactly when to drive. But she knows that, at times, she doesn't have a lot of alternatives if she needs the money.
"If it comes down to sitting downtown and having the long waits in between calls, that's what I have to do," Masoner says.
More experienced drivers have tricks to generate a steady stream of customers. They know to avoid downtown, where they have to compete with too many other drivers, and find more obscure spots.
Still, they, too, cringe as they see ads recruiting Uber drivers or hear Sean Hannity proclaim the wonders of driving Uber in sponsored spots on his talk-radio show. As Uber and Lyft have locked in fierce competition, with plenty of drivers available, the fares for both services have plummeted.
"It's at the point where they're not even competing with the taxis anymore," Jacob Boileau, a 28-year-old ride-share driver with two other jobs, says about Uber and Lyft. "They're competing with one another."
And lower fares mean that drivers get paid at a lower rate.
"When I started it was $1.35 per mile and 17 cents per minute. Not terrible," Gorey says about Uber. "I could see some income even after the wear and tear on the vehicle. Now it's gone to $1 a mile and 10 cents a minute."
A lot of drivers don't realize how severely gas and vehicular attrition can eat into their salary. John Thaemert, a 57-year-old full-time Uber driver, knows what it's like to work long hours.
"Sometimes I would work from 4:30 am, up until the sun went down," he says.
Still, Thaemert says that this past year he only made $24,000 driving for Uber and Lyft. When he deducts fuel and the depreciation of his vehicle, he's realized that, for all his work, he's actually taking a loss.
That's not all.
The city of Spokane has passed a mandatory sick-leave policy, but it doesn't matter for ride-share drivers: They don't get sick leave. If their car breaks down, they suddenly don't have a job. Last month, two Uber drivers — Nancy Sonduck and Raheel Khan — were featured in news stories describing how they had to cut back on their hours because Spokane's pothole-pocked roads exacerbated existing injuries.
Washington state's minimum wage also doesn't matter for ride-share drivers. A ride to Sandpoint or Coeur d'Alene, Wallace says, will net drivers around $7 an hour after expenses and depreciation.
And trips in Spokane? Total losers, he says. About $3 an hour.
But Wallace, if nothing else, is tenacious. So while many drivers dropped out or cut back because of the low rates of pay, Wallace keeps driving. And driving, and driving.
"For now, I need to survive," Wallace says. "The rates are so low, and you make so little, you have to put in a shitload of hours to have a number at the end of the week."
He sends over photos of paperwork to prove he spent more than 70 hours driving for Uber alone two weeks ago. And that, he says, was comparatively light — he took Sunday off because he was too tired. Some weeks, he says he works 90-plus hours, driving 1,700 miles on behalf of the two companies. He says he manages to make about $600 to $700 a week. That's enough, at least, to live on.
The "brutally low" rates, Wallace says, "prove people that are desperate will work for very little."
BIG GIG
Three years ago, the Seattle City Council unanimously voted to cap the number of Uber, Lyft, and Sidecar ride-share drivers at only 150 each. But the backlash was fierce and immediate, as a coalition of supporters quickly began gathering signatures for a referendum. In less than a month, the council relented under the pressure, lifting the cap.
And when Seattle was the first city in the nation to pass a law allowing ride-share drivers to unionize, Uber ran ads warning that unionization would lead to disaster and filed a lawsuit to try to stop it.
The two companies straight up left Austin, Texas, when the city began requiring fingerprint background checks for drivers.
Uber has scrambled to settle lawsuits in states like California and Massachusetts to ensure that their drivers are considered "contractors" and not "employees." With the "employee" label would come a whole heap of new regulations: State and federal rules around minimum wage, sick leave, and unemployment benefits would apply to Uber drivers — shaking the foundations of Uber's business model.
Despite all this, Uber is not exactly getting rich. In the third quarter of 2016, Uber lost $800 million. According to the automobile news site Jalopnik, Uber's fares only cover about 40 percent of its expenses, with the rest coming from venture capitalists.
So now, in the distance, Uber is looking at the ultimate disrupter, one that would make every one of their contracted employees as obsolete as the taxi services: Driverless cars. The first fleet arrived in Pittsburgh in August. Someday, drivers like Wallace and Masoner and Gorey may be irrelevant to companies like Uber.
This, in turn, touches on a whole new set of fears and anxiety for workers: What happens to the gig economy when robots and computers take all the gigs? What happens to society?
For now, for all of his frustrations, Wallace is happy to be behind the wheel.
"I am eternally grateful to Uber and Lyft for the opportunity to make some money and survive," he says. ♦