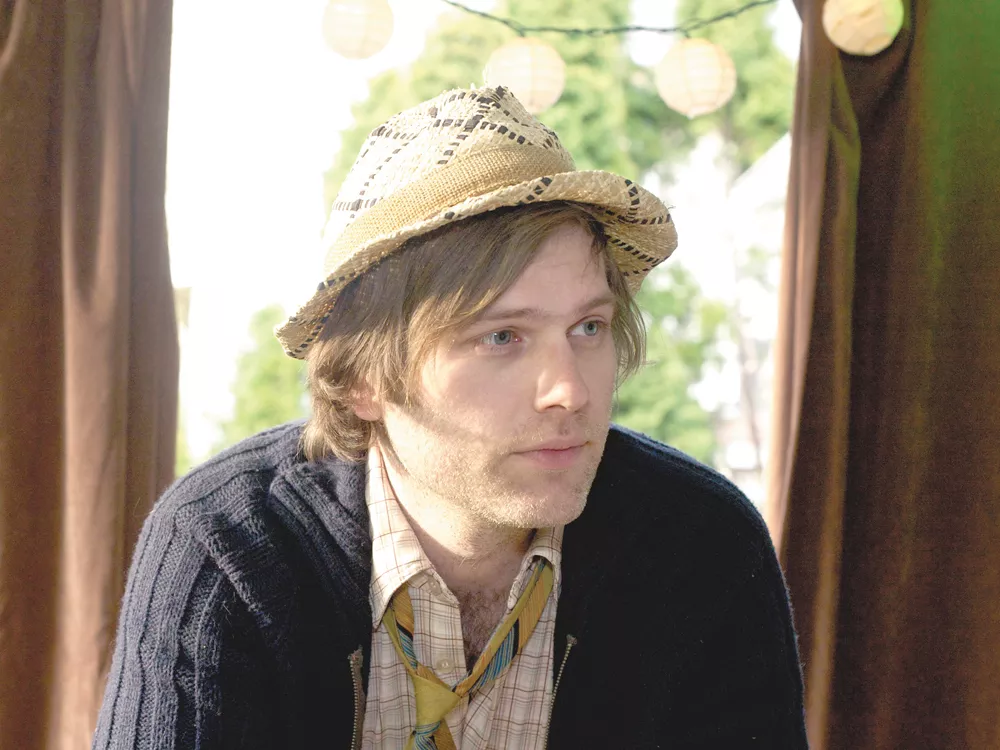 Eric D. Johnson is busy. He's working on a film score, getting ready for a tour with his band, Fruit Bats, sifting through the logistics of his own music festival and, apparently, trying to eat his lunch at his home in Portland when he picks up a call from The Inlander.
"Sorry. I think I was chewing in your ear," he says over the phone, upon realizing that his publicist had patched him through earlier than he presumed.
No problem. He's got a lot going on. He probably needs to be eating lunch right now or he might never get to eat lunch at all.
Johnson has been playing as Fruit Bats for more than 10 years now, purveying a quirky brand of poppy acoustic music that has now become known as "indie folk." Johnson is quick to point out, half-jokingly perhaps, that he was playing this style before it was even popular. Although Fruit Bats — which is essentially just Johnson with a semi-permanent backing band — have, by and large, remained a below-the-radar act, their latest album, 2011's Tripper, received plenty of critical praise ... at least from a certain spectrum of people.
"It's always been a band that's not very populist. It's writers that like it and people like Jim James from My Morning Jacket. I don't want to go as far as to say 'Cool people like it,' but I think it's a band's band," says the 36-year-old Johnson, punctuating this observation with a laugh.
Tripper features Johnson's trademark falsetto vocals over the top of head-bob-inducing grooves that are more reminiscent of '70s soul music (which Johnson attributes to his listening to pop radio as a kid) than other indie folk bands like, for example, Fruit Bats' Sub Pop label mates Fleet Foxes.
The fact that Fruit Bats have never become out-of-this-world popular has actually been a boon for Johnson.
"In a weird way, that's a blessing in disguise, because I haven't been buried by it," he says.
Not being buried by Fruit Bats commitments has allowed Johnson to continually explore other endeavors, including a career penning movie scores. About two years ago, he had the opportunity to score the Uma Thurman film Ceremony, which eventually led to a gig doing the music for the oddball, star-packed comedy Our Idiot Brother, which was released last year. He's now done two more feature films and has more in the hopper, although he says he can't go into too much detail about what he's currently working on. He says he doesn't want "to jinx it."
In addition to the movie work, Johnson also spent two years as a member of the Shins, playing with the iconic indie band for a few shows and even lending his talents to five tracks of the band's recently released record, Port of Morrow. The Shins would have taken all of his time, though, so he decided to work on Fruit Bats and his movie scores instead. He's still on good terms with Shins frontman James Mercer, who he plans to hang with when both the Shins and Fruit Bats play the same day of Bonnaroo in June.
But that's not all. There's more on the docket for Johnson.
He's also in the third year of producing a music festival in Northern California that doesn't even feature his own band. The Huichica Music Festival plays host to emerging regional acts at a friend's winery in Sonoma. It's small — just the way he wants it to be.
"I had these fantasies of doing a really small boutique festival.
Right now, it's kind of for us in a way," says Johnson, referring to the small scale and handpicked bands he and co-organizer Jeff Bundschu (the owner of the winery) have built on the scenic grounds.
It's worth asking Johnson if there's anything else he's working on this spring that he may have forgotten amid the long, long list of things he has just rattled off.
That's about it, he says, after giving it some thought. He definitely has a lot on his plate, but he's hardly impressed by his own productivity.
"I've always been a bit of a busy guy, but I'm also super-spacey so it takes me a long time to do things," he says.
But would he ever, say, take a break for a bit? "I'm sort of like a shark. If I stop moving, I'll die," he says.

Fruit Bats with Pure Bathing Culture • Thurs, May 3 at 8:30 pm • A Club • $10 • All-ages • aclubspokane.com • 624-3629