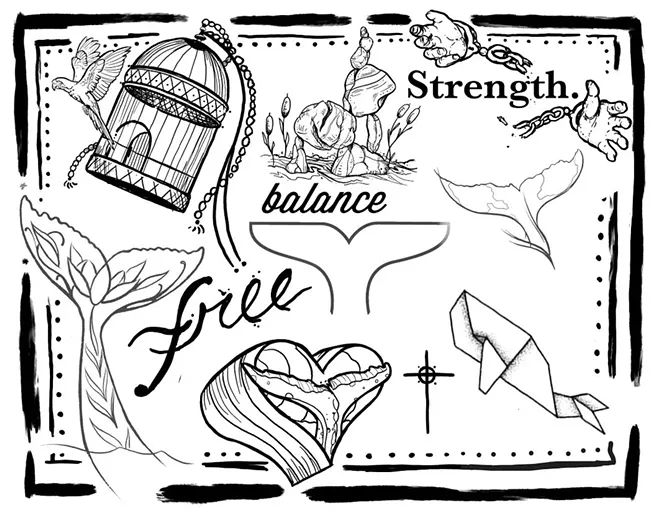 H
eatherann Woods wanted
to give back. But that's hard for a small business owner, she says, because "we're all just barely making it."
But she and her husband, Zack Woods, both owners of the
Missing Piece Tattoo
, were determined. This weekend, their studio is partnering with the
Jonah Project
for the event
Buy Art, Not People
, on Sunday, Oct. 14, from 3-8 pm, in an effort to raise funds to end sex trafficking.
"Everybody wants to make a difference in the world, but it starts in your community," she says.
Visitors can choose from a sheet of $50 tattoos from four artists (and one piercer) who are donating their time to support the cause. But if you're not looking for new ink, you can also purchase raffle tickets for prizes that local businesses have donated to the Missing Piece, totaling about $1,500. Heatherann says those prizes include yoga packages, photography and art, among others. Visitors can also purchase apparel and donate supplies to benefit the Jonah Project as well.
"I just want people to know that the Jonah Project is there and you can donate even outside of this event," she says. "If I can get a couple hundred people in the door, that's a couple hundred more that know that this is a problem in Spokane."
The Jonah Project is tasked with preventing and rescuing people sold into sex slavery in Spokane and the outlying region, many of them children, the organization says.
"They really need the support of the community to help put the brakes on this issue in this town," Heatherann says.
Buy Art, Not People • Sun, Oct. 14 from 3-8 pm • The Missing Piece Tattoo • 410 W. Sprague • tmptattoo.com • 624-2467