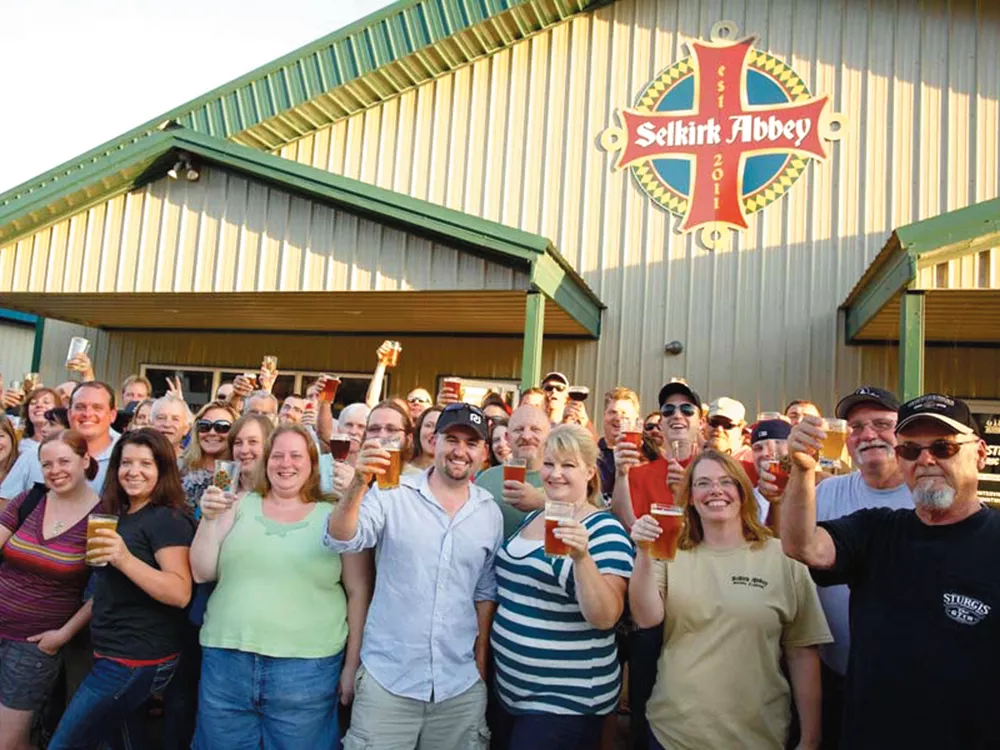 In the three months since we published our first-ever Beer Issue, there has been no shortage of news on the Inland Northwest craft brewing scene. Here are a few highlights:
Selkirk Abbey Brewing Company
The Belgian-focused Selkirk Abbey Brewing Company in Post Falls, Idaho, is celebrating a successful first year and two gold medals at the North American Brewers Association competition with big plans for growth: A new brewing system arrives this fall, doubling the amount of beer the brewery can make at one time, and distribution is expanding from the Inland Northwest to include western Washington and parts of Canada. And they're not just sending out kegs — the first Selkirk Abbey bottles hit shelves this month, including the flagship Infidel Belgian-style IPA, the anniversary-edition St. Joseph imperial saison and 10° quadruple. "It's my intention to bottle everything — that's just what I've gotten to," owner Jeff Whitman says. (LISA WAANANEN)
BiPlane Brewing Company
Also In Post Falls, BiPlane Brewing is back open after a late-spring hiatus. Owner Doug Martindale is brewing up the standard lineup of beers named for World War I planes, along with some specialties like the Apricot Cream Ale and Vanilla Porter. (LW)
Big Barn Brewing Company
Though it technically opened last fall, Green Bluff-based Big Barn Brewing Co. is slowly but steadily attracting a following of customers who head up to the hills to visit the brewery and its connected berry farm, Bodacious Berries & Fruit. Staying on-trend with the craft brewing philosophy of sourcing ingredients locally, Big Barn's beers are often infused with syrups made from berries grown on the farm, says owner Craig Deitz. Its seasonal brews include a strawberry cream ale, blackberry porter, raspberry Wit, and in the fall, a golden pumpkin ale. This year the farm started growing its own hops and malting barley. Both Deitz and his wife Jane teach in the Mead School District — the couple's business partners Brad and Mardi Paulson also work in other occupations — and thus haven't been able to focus their efforts full-time on the brewery operations. Still, Big Barn regularly offers between four and six beers, each produced in 20-gallon quantities, on tap during the growing season. Deitz says the goal is to eventually ramp up Big Barn's production to bottling and distribution. The taphouse, located inside a converted barn on the farm, is open Friday-Sunday from noon to 6 pm. (CHEY SCOTT)
Hopped Up Brewing Company
The Spokane Valley got into the brewery craze earlier this summer with the opening of Hopped Up Brewing Company, located at 10421 East Sprague Avenue in a space once occupied by an IHOP. Currently, the brewery — owned by husband and wife Steve and Sue Ewan — serves eight beers in its tasting room, ranging from an IPA and an imperial amber that live up to the brewery's name to a two stouts and a porter. Steve Ewan says Hopped Up has been a long time in the making. More than 10 years ago, he bought the brewing equipment from the former Northern Lights (before it was No-Li) location in Airway Heights. The 10-barrel system sat in storage until recently when Steve, a longtime homebrewer, decided to jump into the burgeoning Inland Northwest brewing boom. (MIKE BOOKEY)
Perry Street Brewing Co.
While it'll be a few more months before we're imbibing pints at this South Perry Street location, ground has been broken on the new building that will house brewer Ben Lukes' new facility. Lukes, a former brewer at Missoula's Big Sky Brewing, hopes to have the brewery up and running this fall, adding to what has become an increasingly popular dining neighborhood. (MB)