This popcorn is free, and when food is free you can't exactly be picky. But we figured it was important to finally determine which complimentary bar or restaurant popcorn offerings are better than just a substance to soak up a boozed-up belly. So our team of refined-palate reporters hit the mean streets of Spokane ranking popcorn on a specific set of criteria, based on saltiness, freshness, butter coverage and flavorings. (Note: While we hit many, we couldn't try every place that offers free popcorn.)
For decades, bars in particular have served up free snacks hoping to keep patrons thirsty. Washington state liquor laws, however, do not require venues with tavern (beer and wine only) and nightclub liquor licenses to serve food, so offering bottomless popcorn is just a cherry on top for hungry drinkers.
Popcorn isn't inherently terrible for you; it even offers a boost of fiber. It's when you pour on salt, butter and other flavorings that the nutrition value goes out the window. But if you're anything like us — we won't name names, but some Inlander staffers could (and do) eat popcorn for dinner — and you're in the mood for the stuff, you may actually choose a business based on the amazingness of its popcorn product. We're here to help. (LAURA JOHNSON)
BON BON
926 W. Garland
This popcorn is the same stuff you can order from the Garland Theater's concessions stand (where you pay $7 for bottomless quantities), so clearly, it's fresh. Multiple popcorn flavors are located next to the condiments stand, but the Garland's popcorn doesn't need anything to add to its existing tastiness. Sitting and sipping our fancy cocktails in the compact establishment, the bartenders came around with a brown paper bag to fill our napkin-lined bowl. Each time we grabbed a handful of popcorn we got a mix of buttery, fluffy, crunchy goodness. It was never burnt and there were a low number of unpopped kernels at the bottom of the bowl. Really, this stuff is basically perfect. (CHEY SCOTT)
Best feature: Perfection
CASEY'S PLACE
13817 E. Sprague, Spokane Valley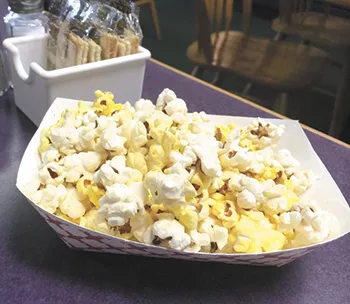 Only open for lunch from 10 am to 3 pm, there's no chance you'll eat day-old popcorn kernels at this Spokane Valley gem — there simply isn't time. While there last week, the popper, serving up an aesthetically pleasing mix of crisp white and mouthwatering, buttery yellow popcorn, never seemed to drop lower than half full. While the popcorn's butter distribution was a touchdown, the salt was slightly more excessive than I prefer. I expected the school-bus-yellow pieces to have the heaviest punch, but it was generally the white pieces that seemed to be hiding salt grains in every crevice. All in all, the saltiness was not extreme enough to negate the deliciousness. (KAITLYN ANSON)
Best feature: Scrumptious sandwiches with your popcorn.
THE HUB TAVERN
2926 N. Monroe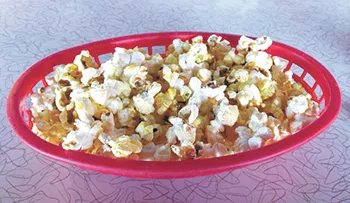 The Hub Tavern is one of the oldest watering holes in Spokane. When you sit down at the homey-feeling business, the bartender brings you about two cups worth of freshly made popcorn (they're making about four batches a day) in a little red basket. Last week, it was slightly burned, but I've had many batches that were not. The salt level is a little high and there's no butter or extra flavor selections to speak of. But this yellowish-colored, good-quality popcorn does the bare minimum in terms of serving as a satisfying snack. And it does make you thirstier, which is the point, I reckon. (DAN NAILEN)
Best feature: It's fresh, and you don't have to scoop your own popcorn.
THE SWAMP TAVERN
1904 W. Fifth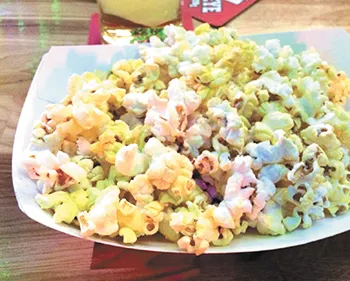 Under the blue-and-green twinkle lights affixed to the Swamp Tavern's ceiling, thirsty folks can play pool or even Uno while watching their local teams on an array of large TVs. Free popcorn enhances this experience. The popcorn — this particular batch was made at 3 pm, just two hours before I arrived — further blows your mind because of the do-it-yourself topping options. I tried Parmesan cheese, lemon herb and onion powder. Other flavors included white pepper, garlic salt and Johnny's seasoning salt. By itself, the popcorn's salt level was fine; I prefer more butter than anything else, which wasn't a priority here. Yet the myriad options kept me wanting more. (LJ)
Best feature: Incredible flavor selection.
VIKING BAR AND GRILL
1221 N. Stevens
You wouldn't necessarily expect it, but the Viking keeps animal lovers in mind when popping multiple batches of popcorn every day. Their butter topping is actually a vegan butter substitute. The restaurant/bar, known for its eclectic décor and clientele, offers popcorn to everyone from lunch patrons to late-night music lovers. Their complimentary popcorn is served in a medium-sized wooden bowl. While not strikingly yellow, the popcorn is certainly quite presentable. The salt on each kernel provides just enough bite without overpowering your choice of spirits. (TRACE WILLIAM COWEN)
Best feature: You can eat vegan-buttered popcorn while listening to local live music.
VOLSTEAD ACT
12 N. Post
Last week at this downtown cocktail bar, I unknowingly sampled the buffalo wing seasoning (one of four additional flavors to choose from). While it was delicious, I developed a spice-induced smoker's cough for the remainder of the evening. I soldiered on, and after sampling some untainted popcorn was able to rate it properly. The salt and the buttery taste were definitely there, but did not overpower any added flavoring. No teeth were injured during the sampling of this popcorn, and no minds were blown by a miraculously melt-in-your-mouth quality either... but a swanky joint with free popcorn is a "yes" in my book. (COURTNEY BREWER)
Best feature: The optional buffalo wing seasoning.
---
Most salt: The Hub and Casey's Place tied for most salt, according to our reviewers, although neither were overpowering enough to be deemed inedible.
Least butter: The Hub, as there's no butter on it, according to our reviewer.
Lightest, yet still well-bodied: Bon Bon serves their movie popcorn. There's really no beating that.
Most flavor options: The Swamp offered up more than seven different options to pour over your popcorn. You can essentially make it taste any way you want.
Freshest popcorn: Each bar and restaurant popped multiple batches per day. No matter where you go, it's going to be fresh.
Most nutritious: None of the above.
Most likely to be tried again: All judges said they would eat their particular popcorn again.