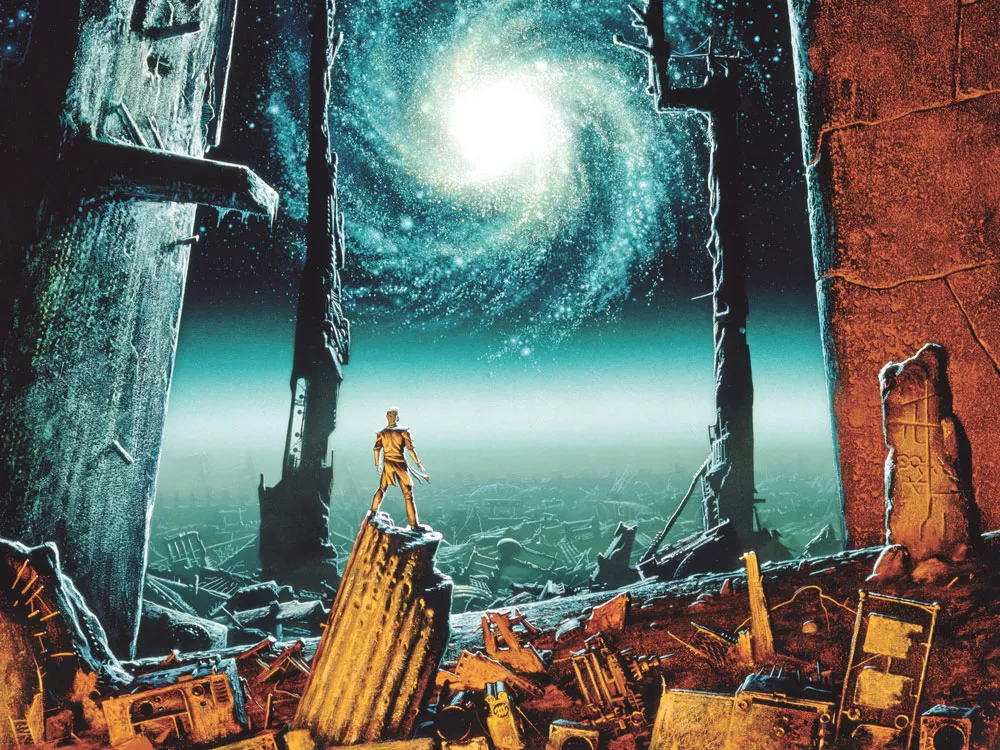 SpoCon, Spokane's annual nerdstravaganza, will host illustrator Michael Whelan as its guest of honor this year. Whelan is a 15-time Hugo Award winner (the geek version of the Pulitzer) and the only living artist inducted into the Science Fiction Hall of Fame. He has crossover clout too, though. In addition to designing book covers for Stephen King and Anne McCaffrey's famous dragons, he's done album art for the likes of Michael Jackson and Meatloaf.

Inlander: What would you say that you are best known for?
WHELAN: I'm most known for my book covers as a book illustrator. The widest readership I've probably received are from the work I've done on the Stephen King books. I've done book covers for all of the famous science fiction writers, if you think of the classic names like Isaac Asimov, Arthur C. Clark or Robert Heinlein. That was great for me because I've always been a fan. It's been a labor of love.
What has been your favorite commercial project?
A lot of times I'll do something as a reaction to something I've done before. If I've recently done a cover for a book of horror stories then to do something like a children's book would be a nice change of pace for me.… I love that kind of contrast and bouncing from one extreme to another. A lot of my enjoyment comes from that change of direction.
I don't do a whole lot of horror things anymore because I don't want to add to a world that has enough darkness in it all ready. At the same time, it is cathartic to explore being human and liking scary movies. My approach to the dark side isn't to dwell on blood and gore but to amplify feelings of unease and uncertainty. I'm like everyone else, I'm on a roller coaster emotionally.
What have been your favorite album covers to illustrate?
I've done album covers for people like Michael Jackson and Meatloaf and other artists. I get the most enjoyment doing album covers for real extreme death metal bands. No matter what I come up with they always come back and say "Can you make it more extreme?" If I feel the need for some catharsis and I'm disgusted with something I've read in the newspaper and I want to get my political anger out, it's great to be paid for it and to do something that is radically different.
What award are you the most proud of?
Being inducted into the Science Fiction Hall of Fame was definitely the high point for me because I'm the only living artist that's been inducted into it. I'm in really august company. It's quite an honor to be nominated and voted into it. I'm in awe of the recognition.

How long have you been going to conventions?
I grew up reading science fiction and fantasy without realizing that people get together and celebrate it. When I was going to the Art Center College of Design in L.A. for nine months after I got my B.A. in painting, I saw a flyer for the Comic-Con in San Diego and put some work up in the art show. When I realized you could go to these things and talk to someone like Ray Bradbury in the flesh, I was staggered.
One of the wonderful things about the science fiction and fantasy community is the access that the fans and the professionals have. There's nothing like it. It's a great community.… In my cocoon of a studio I feel sometimes as if I'm looking at things through the wrong end of a telescope. Getting out and seeing what others are up to helps to keep me connected to developments and trends.
You have a reputation for working closely with authors. Could you explain that process?
I try to read every word of every book I illustrate. When I was a young reader, I vowed to myself that if by some miracle I ever was in a position to illustrate a book, I would make sure I did a cover — contrary to the old saying — that you could judge a book by. As an illustrator, one can approach the task as a decorator — something pretty to put on the cover — or as an illuminator, creating a work that reflects and even enhances the reading experience. Ideally, one should do both.
You've recently switched gears from illustrating to selling on the gallery circuit. Why'd you make that switch?
There's a sense that after 25 years of illustrating that I've done everything you can do within a 4" x 7" format or 6" x 9" within the enclaves of the book. It's a format that been fairly rigid over the years. There's the title and the author's name. The clients have a certain approach and you get locked in stylistically with your own success and it gets constraining after a while. I started to feel that I needed a different creative outlet.
Was there a moment that shaped you as an artist?
Two of the most important cultural experiences that shaped my life happened in the same year. In 1968, I was given a copy of Siddhartha by Hermann Hesse that summer, and that December I saw the film 2001: A Space Odyssey in its first run. I feel everything I've done since as a creative person has been touched by those two works.
It is in the intersection of mystery and science, the tangent point of futurism and cross-cultural mythic archetypes, that I find the well-source of my ideas and, indeed, a reason for being. I feel very fortunate to have been given such a gift.
---
Michael Whelan will be at Auntie's Bookstore on July 30 at noon. Free. Call 838-0206. SpoCon runs Friday, July 30-Sunday, Aug. 1 at Gonzaga University (503 E. Boone). Tickets: $35. For a full list of events — many of which include Whelan — visit spocon.org.