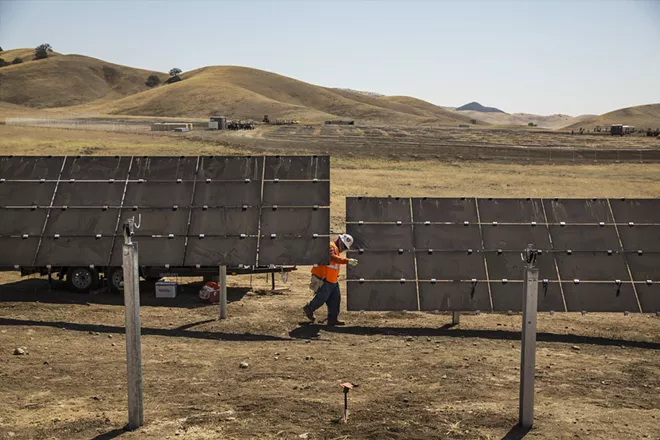 By IVAN PENN
© 2018 New York Times News Service
S
ACRAMENTO, Calif. — Solar panels have become an increasingly familiar sight on California rooftops as the state moves toward a clean-energy future. For new homes, they are about to become a requirement.
The California Energy Commission voted unanimously on Wednesday to require solar panels on all new homes, putting the state even farther in the forefront in the use of solar power.
The mandate, a change in the building code to take effect in 2020, is expected to add $8,000 to $12,000 to the cost of a house — no small sum in a state where housing affordability is already a major issue.
The construction industry is prepared to live with the requirement, however, as the solar capability may become a selling point: It will help homeowners keep their electricity bills down under a new rate structure that favors renewable sources.
"Our druthers would have been to have this delayed another two or three years," said Bob Raymer, senior engineer for the California Building Industry Association. But he was not surprised. "We've known this was coming," he said. "The writing was on the wall."
Several California cities have adopted ordinances mandating that some new buildings include solar power, or have made commitments to 100 percent clean energy through various sources. New Jersey, Massachusetts and Washington, D.C., have also considered legislation to require that new buildings be solar-ready, according to the National Conference of State Legislatures.
But California will be the first to require all new homes to include some form of solar power.
"The best way to see this code update is as a step, an important step that we defined over a decade ago, part of an overall suite of reforms to reduce greenhouse gases," said Andrew McAllister, an Energy Commission member who led the panel's review of the building code, undertaken every three years.
A new rate structure coming next year will charge California customers based on the time of day they use electricity. So those with solar power — and a battery in particular, allowing energy to be stored for when it is most efficiently used — will avoid higher costs.
Solar power provides almost 16 percent of the state's electricity, and the industry employs more than 86,000 workers.