Abbie Speer, an evangelist for the beer can, says it's simple why we're seeing more aluminum in the beer aisle and on the menu at our restaurants.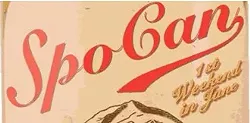 "More and more breweries are switching to cans because cans are a superior vessel for beer," says Speer, who along with Amanda Mead runs Spokane-based Spokes Mobile Canning.
Spokes will be on hand at this year's fifth annual Spo-Can beer fest at the Elk Public House, an event that features more than 50 different regional and national beers and ciders, none of which come in a bottle. Locally, breweries including No-Li, Orlison and Laughing Dog have put at least some of their product in cans.
In addition to sipping straight from the can, visitors to Spo-Can can also have Spokes put their homebrewed creations into a six-pack. Speer says canning homebrew can help keep the beer fresh longer than if it was in bottles.
"Most people who take the time and effort to handcraft a beer want it to be packaged in a way that preserves it for as long as possible," she says.
At the festival, homebrewers can have a 5-gallon batch canned for $15, or a 10-gallon batch for $30, with a limit of two batches per person. Even those who aren't looking to package their beer can get a look at the canning process, which protects the beer more effectively than bottling by blocking out all exposure to light, and makes for a tighter seal than a bottle cap.
"In fact, bottle caps start to loosen within three weeks of packaging. Cans are like mini individual kegs," says Speer.
Spo-Can • Sat, June 4, at noon • Elk Public House • 1931 W. Pacific