The final frontier for actors might be the one-man show, an opportunity to regale audiences with ribald and riveting tales of a career that's mostly in the rearview mirror.
William Shatner's show, Shatner's World: We Just Live In It, diverges dramatically from the typical memory-heavy solo gig — between writing books, making albums, hosting talk shows and acting, the man is as busy at 83 as he's ever been. And the Shakespearean-trained thespian has designed his performance to be far more than a soliloquy about his time spent in the shoes of Star Trek's Captain Kirk, 1980s cop T.J. Hooker or the Priceline Negotiator.
"I don't want to make it sound like it's all about me, because it's about music and it's about comedy. It's about grief and about death. And it's about motorcycles, about horses, about love," Shatner explains, in that instantly recognizable voice, to the Inlander about what's in store for the audience of Shatner's World, appearing in Spokane for one night on Dec. 4.
"There are many subjects" in the show, he says. "I refer to death as the 'final frontier' and talk about life and death being two sides of the same coin. So it's not just about me, it's about the human condition. It's not just about my narcissistic life — although there's some of that."
The Spokane stop is the first of a limited tour for the show that opened on Broadway to rave reviews in 2012. Even though Shatner has been a seemingly omnipresent media force for decades, critics and audiences still found themselves sucked into the combination of philosophy lecture, comedy routine, incisive drama and, yes, musical that Shatner and his creative partners built together.
Shatner's World made a trial run in Australia before hitting Broadway — "I thought, 'Well, I'll give it a shot, and if I fail, who will know?'" Shatner says — as well as a brief run across his native Canada, where Shatner grew up in Montreal and schooled in economics before studying to become an actor.
That training comes in handy each night as he prepares to take his show in front of another audience. Even with his own life story and philosophy serving as the inspiration, Shatner says, he has to prepare to play himself just as he would for a production where his role is Prince Hamlet or Willy Loman.
"Certainly the elements are the same. You memorize lines. You say the lines," Shatner says. "The audience tells you the best, most effective way to say the lines each night; you have to be listening to the audience and their reaction. So your performance evolves as you go along.
"The challenge of a one-man show is that you're alone on stage. Can you keep enough balls in the air to tantalize an audience and keep their interest for an hour and a half or two hours? That's a very difficult feat. Try telling a joke to a group of your friends and see how bored they get. So, it is very much like doing a long play, except in a play there's always somebody else on stage you can blame for it not going well."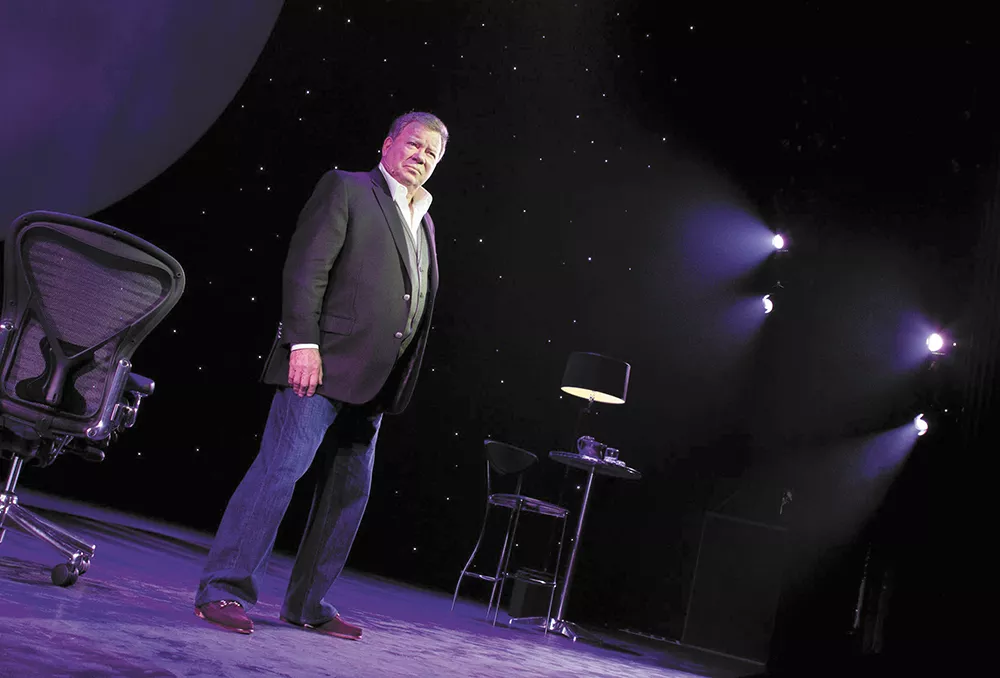 There's little chance of it not going well in 2014, as Shatner says the touring production has been honed to a point that he wishes the current version was the one he took to Broadway two years ago.
The man's work ethic in perfecting his show and diving into new projects is remarkable, and not just because at 83 he's at an age when it would be natural to slow down. Like many actors, Shatner still feels like his current job just might be his last, even after more than 50 years in showbiz, so he wants to grasp every opportunity that comes his way.
Over the course of a short conversation, Shatner mentions a new book he's written, some graphic novels he's penning, three new movies coming out and an interview show he's going to host called Brown Bag Wine Tasting, in addition to a Saturday morning cartoon. And he's still a regular at comic conventions like PacCon in Spokane, where he appeared in October.
Even with all those ways for fans to engage with Shatner, none are closer than Shatner's World for getting to know the real man.
"I'm a very closed, very private person," Shatner says. "To tell you about major events in my life is to show you, the audience, that I'm exposing my heart to you. One story may be about my heart, and the next story may be about my head, but I'm being honest with you and bringing you along on my journey." ♦
Shatner's World: We Just Live In It • Thu, Dec. 4, at 7:30 pm • $42.50-$152.50 • INB Performing Arts Center • 334 W. Spokane Falls Blvd. • BestofBroadwaySpokane • 777-6253