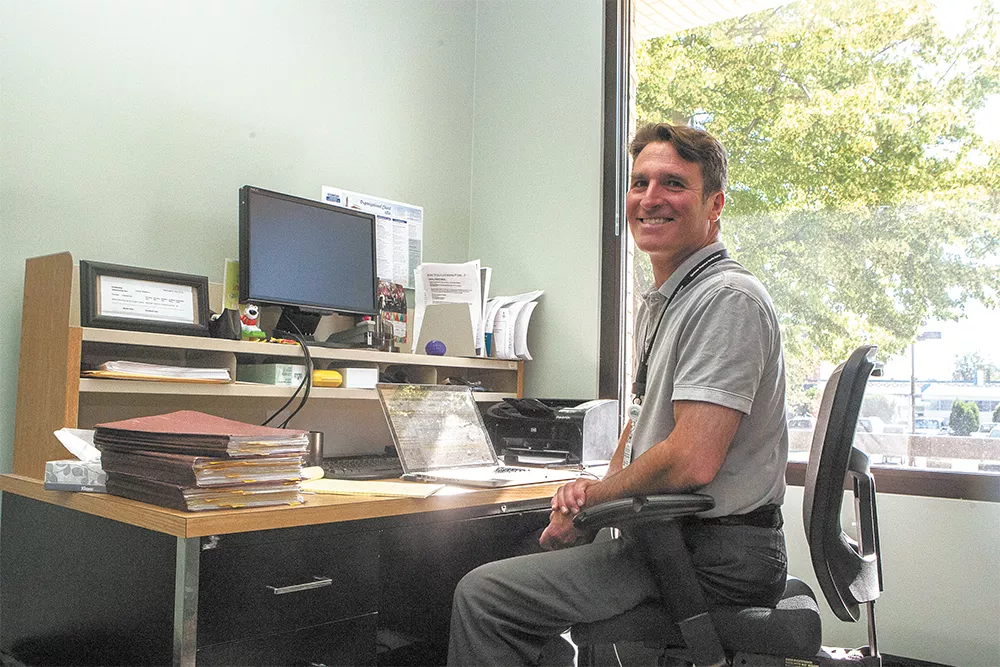 Last week, the entire staff of seven psychiatric doctors submitted resignation notices at Providence's Sacred Heart Medical Center, a locked, 48-bed inpatient psychiatric unit that treats adult patients battling acute bouts of mental illness. Sacred Heart is the place the police call when someone poses an imminent threat to themselves or others and needs to be involuntarily committed. It's the Inland Northwest's sole provider of electroconvulsive therapy and the facility that Eastern State Hospital relies on when it reaches capacity.
The psychiatric care team will remain on staff for three months, says Liz DeRuyter, external communications director for Providence Health Care. After that, it's unclear what will happen.
"It is unfortunate our psychiatrists have felt the need to resign, and it is going to be a challenge to replace them, but we are committed to do it," says Jeff Collins, Sacred Heart's chief medical officer. "We may have to modify the services based on the availability of appropriate staff."
That modification likely will mean a drop in the current level of inpatient services. Sacred Heart has 190 other staff members within the psychiatry department, so the 48 beds should remain operational in some capacity, but psychiatrists are hard to find these days. Fewer psychiatrists could limit the scope of services Sacred Heart is able to offer; Spokane Regional Health District Director Matthew Layton worries that inpatient care would be among the first services on the chopping block.
"We have been attempting to recruit psychiatrists, and that is continuing," says Collins. "We have some prospective candidates, we don't know how many, and in addition we're working with companies that provide locum tenens."
Locum tenens physicians are essentially temporary doctors. Taylor Kennedy is a recruiter who scours the nation for these placeholder physicians. He's currently hunting for someone to fill a vacancy at Eastern State Hospital, where only 287 of the 325 inpatient beds currently are in service. It's tough going, he says, even though he's offering the equivalent of $175,000 a year, which, he says, is higher than normal for the area.
"If a candidate lives in the area and is board certified, I could really put the icing on the cake and throw a couple extra bucks their way," says Kennedy.
The doctors themselves aren't talking about their decision to resign.
"It's very complicated," says Collins, who believes the pay at Sacred Heart is competitive and the support staff ample. "I understand the workload has been heavy."
In Eastern Washington and most of Idaho, the acute shortage of psychiatrists is a chronic health issue, and a decrease in the services currently available at Sacred Heart could easily throw the already strained system into crisis mode.
"A decrease in the number of specialists in any medical field would be detrimental to patient care," says Teri Koski, vice president of the National Alliance on Mental Illness' Spokane affiliate. "Imagine losing seven local cardiopulmonary doctors or oncology specialists. Imagine needing open heart surgery, only to find there are no heart surgeons available. Without consistent treatment, a mental illness can become a crisis in need of emergency intervention."
In 2011, Providence commissioned the consulting firm Medical Development Specialists to evaluate care needs in the area. MDS estimated there were 35 psychiatrists in the region and that 45 were needed, assuming a population of just over 900,000. Layton estimates the population east of the Cascades — the population the doctors actually are serving — at closer to 1.5 million, and growing.
"We have patients, they have money, they have insurance," says Layton. "They still can't get care. Our private practitioners are booked three months out."
The state is currently short 300 inpatient beds and most of that shortage is felt in Eastern Washington. If patients can't seek inpatient treatment at Sacred Heart, where will they go?
"We have overflow there, so of course we couldn't house them at Eastern State," says Kathy Spears, communications officer for Washington's Department of Social and Health Services. Frontier Behavioral Health CEO Jeff Thomas says his organization "will continue to work collaboratively to meet the needs of individuals experiencing psychiatric challenges."
Officers at the Spokane Police Department already deal with frequent difficulties finding open beds for people in the throes of mental health crises.
"If there's no bed at Sacred Heart and it's an involuntary, we'll wait a couple hours with a person at the emergency room. We don't like to, but we do," says Sgt. Anthony Giannetto.
Layton, from the health district, says the state legislature will finalize the budget with more money for mental health, which will help, but more psychiatrists are needed.
To that end, Providence is working to bring more psych beds online. Last week it announced a plan to partner with Fairfax Behavioral Health to build a 100-bed psychiatric hospital on the Sacred Heart campus. The new hospital is a long way out, though.
"The process takes a while," says Elaine Couture, Providence's regional chief executive. Collins says the plan was in the works before the doctors quit, and that in the best possible scenario, it's "likely to be a fairly long time" before the new hospital opens. ♦