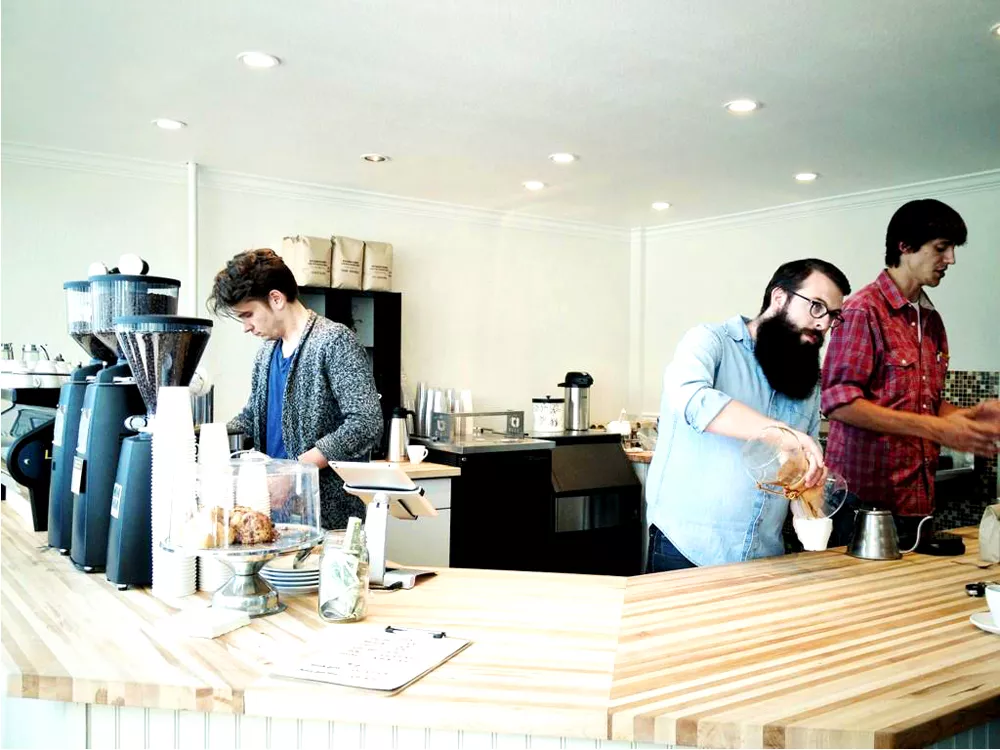 K
eaton Violet is careful with the coffee.
The barista pampers it, weighing the beans and weighing the water. If it's an iced coffee, he weighs the ice, too, looking for "the perfect dilution." He pre-rinses the filter to clear it of paper flavor. When water finally hits grounds — swaddled in the porcelain embrace of a Japanese coffee dripper — Violet gently spoons the soup into a lazy swirl.
This process is slow because precision is important at Coeur Coffee. The coffee — from Portland's famous Stumptown Roasters — is meticulously catalogued by country, region and cultivar. The honey comes from a single local source. The milk comes from another. "Their cows are gorgeous!" Coeur owner Mike Garrison says.
Coeur is particular about where it gets its vanilla beans, and their cocoa powder is not just any cocoa powder. It is, Garrison says, "the most dank cocoa powder on the planet."
The only thing not precise about Coeur is the price of the Beehouse pour-over coffee and the Chemex. They read "3ish" and "5ish" respectively. That's because high-end, single-cup coffee can be incredibly expensive. A pound of unroasted coffee sold for more than $500 last week at an auction. Nothing here is that expensive — the espresso drinks are a pretty standard $2.50-$4.50 — but the right bean brewed in a Chemex can top $10.
Coeur has a dossier full of coffee, with the vitals of every bean and a page-long love letter about each. What they don't have is skim milk (it doesn't foam well) or flavors beyond vanilla, caramel and chocolate.
"The point is not what we don't have," Violet says, "but what we do have."
They realize the high-brow perception could turn people off.
"We really don't want to be annoying about it," Violet says.
The staff knows that's the main knock against Stumptown. The roaster's branded coffee shops — in Portland, Seattle, New York, Amsterdam — are Mecca for the coffee-obsessed. Everyone at Coeur has been to one, and they all have a story about snobby baristas.
Coeur wants to have Stumptown's exacting quality control and variety and emphasis on farm to cup without alienating the uninitiated.
"We believe in this," Garrison says. "We want to share it with people." 

Couer Coffee • 1099 W. College Ave, Ste 1001 • Open 6 am to 6 pm daily