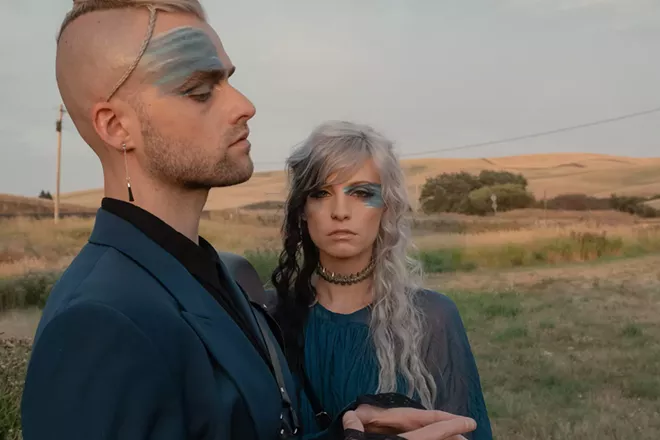 There's no one else like Carmen Jane in the Spokane music scene.
And by the end of the month, there will simply be no one.
While local music lovers might know singer-songwriter Cami Bradley from her finalist run on America's Got Talent in 2013 or the indie folk music she made as one half of The Sweeplings, her pop alter-ego is an entirely different beast. It's pop music that's closest to something like Billie Eilish: dark, melodic, moody, musically complex. It's the sort of sound that very much sticks out from the rest of what's going on around town.
But in a matter of days, Carmen Jane is packing up and moving to Los Angeles. It's time for Bradley to leave Spokane... even if she doesn't really want to.
Carmen Jane first emerged in 2019. After seven years with The Sweeplings, Bradley was wanting to branch out musically and see what she could do in a non-collaborative situation.
"I think there was always an itch to do something different in a space that stretched me more," Bradley says. "I'm really thankful for the time that I was just, like, writing and exploring on my own, because I didn't know that I had the voice for that or if I could push myself that far. Carmen Jane was the first time where these were my stories with no one else's intertwined. I needed to have that freedom to explore myself, as an artist."
Not that Carmen Jane would stay a purely solo endeavor for long. Local music manager/scenemaker Ryker heard what Bradley was doing and suggested she link up with Benn Suede, a former lead guitarist for the nationally touring metalcore band Crown the Empire, who was running the Blare Sound-Suite recording studio in Spokane Valley. But Bradley, who was working with a German-based producer at the time, didn't take the bait initially, holding off two years before meeting up with Suede.
"I wasn't sure that I wanted to introduce a new person," Bradley says. "I was like, I don't know... if he's in Spokane doing pop stuff and I haven't heard of him, I don't know if that's the move... I was very wrong."
Eventually in April 2021, the pair finally connected. And while their first attempt at collaboration didn't quite click, they kept at it. Eventually using Israeli electro-pop rapper Noga Erez as a reference point for their second session (her music uses classical instruments in a very modern way) helped the duo unlock the Carmen Jane formula.
"Not a lot of music is that musical anymore," says Suede. "It's not, like, derived from classical music. And both of us have, to some degree, a classical or jazz background. And so hearing somebody do it — flip something so vintage into a modern space — was really inspiring for both of us."
They both loved the song that came about from that creation session ("Mindtricks") and started working on a regular basis. Eventually, Carmen Jane became more of a collaboration, with Suede as the co-frontman and executive producer, than a pure solo project. The dark pop soundscapes they create pair intriguingly with Bradley's skills as an emotive, experience-driven storytelling songwriter.
"To me, it sounds like the classic and the modern are fighting. They're having a battle," says Suede of Carmen Jane's sound, which blends elements of each musician's background. "It's very violent, and some songs are really aggressive. In some it's musically aggressive, and some of it's emotionally aggressive. It really has a broad range of how it sonically comes across."
"From the creative perspective, I don't know if music has ever been this easy and natural," Bradley adds.
Validation for Carmen Jane came last summer when the duo went on a mini-tour, opening for popular electronic music violinist Lindsey Stirling. Still operating on a DIY level (traveling by car with Bradley's mom and sister selling merch), the duo wasn't sure how crowds of 2,000 to 5,000 would respond to their sound. They were blown away by the response.
"I think we were underprepared for the amount of love for us," says Bradley. "We don't really match Lindsey Stirling's music, per se. And so we were like, [people] might show up and be like, 'What is happening?' But it was totally opposite. We came offstage after the first show, and I had like 10 missed calls for my mom saying, 'You get down here to the merch table!' So we walked down, and there were hundreds of people in line. We sold out of our merch for the entire run of the tour in like 10 minutes."
The response had the duo scrambling to create new merch in each city — frantically calling up T-shirt printers and even getting some embroidered at a Walmart at one point. But the continued love night after night from newcomers of all ages continued to show they were on the right track.
And now, Carmen Jane is ready to take the next step. After releasing a few songs over the past couple years, Carmen Jane's 13-song debut LP will arrive later this year (late summer/early fall). The rollout for the record begins Feb. 15 with the release of the first single, the group's aforementioned first creative breakthrough, "Mindtricks."
But in order to move ahead, it's unfortunately time for Carmen Jane to move away.
"I don't want to live in LA," Bradley says with a laugh.
She genuinely adores living in Spokane, but Carmen Jane's move is about opportunities.
First and foremost, Carmen Jane's distribution and optimization team resides in Los Angeles. As a result, the duo traveled to SoCal almost monthly last year for work, but still weren't always physically available when opportunities popped up to make a networking connection, play a show or hop in for a studio session. There are simply more chances to work regularly down in the entertainment hub, including becoming support for more tours — a major goal for Carmen Jane this year. And while Spokane certainly has rock, folk and hip-hop scenes, there's not a lot of genre representation in the pop realm here.
"It's tough, because Spokane is awesome and our music scene is growing," Bradley says. "It does make me sad, because there's a little part of me that's like, I want to be a part of the growth of that. But there isn't a lot of expansion in this genre for us here."
Spokane just isn't a fit for what Carmen Jane is striving to do at the moment. Both members also point out that a gap in the area's all-ages venues really hurts an act of their ilk. There are basically two all-ages options for more established acts in Spokane: The Big Dipper (110 capacity) and the Knitting Factory (1,500 capacity). There's essentially no midsize option, which is problematic for a pop act like Carmen Jane.
"You need the all-ages," says Bradley. "We don't have it."
"The younger kids get way more invested in music," stresses Suede. "People over 25 don't really invest in art, generally. There's definitely some, but it's mostly younger people who will grab on. That's how you gain fans. And that's a massive bummer here. Because there's no way to play a show in front of 300 to 500 people, all-ages."
To bid Spokane adieu, Carmen Jane is performing a farewell concert at the Washington Cracker Co. building on Saturday, Jan. 21. The pair chose the atypical spot because of the ability to run an all-ages show the way they want (at roughly 500 capacity), and because they have the resources to make the space work — Cami's husband runs sound, they know lighting people, etc. — that other locals may lack.
Carmen Jane might not want to move to LA. But it's time to swan dive into the unknown. The danger in the uncharted waters is kind of the point.
"Honestly, it's a risk," Bradley says. "And that's part of why we're doing it. We've done everything here safely. And we use all the resources that we can think of, and we've worked really hard. And it's not that Spokane can't house those things. But Spokane is not risky."
"Our friends and family and community and city are behind us, and in LA, everything is against you [laughs]. So it's a little bit like, back up against the wall, what are you going to do to succeed?" she continues. "And we want some of that pressure on us: to have the financial fear, and the connection fear, and the performance fear and all of those things kind of stacked up against us. So we can actually put our feet to the fire and go." ♦
Carmen Jane: Farewell Concert • Sat, Jan. 21 at 7:30 pm • $15 • All ages • Washington Cracker Co. • 304 W. Pacific Ave. • eventbrite.com