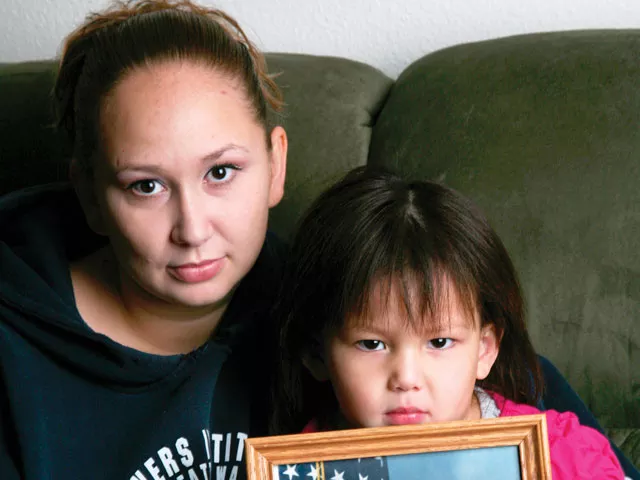 The second time Jayson Lee Landers got blown up in Iraq, he laughed. Once he regained consciousness in the dark, dust-choked Humvee — he doesn't know how long he'd been knocked out — Landers says he was bleeding from his ears. He was deaf. There was flame above his head from where the gunner was swiveling the .50cal. and firing machine-gun bursts into the empty, nighttime desert.
"I started laughing. It was just so surreal," Landers says. "You see people trying to talk to you and you just see their lips moving. The gunner is shooting in every direction. And I couldn't believe it was the same exact spot, and the same time of night, where I had been blown up exactly a week before."
Also surreal is that Landers was telling this story from behind glass at the Spokane County Jail on Halloween night — a sign that his life has also been blown up.
Last week, Landers had finally sought relief from the demons that have afflicted him since Iraq — demons that landed him in military prison for two years — and he paid a visit to the Spokane Veterans Administration hospital. The very next day, on Oct. 28, his wife was pulled over for speeding.
Landers, in the passenger seat, was loopy from clonazepal — a potent muscle relaxant prescribed by the VA — and police ran his ID.
They found a federal warrant for his arrest, issued in June and tagging him as a deserter.
Landers was immediately arrested and spent five days alone in a cell with no court hearing and no explanation of what would happen next. On Monday, federal marshals escorted him to military prison at Leavenworth, Kansas.
"I was never in trouble, never once in 29 years," Landers says.
Then he came home from Iraq.
After nearly a decade of fighting two wars at once, the military and the Veterans Administration are still reeling from an explosion of soldiers suffering mental health problems — depression, anger, suicide, post-traumatic stress.
And then there is actual brain damage from repeated encounters with roadside bombs, the most frequently used method in both Afghanistan and Iraq to attack U.S. soldiers.
Suicides among young veterans have risen at a shocking rate — through the first half of this year, more soldiers died by their own hand (129) than did in actual combat in Iraq (101).
Not surprisingly, that has raised questions about whether the military and the VA are effective in outreach to soldiers. Jayson Lee Landers is a cautionary tale in this category.
It appears he is a veteran, messed up by war, who could use treatment for PTSD (post-traumatic stress disorder) and TBI (traumatic brain injury). Except that his bad actions that are perhaps influenced by untreated PTSD and TBI have gotten him in trouble, thus making him unqualified for help.
"He's in a Catch-22," says his mother, Stacy Landers, from her home in Kingston, Wash.
Landers' story has two features relevant to soldiers and their mental health treatment. Both seem common. One is his own pride in being a "tough" warrior who never complains. The second is a military that, despite repeated vows to seek help for all returning soldiers, doesn't always work that way.
When his unit returned to Fort Bragg in spring 2005, Landers says they were debriefed on health issues, including PTSD.
"On the second day we were back, they said, 'As soon as you guys get through this, you can go on leave.' We were expecting a 14-day leave," Landers says.
The inference seemed clear, he says:
Don't check off any boxes, and you get to see your families. "Plus, we were the 82nd. We were supposed to be tougher," he says.
But he says his first wife, his high school sweetheart, kept telling him he was not the same man who had gone away to Iraq, and that he should seek help.
Instead, Landers says he became remote and angry. "I would get up and go outside at night. I'd stay up the night. I would drink myself to sleep."
He previously had been an involved and happy dad, coaching his three sons in youth sports. After Iraq, he sought excuses to stay away from his family. He volunteered for extra shifts at Fort Bragg, where he was an MP on traffic patrol. He popped ephedrine pills so he wouldn't have to sleep and risk nightmares.
Then, six months after he returned, he had a sexual encounter with a female soldier on base. He was on duty and he was her superior. Originally charged with forcible sodomy, Landers ultimately accepted a plea deal that lessened the charge to consensual sodomy and resulted in a five-year sentence and a badconduct discharge. He ended up serving little more than two years at Fort Knox Regional Correctional Facility before he was paroled on Oct. 3, 2008.
His behavior was still erratic. He enrolled at the Divers Institute of Technology in Ballard to learn underwater welding, but 60 days before the program ended, he quit. (He was living with his parents and got into an argument with them.) He then moved to Toppenish to be with the woman who become his second wife, Rosalee.
Landers and Rosalee both insist he filled out the proper notification of a new address for his federal parole officer. Apparently not, because the military issued a warrant for his arrest. The parole officer, Michael Marham, says he is not authorized to reveal Landers' violation and referred inquiries to the Army Parole Board, which did not return messages.
Landers' future is unclear as this story is written. He has yet to have a hearing or meet with an attorney to understand what he's facing.
One thing is certain: While in prison, he won't get help for PTSD or TBI. And unless his bad-conduct discharge can be modified to a general discharge, Landers will not receive help after prison, either.
Just as he has reached out for help, Landers worries that it may elude his grasp.
"He doesn't belong in jail. Too many veterans in jail get zero treatment," says John Custer, a Spokane veteran who advocates for fellow vets. "This is what I call mishandled PTSD. He needs to get proper care." n kevin@inlander.com
Rosalee Landers and her daughter with a picture of her husband Jayson. [Cassandra Lindquist photo]