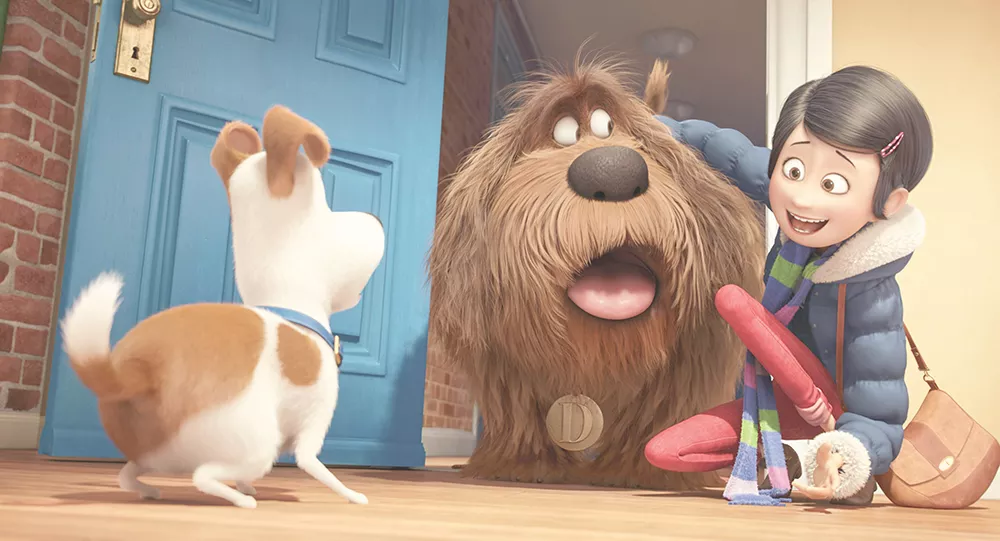 What do our pets do all day while we're at work or school? Mostly sleep, probably. Unless you have a Bad Dog or a Bad Cat, in which case the torn-up sofas and puddles of vomit you return to are already pulling back the curtain of mystery on their daily doings. So best consider the charming The Secret Life of Pets more an animated fantasy than a documentary, in case you were in any doubt.
The comfortable life of terrier Max (the voice of Louis C.K.), who considers himself the "luckiest dog in New York" thanks to his person Katie (the voice of Ellie Kemper), is thrown into disarray when she brings home his "new brother," Duke (the voice of Eric Stonestreet), a large, shambling, clumsy sheepdoggy creature. Comedy of disaster ensues when their competition for the spot of top dog in the household results in them being separated from their inattentive afternoon human dog-walker and lost in the Big City. Their adventures along the path back home are cleverly constructed and amusingly rendered by a team of mostly Despicable Me/Minions vets — co-directors Chris Renaud and Yarrow Cheney, screenwriters Ken Daurio, Brian Lynch and Cinco Paul — and breathe with the same wacky inventiveness of the Minions. (Pets is preceded, in fact, by a new Minions short that is much more successful than their recent feature film.)
Visually, Pets is gorgeous, giving us a small animal's perspective on the Big City, all looming skyscrapers in the distance and cozy apartment houses up close, as well as some wonderfully silly Looney Tunes-esque cartoon shenanigans. But it's the wistfulness of Max's longing to get home to Katie that makes the movie sing with sweetness, as does the devotion to get him home displayed by Max's friends, other neighborhood pets such as Gidget the fluffball handbag dog (the voice of Jenny Slate, who just about steals the show), and Chloe the cat (the voice of Lake Bell).
Pets is pure joy, unencumbered by anything of import greater than a gentle message to take care of our companion animals: the putative villain of the piece, discarded magician's bunny Snowball (the voice of Kevin Hart), is nowhere near as evil as he thinks he is; he's just crushed by his abandonment and lashing out because of it. The laser-sharp focus on home, family and friendship to the exclusion of all else seems the perfect evocation of how our pets might feel. ♦