A good chef has many tools in his or her toolbelt. Sous vide is just one of them, says chef Laurent Zirotti, who relied on the cooking method to pull off his beef bourguignon when competing against Food Network chef Bobby Flay last fall. Flay won, but Zirotti still smiles at the memory of it. He also uses the cooking method at home and at Fleur de Sel restaurant, the popular Post Falls spot he opened with wife Patricia in 2008.
French for "under vacuum," sous vide refers to both a method of cooking and the equipment used. It combines three key elements: a sturdy, heat-resistant plastic or stainless steel container full of water; the sous vide heating element or circulator, which is placed in the water bath to keep it at a low-yet-constant temperature; and a sealed jar or bag in which the food cooks slowly while submerged in the hot water.
At home, says Zirotti, he prefers to cook in a glass canning jar versus a bag, although when he does use plastic bags he'll use Ziploc brand because they are bisphenol-A-free (BPA) and can withstand long cooking times typical of sous vide. The sausage and lentil recipe he created to demonstrate the versatility of sous vide, for example, takes around four hours to cook, while the dulce de leche he makes from a simple can of sweetened condensed milk takes between 15 and 20 hours.
Zirotti uses several brands of sous vide circulators, the equipment that enables this slow, even cooking. At home, he has a Wi-Fi-enabled Anova brand sous vide, which allows him to turn the device on remotely, much like a crockpot. At work, he uses the ChefSteps Joule brand, which resembles the cylindrical Anova brand, along with a square-ish VacMaster, a higher-wattage device capable of heating larger amounts of water, up to eight gallons, which is ideal for commercial applications.
Regardless of the sous vide brand, says Zirotti, it's important to understand the process.
"The idea of sous vide is a constant low temperature," Zirotti says. "It's perfectly safe," he adds, as long as the food is either served right away or cooled very, very quickly to prevent spoilage.
Sous vide is also not appropriate for every meal or preparation technique, says Zirotti, a James Beard Foundation Award semifinalist in 2017 who also competed on Food Network's Guy's Grocery Games last fall. While it's great for vegetables and meat, he says, it may not be worth it for sauces.
At Fleur de Sel, for example, Zirotti uses sous vide to make a perfectly tender beef shoulder, vegetables for other dishes and a 63-degree egg, slow cooked for the perfect balance of rich, gooey yolk and firm egg white.
It's also important to experiment says Zirotti, who uses sous vide to create île flottante, or floating island, a classic French dessert his mother served when Zirotti was growing up in the Alsace region. As experienced as he is, Zirotti got a surprise when sous vide cooking meringue with a new recipe — it nearly exploded out of the jar in which he cooked it.
"But I liked the texture," says Zirotti, who, by the look on his face, is delighted at learning something new. ♦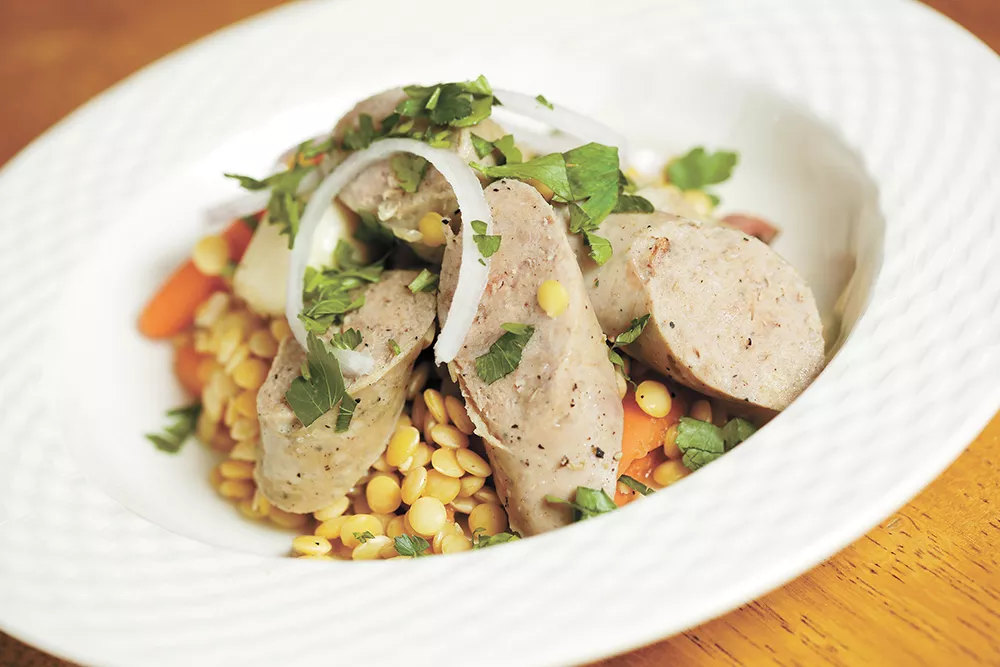 Lentil and Sausage Stew
1 cup of Shasta yellow lentils

3 cups water, or a mix of water and chicken broth

1 sausage (duck, chicken or summer) cut into 1-inch pieces

1 slice of raw bacon, cut in half

3 garlic cloves, peeled

1 celery stick, cut into

1-inch pieces

1 carrot, peeled and cut into 1-inch pieces

1 teaspoon kosher salt

1/4 teaspoon cracked black pepper

1 sprig fresh thyme or rosemary

1 bay leaf

Place ingredients in a 32-ounce glass jar with lid, seal tight and shake well.

Submerge jar completely in water bath set at 84 degrees Celsius/183 degrees Fahrenheit and cook for at least 4 hours.

Remove from bath (canning jar lifters are helpful) and let rest a few minutes.

Serve and garnish with fresh cut onions and parsley, or a ravigote or tapenade, or chimichurri to add brightness and a fresh texture. Dijon mustard is a nice side, too.

If you're not eating right away, cool quickly in a water and ice bath, then store in the refrigerator in the original jar for up to 4 days.

Île Flottante (Floating Island)
For the crème anglaise:
2 cups whole milk

1/3 cup sugar

5 eggs, separated

1 vanilla bean or 1 teaspoon vanilla extract

Whisk all ingredients in a nonreactive bowl.

Place in jar and submerge in water bath. If using a Ziploc bag, seal the bag nearly closed and place slowly into water, letting it sink until most of bag is submerged, then seal the bag completely. This forces air out and ensures the bag will not float.

Cook at 84 degrees Celsius/181 degrees Fahrenheit for 1 hour.

Remove from bath and cool in an ice and water bath for at least one hour, to at least 41 degrees Fahrenheit.

Pour cooled crème anglaise into a bowl and whisk.

Top with cooked, cooled meringue.

For the meringue:
5 eggs whites

1 teaspoon cornstarch or cream of tartar

1/2 cup sugar

In a mixing bowl add cornstarch to egg whites and whisk to a soft peak with an electric mixer.

On a slower speed, add sugar little by little to make meringue very stiff.

Spoon the meringue into quart-sized canning jar until 3/4 full, putting excess into another jar as needed.

Seal jar and submerge in the water set at 84 degrees Celsius/181 degrees Fahrenheit. To prevent jar from floating, place another lidded jar filled with water on top of it.

Cook for 1 hour.

Remove the jar, let cool for 10 minutes and then open slightly to relieve pressure in the jar. The meringue will puff up.

Cool in fridge and serve on top of the crème anglaise.

Add toasted almonds and caramel syrup, chocolate syrup or dulce de leche. (To make via sous vide, remove label from can of sweetened condensed milk and cook at 85 degrees Celsius/185 degrees Fahrenheit for 15-20 hours).