Happy new year, China, and welcome to the Year of the Pig. The traditional Chinese New Year celebration, which runs Feb. 5-19, presents an opportunity to explore pork, from farming and butchering to cooking and the stories behind favorite dishes at eateries throughout the Inland Northwest. And when we discovered a study that found pork fat to be one of the most nutritionally dense foods out there — on a top 10 list alongside almonds, chia seeds, ocean perch and Swiss chard — we couldn't help ourselves from going hog wild for all things porcine.
FARM FRESH AND FUN
"It doesn't take you long to learn about pigs," notes Tom Jones, who runs Bent Tree Farm on 20 acres in Bonners Ferry, Idaho, with his wife Kelli.
"They're fascinating animals. They're really smart — as smart as any dog. They're fun. Most people would like hanging around pigs."
Bent Tree purchases piglets from as far as Montana, and ensures they're cared for properly before bringing them to the farm for fattening up.
"There's nothing I feed my animals I wouldn't eat myself," says Jones, whose pigs eat barley, oats and vegetable scraps, and pasture in warmer weather.
Bent Tree utilizes Sandpoint-based Woods Meat Processing for USDA-certified butchery and packaging of its meat — chops, roasts, bacon — which is sold directly to consumers throughout Bonner and Kootenai counties. It's an all-day affair of loading pigs for transport to the butcher that invariably occurs on a snowy or rainy day, says Jones. Pigs don't see very well, so if a pig gets loose, it's inclined to go the opposite of where you want it to, he says.
"You've just started the pig rodeo," he adds, laughing.
GOING WHOLE HOG
A typical pig yields slightly less than 60 percent of edible retail product, according to various industry experts. A 250-pound hog, for example, would garner somewhere around the following: 28 pounds of ham, 23 pounds of loin (roast, chops, tenderloin), 6 pounds of spareribs, 23 pounds of side bacon, 9 pounds of Boston butt (pork steak, butt roast), 12 pounds of picnic (hocks, shoulder), 3 pounds of feet, 8 pounds of head and jowl, 23 pounds of back fat, and 9 pounds of assorted trim ideal for sausage.
Some butchers and farms, including Bent Tree, also harvest offal (kidneys, liver, heart) which has various uses, including the making of braunschweiger sausage, which is similar to liverwurst.
For local butchery expertise, try Tim's Special Cut Meats in North Idaho, which also makes their own bacon, smoked pork chops and sausage. Sonnenberg's Market & Deli in Spokane, meanwhile, is known for its variety of bulk-meat packages, and will sell customers an entire pig for roasting or just the parts, from feet to ears. Look for a variety of fresh and cured pork products at Egger's Meats, which has four independently owned locations; three in Spokane and one in Deer Park.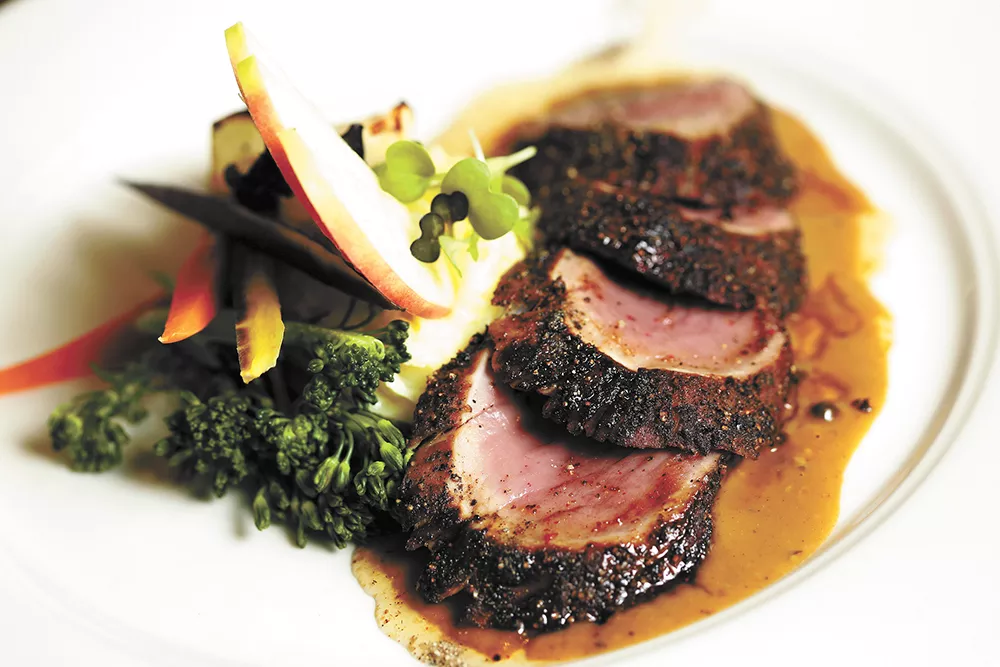 A CUT ABOVE
All the parts of a pig have a place to shine depending on the preparation.
When choosing a cut for meatballs, for example, says Wild Sage Bistro executive chef Charlie Connor, you'll want to use shoulder meat because of the fat content.
"Fat equals flavor," Connor notes.
Another tip: Incorporate other types of meat such as beef or veal and make a panade, a paste of milk, egg, cheese and bread crumbs, to bind the meat together and keep it moist.
For slow-cooked pork dishes such as pulled pork, however, choose a cut with an even higher fat content (no argument from us!), such as pork butt (shoulder), Boston butt or country-style pork ribs.
To keep thick pork chops tender, try brining, says Connor.
"The salt water solution will keep the meat from drying out, as long as it's not overcooked."
Remember to drain, rinse and pat dry before cooking, he adds.
For a leaner cut of meat, try tenderloin, such as the Snake River Farms' Berkshire pork that Connor uses for Wild Sage's pork tenderloin au poivre ($31), a variation of the classic pepper-crusted steak. Berkshire is called kurobuta, or black hog, in Japan and is revered for its unique flavor and deep red hue. To cook it, says Connor, sear it and cook on low until the internal temperature reaches 130 degrees.
"A low-temperature oven is better because it will penetrate the meat slower and produce a uniform temperature from end to end," he notes.
Once cooked, says Connor, the meat must rest to allow juices to recirculate. Contrary to what our grandparents might have said, a little pink is OK.
PIG OUT ON THESE DISHES
Dumplings, Umi Kitchen and Sushi Bar, $6
The ubiquitous pockets of dough filled with meat and/or vegetables — they can be gyoza in Japan; shumai or wontons in China — are filled with finely chopped chicken and pork at Umi, which offers them steamed, grilled or fried. (We suggest one order of each).

Moo Phad Prik Khing, Linnie's Thai, $15
Sliced thin and cooked quickly at high heat, stir-fried pork upends the notion of lengthy cooking, with tender mouthfuls of pork that hold their own against the pop of red curry and fresh basil.
Pork Ribs, Nordic Smoke BBQ, $6
The perfect balance of sweet from the honey and fat, coming both from the meat and a butter baste, these ribs are the kind you eat while hunched over, sticky-fingered and lip-smacking. Nordic Smoke is one of the growing number of places luring Food Network's Diners, Drive-ins & Dives to the Northwest, too, so of course you should try them.
Devils on Horseback, Gilded Unicorn, $8; and Honey Eatery, $5
Pork is frequently paired with fruit — pineapple and ham, citrus and pork roast, mango and pulled pork — but this variation of bacon-wrapped dates is beyond charming and a perfect little snack, especially with a smoky bourbon cocktail.
Sweet & Spicy Belly Bits, The Fat Pig, $11
For cultures that eat pork, the belly of the animal reigns supreme: fried into chicharrones in Latin American cuisine, cured into pancetta in Italy and barbecued or stewed with kimchi in Korean culture. At Sandpoint's Fat Pig, cooked pork belly "bits" are tossed in honey and sriracha chili with a side of microgreens and pickled cucumber for a little fiber with your delicious fat. ♦