Sometimes the arts community is less about neighborhoods or genres than about a shared sense of purpose. So when Coeur d'Alene's Emerge gallery emailed that unexpected health issues might mean that Spokane-based artist Tiffany Patterson would fall short of filling the gallery during her May exhibition, more than a dozen artists jumped into the breach. The sale of donated work will also help fund any gaps in Patterson's medical coverage. (Excess funds are earmarked for an as-yet-unnamed charity.)
"It kind of feels like I have had an army behind me the whole way," says Patterson while recuperating at her West Central home.
No stranger to cancer — she was the primary caregiver in her former partner's health battles and has been undergoing treatment for polycystic ovary syndrome — Patterson says she has learned to ask for and accept help. When she learned (on her birthday) that doctors had discovered a potentially malignant growth, she was scared, of course, yet also thankful that she had such a strong support group and was, despite the diagnosis, "in a very good place" in her life.
Although eager to work in her studio, a sun-filled turret tucked into the second floor of the older home she shares with her current partner, a wily cat and small flock of chickens, Patterson is unable to lift things, sit or stand for long periods. For her May exhibition, Patterson will instead include pieces from a recent exhibition called "A Place Made Home."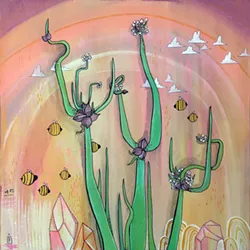 Home and community is a recurring theme, says Patterson, who has spent 10 years making a living from her art, developing a trademark illustration style — saturated color, quirky animal and human characters, dreamy backgrounds — that's appeared on Inlander pages, Global Credit Union advertisements, DOMA Coffee packaging, and countless band posters.
"Building community in the arts is hugely important," says Patterson, who has participated in and mentored artists for Terrain, created the popular Social Sketch meetup in Spokane two years ago and more recently helped launch a similar effort in Coeur d'Alene.
"I find [Tiffany] to be a very inclusive and inspirational person," says Mariah Boyle, an artist and instructor who is donating several paintings to the Emerge exhibition. Although Boyle doesn't know Patterson very well, she felt compelled to donate because, she says, she admires Patterson's support for local arts. ♦
Emerge CDA: Tiffany Patterson and Friends opening reception • Fri, May 12 from 5-8 pm; on display through June 3 • 208 N. 4th St., Coeur d'Alene • emergecda.org