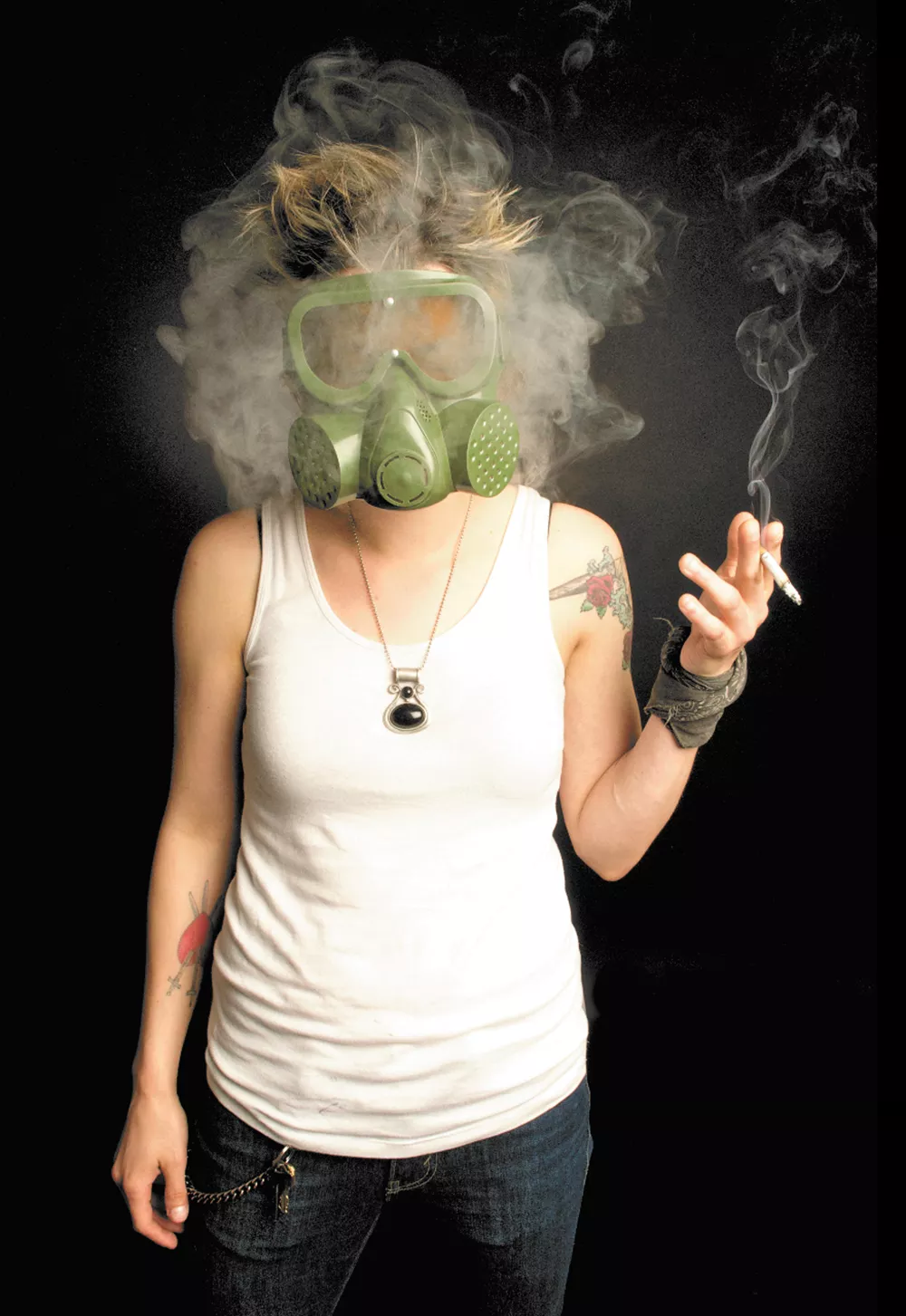 Every time singer-songwriter Star Anna goes on tour she eats at Denny's. There's comfort in familiar cuisine and she appreciates any menu that includes a respectable pun (Moons Over My Hammy is a favorite). This Thanksgiving she'll eat at the 24-hour diner again thanks to a two-date stop in Spokane next Wednesday and Thursday, which she says she's happy to do.
Last week, the 28-year-old answers her phone at an art supply store in West Seattle, where she now resides. Anna has taken to crafting some of her own merchandise, using vintage tees, a needle and thread and a screen-print machine. Each shirt is one of a kind. She enjoys working on other artistic outlets so she doesn't always have to think about songwriting.
She released two solo albums over the span of a year — her new album The Sky is Falling and 2013's Go to Hell — but she's constantly worried the music will never come again.
"It comes and goes, there are definitely dry spells," Anna explains. "I used to get stressed out about it, and think, 'I'm done.' I just have to remember that's how it goes."
To curb her anxiety she brings her brown-and-white service dog Forrest everywhere, even on stage if the venue allows for it. Writing songs from the gut also helps.
"I'm just reserved when I talk about my personal life," Anna says. "But when I write about it, I figure that's what needs to come out."
Anna's robust alto singing voice sounds exactly like her husky speaking voice. It's the kind of voice that's impressed artists like Pearl Jam's Mike McCready and Guns N' Roses' Duff McKagan. She realized she could sing at 16 when she switched to guitar. Before that her heart belonged to the drums, which she played in a punk band in her hometown of Ellensburg. In 2006, she formed the angsty Americana rock band Star Anna and the Laughing Dogs, but the last couple of years have been focused on solo work.
Anna is no stranger to Spokane; she was just here in June. But this time it's going to get intimate, complete with a small, minimalist backing band. While the day of turkey may not be the most obvious to go out to a show, Anna says it's perfect.
"I think people forget about the 'After Thanksgiving,'" Anna says. "They've been with their families all day and it's going to be time to get out of the house." ♦
Star Anna with Chelsey Heidenreich • Wed-Thu, Nov. 26-27, at 8 pm • $5 • 21+ • Jones Radiator • 120 E. Sprague • 747-6005