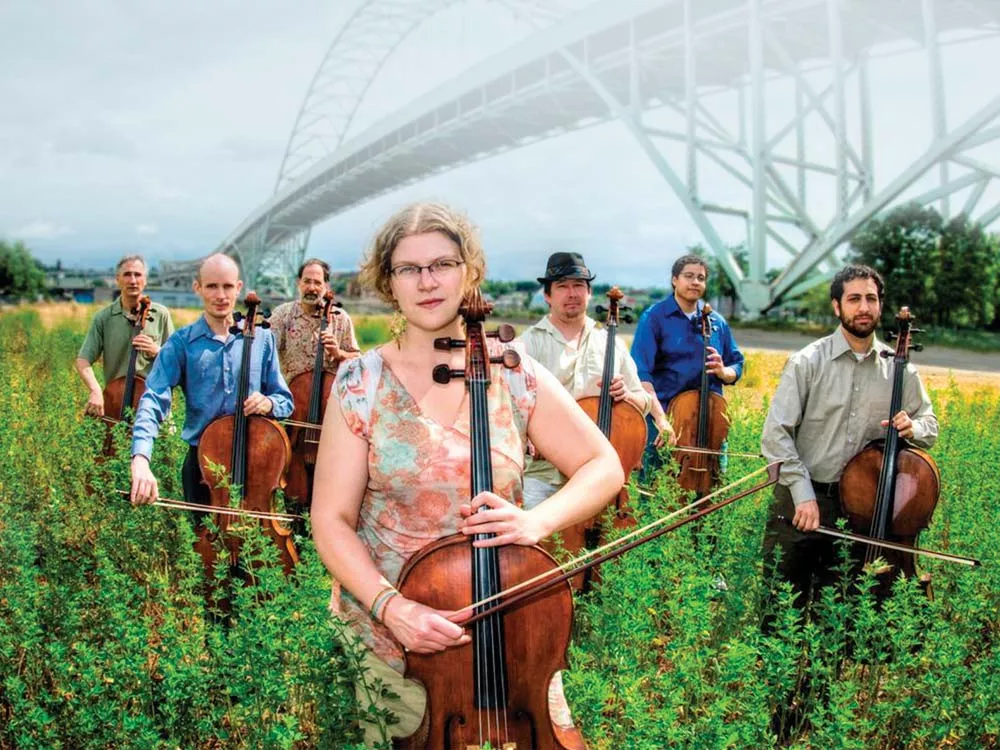 Cellists? They stick big hunks of wood between their legs and make sounds explode. Oh, they look so professorial, those cello players, sitting astride what amount to oversized violins, the insides of their knees clutching the burnished wood — right arms sawing, left hands quavering, lips pursed in concentration.
But the musicians of the Portland Cello Project won't get all classical-staid on you. Just last week, for example, they covered some Lady Gaga. This was at a dance party show in Portland (naturally), where the evening's big hit involved the cellos underscoring lyrics by rapper Trey Songz.
In orchestrating originals and covers alike, PCP artistic director Doug Jenkins is endlessly inventive: There are, for example, more than 800 works in the group's repertoire. For last week's Portland shows alone, he says, he wrote "25 new songs."
The Project plays everything from Bach to ABBA, from Musée Mécanique to Modest Mussorgsky, from Sir Edward Elgar to, you know, like, Britney. You wanna hear Justin Timberlake or the theme from Star Trek? They do that too.
The thing about listening to a cello is how it mimics the range of the human voice — "as low as any baritone, higher than any soprano can go," as Jenkins says.
Massed cellos can sound mournful, too, Jenkins agrees: "When you get that much wood vibrating, there's the most complete, rich timbre of all the [string] instruments." Soaring and mourning, booming and caressing, a cello speaks to listeners in intoxicating ways. It's enough to make you want to luxuriate in their sound and crawl right inside their f-holes. (No, really. Those curlicue openings on the front of a stringed instrument? That's what they're called.)
For the Spokane concert, Jenkins says, "We'll be bringing our core quartet — the really hot people in our group who play all the time — along with our percussionist, who has become a regular with us." (And who is also, presumably, hot.)
Jenkins changes his set list for every concert, and he was working out what Spokane listeners will hear even as we spoke by phone. Perhaps they will play something like "Denmark," which opens Thousand Words (their third album, released in 2010). The composition combines many of the cellos' virtues — a melody carried by the mournful, keening voice of a solo player; the staccato throbs of several cellos imparting energy to the piece; and the scattered plucking of individual strings providing grace notes and serendipity.
Or check out their cover of Kanye West's "All of the Lights."
While we won't witness all that brass accompaniment at the Spokane stop, the yearning quality of the cellos — and their playfulness — is something that characterizes the PCP sound.
So, to review: Big hunks of wood. Sounds that seem like they're reverberating inside your chest. Maybe a Lady Gaga cover. That hot percussionist.
You're always saying that you're open to new musical styles, so prove it: Go a little pop-classical crazy. On Wednesday night, drop some PCP.

Portland Cello Project plays with Janet Johnson • Wed, July 20, at 8 pm • $13.50 • Bing Crosby Theater • 901 W. Sprague • ticketswest.com • (800) 325-SEAT