ON INLANDER.COM

NATION:
The murder and sexual assault of a 10-year-girl in northwestern Alaska has a community talking about
one of the state's biggest problems
: sexual abuse.
NATION:
The Trump administration
has announced new restrictions on travel to Cuba
.
IN OTHER NEWS...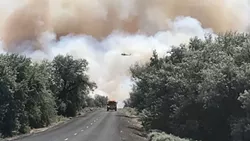 Where there's smoke, there's...
... fire. Communities in Grant County have been evacuated due to a fast-moving fire, dubbed the 243 Fire. (
Spokesman-Review
)
But you knew this already...
Anyone who stepped outside in Spokane would have seen the disgusting haze appearing on the horizon. It's here early, friends: smoke season. According to KHQ,
Spokane had the worst air quality in the country last night
.
Shores of Tripoli

Fighting in Libya between rival militias is increasing.
Per the Washington Post
:
"Unlike in previous militia clashes in the post-Gaddafi era, the combatants are deploying heavier weaponry and air power, including armed drones. Outside powers are blatantly violating an international arms embargo, say U.N. investigators, which has helped perpetuate the fighting and fuel what has become a proxy war involving regional and European countries."


L.A. homelessness rising
Despite increased spending,
homelessness in Los Angeles County is up 12 percent
. (NPR)