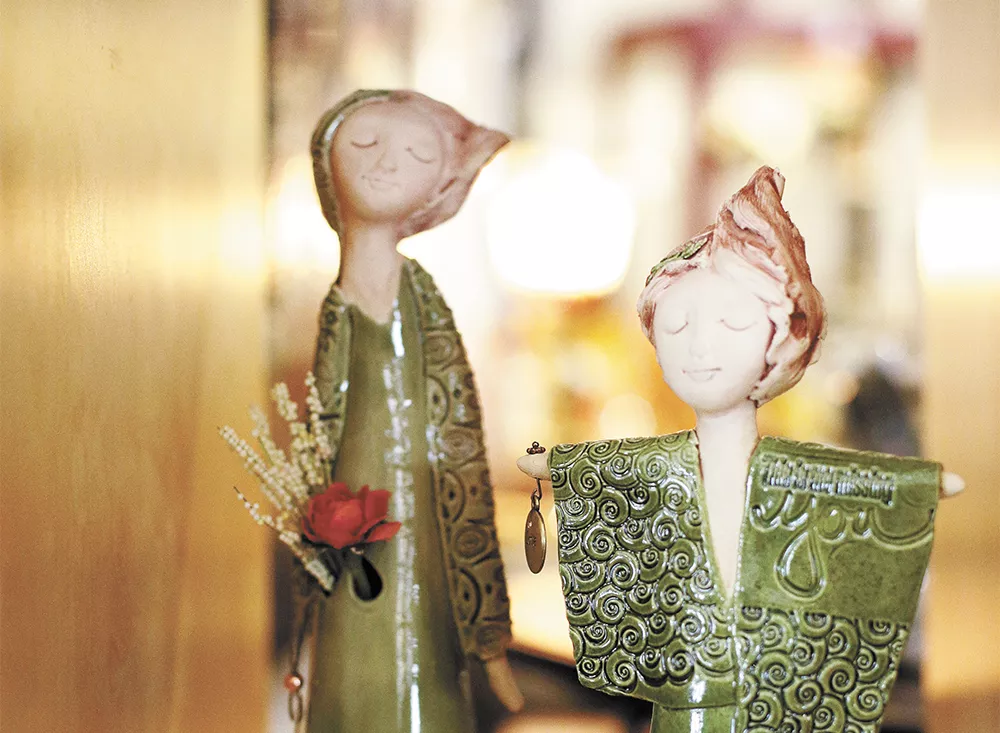 Diane Spano gets emotional when she talks about living and working in East Central since the '90s, recalling the poverty and neglect she's seen. Open drug use and prostitution. Violence.
"Our life was in danger every single day," says Spano, who lives in one of the neighborhood's more than 600 homes that date back beyond a century. That's when flatlands and forests east of Spokane gave way to streetcars, park neighborhoods like Liberty and Underhill, the railway, and eventually the freeway.
Yet Spano also saw potential in East Central. As an Eastern Washington University architectural planning student in 1992, Spano drew an East Sprague storefront for the local business association.
Twenty-three years later, she realized, she'd drawn the same building where she'd launched East Sprague Art Gallery. "It's just ironic," says Spano.
Since opening this spring, Spano has had anywhere from 10 to 20 participating artists.
"My criteria," she says, is "if you have the courage to show, you're in."
Some, like Bobbie Wieber, who paints award-winning watercolor florals, and Clara Woods, who has an arts restoration business across from the gallery, have stayed on. Others, like Sam White, a local plumber by trade who recently had a show in Kendall Yards' Marmot Art Space, have moved on.
Commission-free space rents for between $50 and $100 per month. Artists do their own marketing, although Spano does a gallery-wide First Friday event. Occasionally she displays commission-only larger work, like Hank Chiapetta's tiger-sized wood sculpture. Spano also shows some of her own fiber art at the gallery, which hosts pop-up events like Daron Brunke's figure drawing classes and Ric Gendron's recent weekend art show.
Mostly, though, Spano works to make other people's artistic dreams come true. The determined great-grandmother, who supports herself by cleaning houses, says that at least for this year, her artistic talents are all pointed toward the building itself.
A few blocks west on Sprague, another new art gallery opened in November. Formerly known as Manic Moon & More, New Moon Gallery recently relocated from North Monroe. Founding member Michele Mokrey ran the Artist's Tree Gallery downtown from 2003 until 2009. In 2012, she and Mara Greene created Manic Moon & More. More artists joined, forming a members' guild, and the gallery soon outgrew its surroundings.
"We were ready to stretch," says Mokrey, who runs New Moon with five core members: Joan Eaton, Melinda Melvin, Linda Malcom, Denise Steen and Sigrid Morgan-Neil. Their current roster numbers around 30 artists, some of whom help run the gallery, while others sell work on consignment or pay a percentage to exhibit.
Mokrey discovered the new location for the gallery while chatting with Bruce Gage of Eco Depot, a longtime arts supporter and 20-year East Central resident. Eco Depot agreed to move its offices to the back of the building so New Moon could use its showroom.
Eco Depot is one of a growing list of arts and design businesses in the region. Painter Jared Anderson has a studio above East Sprague Art Gallery, while Bruce Hormann's edgy Object Space Gallery showcases alternative art and music. Nearby are sign painter Michael Ruby, Creative Catch photography and Tin Roof furniture, all of which have participated in something called Art on the Ave.
An annual arts fair since 2010, Art on the Ave is sponsored in part by the East Spokane Business Association. It has brought much-needed positive exposure to an area on the city's redevelopment radar for years. In 2009, for example, it was rebranded as the International District, an effort whose luster has faded.
The latest buzz is the city's intention to "create vibrant, resilient neighborhoods" in East Central. They've partnered with Smart Growth America, committing upward of $50 million over the next three years to such things as residential roads and housing rehabilitation. The hope, of course, is that spending public monies will spur private investment — restaurants, retail spaces, even art galleries.
The city has even enlisted urban and regional planning students from Eastern Washington University to help survey the neighborhood, which will be like déjà vu all over again for Diane Spano. ♦